More than 70 years on, the Normandy villagers have not cleaned the blood stains from their church pews. The stains have dried in the oakwood but to worshippers in the 12th century Angoville-au-Plain church they are a reminder of what two US paratroopers did on and after D-Day, 1944. Few know of the two American medics, Private Ken Moore and his medic buddy Bob Wright, who used church pews and the altar to treat not just their own comrades but also German soldiers and local French civilians and resistance fighters.
As fighting raged around the old church walls, even from grave to grave, the two paratroopers hoisted a white sheet with a self-painted Red Cross beneath the old bell tower and tried to save the lives of anyone wounded during the American landings on nearby Utah Beach. The only rules were: we treat people, not uniforms, and all guns must be left in the vestibule.
Germans and Americans variously controlled the church after D-Day but Moore and Wright won the respect of all sides. On several occasions they were in German-controlled territory but when the Germans saw that they were also treating German wounded they left them alone.
Nowadays, two modern stained-glass windows help light up the old church, honouring the 101st Airborne Division for liberating the hamlet, and specifically naming "les deux medics" [the two medics], as does a monument in the churchyard where fighting once raged.
Moore was with the 2nd Battalion, 501st Parachute Infantry Regiment (PIR) , attached to the 101st Airborne Division – the famous "Screaming Eagles". On the night flight from the south coast of England, while his blackened-face comrades on a C-47 transport plane cradled their rifles and checked their ammo, Moore recalled watching a young man clean his weapon, almost manically. Moore checked his own backpack of medicaments, knowing it might save lives, possibly even that of the young paratrooper opposite him.
Moore, with his Red Cross armband prominent, had assumed his job was to save the lives of his own. But on the ground the human spirit kicked in. "They were young men much like us. The only difference was they were wearing a different uniform," Moore recalled. "When you cut through a uniform to get to a wound, it doesn't matter what arm-patch, from what regiment, is on that uniform. You cut through to save a life."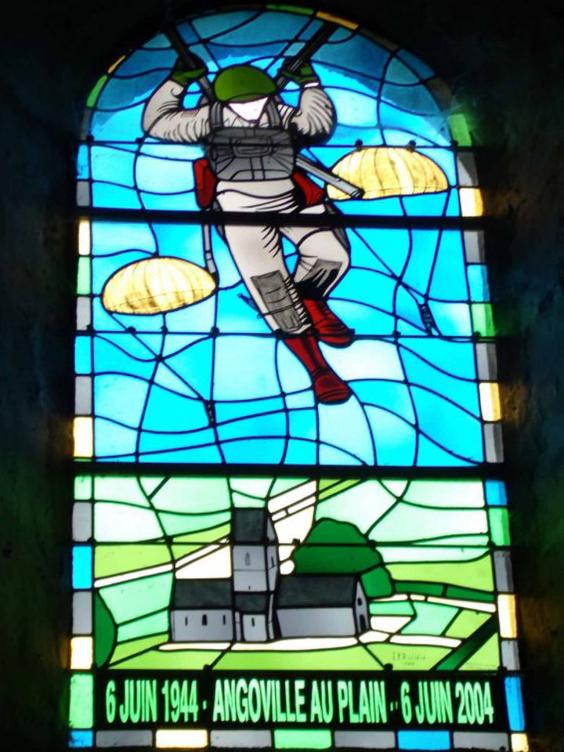 He recalled that during any lull in the gunfire he would go outside the church to the nearby fields and orchards to pick up wounded, regardless of uniform, using a wheelbarrow and a farm-cart. All that time he was in the crossfire between allied and German forces. A mortar bomb, whether Allied or German, came through the roof but did not explode. Two German snipers came down from the church tower and surrendered to the unarmed Moore and Wright, who accepted with the provision that the two Germans, themselves Fallschirmer (paratroopers), helped treat the wounded. Moore and Wright went on to save lives for the rest of the war, from Operation Market Garden to the Battle of the Bulge.
Kenneth Jack Moore was born in 1924. in Los Angeles county to John and Blanche Moore (née Stambaug). Taken aback by the audacity of the 1941 Japanese attack on Pearl Harbor when he was 17, he and his schoolfriends volunteered. "We assumed it would take a few weeks to finish off the Japanese, and we didn't want to miss it," he said. "A buddy of mine said join the paratroopers 'cos they get extra money and their uniforms attract women.' I said, 'That's for me.'"
The following year Moore found himself "somewhere in England" (all he was allowed to say in letters to his mother). He admitted later that he had little idea where England was. He found himself on a Douglas C-47 Skytrain transport plane flying out of Merryfield airfield, Somerset, on 5 June 1944, with a bellyful of Somerset steak and fresh eggs. "We hadn't had steak for ages. It had kind of a last supper feel to it." He was told that he would be one of the first allied soldiers parachuting into German-occupied France, around the town of Carentan, not far inland from where the allies would storm the beaches at dawn. "You guys will be there first, behind the front lines. How you perform will save the lives of hundreds, thousands, possibly millions, possibly the free world," Moore's commander, Colonel Howard "Skeets" Johnson, told his men.
As it turned out several of the C-47s were shot down and their airborne infantrymen never saw France. Moore recalled his aircraft taking serious flak and diving to avoid it. He reckoned, at several hundred feet, that he was on the limit of surviving a parachute jump. He and Wright, ranked as senior line medics, found themselves together on the ground, spotted a church and decided to establish a medical centre.
The story of Moore and Wright was told last year in a documentary by war historian Tim Gray, Eagles of Mercy, and a 2013 book, Angels of Mercy, by Paul Woodadge. "Ken loved to fly," Tim Gray told The Independent. "His ashes will be dropped from a plane above his beloved northern California in the New Year. It is somewhat fitting that this paratrooper should make one more jump and landing. Ken and Bob were brave. They were determined. Compassion was their ammunition."
After demob in 1945, Moore went into business in California, owning petrol stations and supporting his beloved baseball team, the San Francisco Giants.
Kenneth Moore, soldier and businessman: born Los Angeles 5 November 1924; married 1959 Genevieve Wells (died 2001), secondly Beverly Thomson (deceased), one son, and one daughter and one son deceased); died Sonoma, California 7 December 2014.
Reuse content