A Welsh rugby star has apologised after he posted a picture of himself "blacked up" as the Swansea footballer Wilfried Bony.
Liam Williams, 23, who plays for the Llanelli-based Scarlets, posted the picture of him dressed as the Ivorian footballer, wearing full face paint, along with four friends in fancy dress on Twitter.
Should Welsh rugby star, Liam Williams ,be labelled a racist for dressing up as Wilfried Bony? #SwanseaCity pic.twitter.com/F4NnDgnpJ9

— FootySays (@Footysays) December 21, 2014
Hundreds of Williams' 31,000 followers retweeted or favorited the image, which was later deleted by the sportsman.
The rugby player claimed that he knew Bony through a "mutual friend" and he was "okay" with him donning the offensive fancy dress.
But people were quick to take to Twitter to make their views heard.
Weyman Bennett, the secretary of Unite Against Fascism, said: "This picture is absolutely not appropriate.
"It is racist to black up."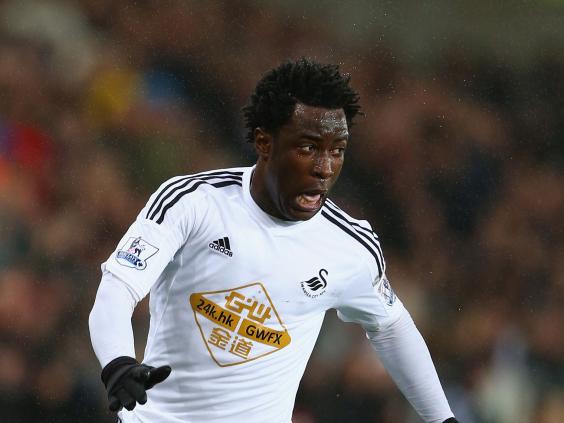 The full back later apologised and wrote: "I am very sorry for my actions. I'm not a racist and there was no malice behind it."
Show Racism the Red Card campaign manager Sunil Patel said: "We are disappointed to see the image on his Twitter feed. It's not acceptable as we move into 2015.
"We don't condone this sort of behaviour, especially when we have got issues of racism in sport and society.
I am very sorry for any offence caused by my actions. I'm not a racist and there was no malice behind it.

— Liam Williams (@SanjayWills) December 21, 2014
"I can't comment on whether Wilfried is fine with it, but I am sure many black people would not be fine with it.
"It is behaviour we do not really like to see. It's something we might have seen 30 or 40 years ago but it is not something we expect to see in a multicultural society."
Williams was pictured with his team mates Harry Robinson, Michael Tagicakibau and Rhys Priestland.
In a statement Scarlets said: "Scarlets is fully committed to eradicating discrimination and promoting equality for both staff and our customers by treating people fairly and according to their needs."
A Welsh Rugby Union spokesman said: "At this stage we would like to receive the full facts and background of the situation before commenting further."
Reuse content