Lord Alan Sugar has called on the Metropolitan Police - and Stan Collymore - to investigate anti-Semitic trolls hurling racist abuse at him on Twitter.
His action comes just a day after the former footballer boycotted the micro-blogging site for failing to adequately tackle racism and death threats.
Trolls verbally attacked Collymore following comments the pundit made on TalkSPORT that suggested Liverpool striker Luis Suarez had dived during last Saturday's game against Aston Villa.
The users behind the offensive tweets are currently being investigated by police.
Collymore left Twitter in a protest, only to live blog his return to the site this afternoon in a Google Hangout following a TalkSPORT blanket  ban on the social media site.
TalkSPORT's chief executive Scott Taunton said in a statement: "We are dismayed at the lack of response and perceived inaction by Twitter. Racist or abusive messages of this nature are illegal and unacceptable"
Now, it seems that The Apprentice star has suffered similar abuse.
He retweeted the following, @-tagging in the police and Collymore in a bid to have the matter investigated:
. @TheTebryne @StanCollymore RT:Shut up Zionist Jew fuck.I'll stick you in gas chamber you big nose fuck.... @metpoliceuk will u do anything?

Lord Sugar (@Lord_Sugar) January 23, 2014

 
But Lord Sugar himself came under fire two days ago for making what one follower deemed to be homophobic slur.
The mogul asked one user when they planned on "coming out" after they insulted him: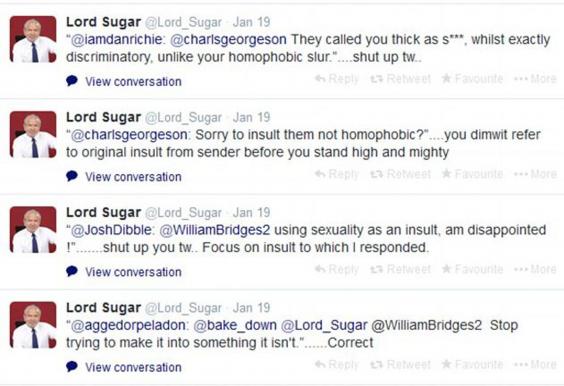 Some followers appeared to be outraged by Lord Sugar's response – and refusal to apologise for the comment.
However, the Labour peer soon retweeted other followers who supported his claim that the user was needlessly trying to stir up a row over sexuality.
Reuse content