Madonna's disdain for her imitators is notorious.
Take Lady Gaga, for example. Her too-familiar-for-comfort "Born This Way" (which sounds almost identical to Madge's "Express Yourself") spawned a bitter backlash, which at best sparked accusations of plagiarism and at worst? An entire diss-track, "I Don't Give A", during which she commandeered a few of Gaga's peers (Nicki Minaj and M.I.A) to charmingly tell her: 'There's only one Queen of Pop, b**ch'.
And that's before all the religious imagery, the 'shock' public nudity and the courting of controversy.
So what, we wonder, does she make of Miley Cyrus' latest shoot for German Vogue?
Quelle surprise, just days after her naked shoot for W magazine is revealed, the 21-year-old is topless again, this time to pose in an exclusive photo spread by Mario Testino for the March issue of the fashion magazine.
Miley Cyrus by Mario Testino for German Vogue
Miley Cyrus by Mario Testino for German Vogue
1/6 Miley Is Madonna 1

Move over, Lady Gaga - there's a new Queen of Pop imitator in town... And this time, she's posing for German Vogue.

2/6 Miley Is Madonna 2

Miley smoulders in a series of shots for the German version of the famed fashion magazine, marking her debut Vogue cover.

3/6 Miley Is Madonna 3

But just because she's on the cover of Vogue, doesn't mean she's about to put her baps away any time soon. This is one of three covers you can choose from.

4/6 Miley Is Madonna 4

Here's what that image looks like with all the words on it. Miley likes words. Occasionally.

5/6 Miley Is Madonna 5

And here's that full frontal shot of Miley without the words. You're welcome.

6/6 Miley Is Madonna

Madonna sans eyebrows, apparently. Posing nude for W magazine, as revealed last week.

Mert Alas and Marcus Piggot exclusively for W
The special issue, called 'Blonde Angel', marks Cyrus' debut as a Vogue cover star. It also appears to show that she is slowly morphing into "Like A Virgin"-era 1980s Madonna.
"I liked the idea of showing Miley differently from how we know her. As a women and not a girl anymore," says Mario Testino of the concept behind the shoot.
In other words… To show Miley as Madonna.
"She's in the process of turning herself into a rebel," he added.
Again. He meant Madonna.
"I wanted to find out if being blond helps with that," he contined.
So he turned her into Madonna.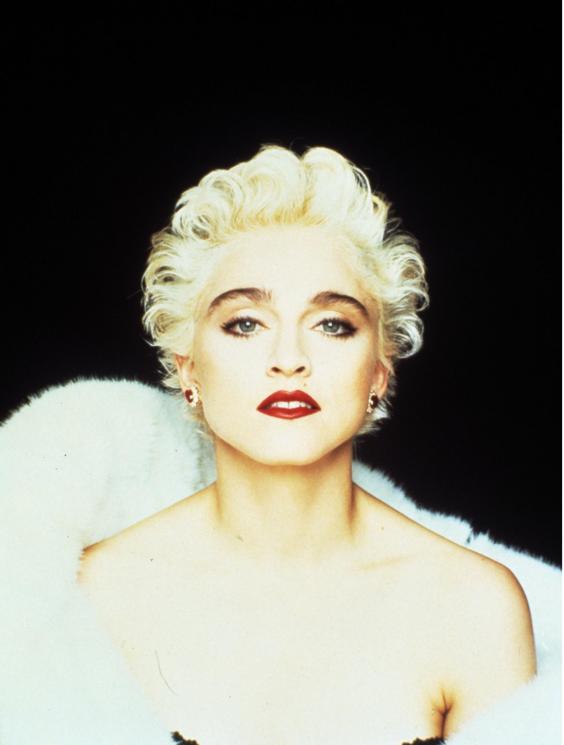 Not that Madonna probably minds. She spent an awfully long time turning Miley into the ill-advised early-2000s rhinestone cowgirl version of herself when the pair performed an awkward MTV Unplugged session together in Hollywood.
"That was pretty f**king cool, you guys," Cyrus said of being Madonna.
"It sounds super-lame, but as a pop star it's pretty cool performing with [read BEING] Madonna...
"Today was one of those days that it was really easy to get out of bed."
Because she woke up and realised she was Madonna.
Other platinum stars of the March issue of German Vogue include, rather aptly, Blondie frontwoman Debbie Harry, grunge-pop star Sky Ferreira and supermodel Anja Rubik.
The ePaper of German Vogue is available to download here. For more information about the issue, visit www.vogue.de/testino.
Reuse content