For a star widely criticised for her outrageously sexual on-screen antics and lapse attitude towards (alleged) public drug taking, her parents are pretty relaxed.
This is probably because, for the most part, they understand the publicity game she plays. Her father is the legendary country-pop legend Billy Ray Cyrus.
"Of course I'll always be here for Miley. Can't wait to see her when she gets home," he told Entertainment Tonight after witnessing his daughter in that MTV Robin Thicke grind-a-thon he couldn't un-see, even if he wanted to.
"She's still my little girl and I'm still her dad regardless how this circus we call show business plays out. I love her unconditionally and that will never change."
And her mother Letitia "Tish" Jean Cyrus has not only produced five of Miley's films, but is also kind of behind this whole re-brand anyway as her manager.
But there is one now iconic outfit that reddens her with parental rage. And it's this: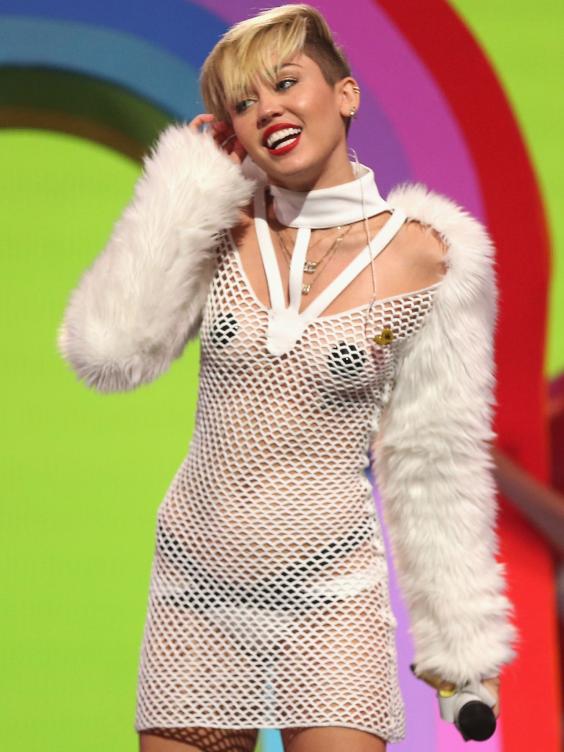 "That's the only one I really didn't like," Tish told E! News, referring to the outfit her 21-year-old daughter wore to the iHeartRadioMusic Festival in Vegas in September: a white, gorilla-esque string top and fluffy sleeves, complete with tiny black nipple pasties that left her bare breasts on full display.
"I was there for that," Miley's 26-year-old sister, Brandi Cyrus, added, saying "and there was some tension."
"That's the only time ever," Tish said. "Now Miley's 21, so, you know," she said laughing.
The only time? We wonder what Tish would make of photographs that showed Miley Cyrus posing with former pimp turned hip-hop personality Bishop Don Juan at Greystone Manor in West Hollywood.
Juan was a pimp until he found God in the 80s and opened the Magic World Christian Kingdom Church of the Royal Family in Chicago.
'HAS A GREAT FELLOWSHIP WITH MILEY CYRUS SHE WAS REAL KOOL ALL THE WAY DOWN TO EARTH UDIGG 333! [sic] he shouted at us alongside the image.
Meanwhile, famous faces from David Jason to Kate Winslet have waded in on the great Cyrus debate lately.
Last week, the Touch of Frost star described her as an example of the eroding standards of modern society.
"She has done it to break the mould," he told The Sun on Sunday. "I can understand why, but we have given her the oxygen of publicity and encouraged it, so young girls will think it is the right way to attract men. We've lost our standards.
"Once upon a time if you said this or did that, you'd be off the air. They wouldn't dare show it.
"It slowly drip feeds, erodes standards of politeness, manners and morality," he continued.
"It just drips and it takes us further and further down, and instead of inspiring us to look up, we are all going down."
"You hear horror stories where you think, 'God, who's looking after these people and why does it seem like they're losing their way?'" Winslet similarly told Psychologies magazine. Read more on that story here .
---
Miley Cyrus' 2013 shockers
Miley Cyrus' 2013 shockers
1/15 Miley's tongue becomes an icon in itself

Think of Miley Cyrus and her tongue will likely be sticking out. The pop star told journalist Barbara Walters that her trademark pose came about because she 'gets embarrassed', which is interesting considering the rest of the images in this gallery. 'I don't know how to smile, and just be awkward, so I stick my tongue out, because I don't know what else to do,' she said. Twerk?

2/15 Miley dresses as a teddy bear and is anything but cute

A long way from her Hannah Montana Disney days, Miley Cyrus performed at the MTV Video Music Awards in August dressed in a teddy bear onesie. She described the outfit to Rolling Stone as her 'creepy sexy baby' look. Because 'baby' and 'sexy' aren't oxymorons at all Miley...

3/15 Miley twerks with Robin Thicke

It was the performance of the year, whichever way you look at it. Thicke invited Miley to duet with him on his 'rapey' hit 'Blurred Lines' and she accepted his invitation with relish. Cue nude latex bikini, simulated sex actions and of course, that now notorious twerk.

4/15 Miley gets 'sexy' all wrong

When confronted by the sight of Miley Cyrus's gyrating backside at the MTV awards, many of us felt a deep confusion. Was this just terrible dancing? An example of racist appropriation? Or a major setback for feminism? Or could it have been...all three?

5/15 Miley splits from Chris Hemsworth

The 'We Can't Stop' singer broke up with actor Hemsworth shortly after that VMAs debaucle. He wasn't impressed with her recent antics, apparently. Strange.

6/15 Miley gets hated on by David Cameron

David Cameron wasn't best pleased with Miley Cyrus after her twerking performance. The prime minister called her a 'bad example' and a 'bad role model'. 'I haven't discussed twerking with Nancy [his daughter] yet, because I don't think she has seen the video,' he told The Sun.

7/15 Miley declares herself 'one of the biggest feminists in the world'

The 21-year-old told Cosmopolitan: I'm a feminist in the way that I'm really empowering to women. I'm loud and funny, and not typically beautiful. I don't actually walk around all day twerking with my tongue out dressed as a teddy bear.' She doesn't? Oh.

8/15 Miley feuds with Sinead O'Connor

All the 'Nothing Compares 2 U' singer was doing was looking out for Miley, warning her that the music industry will make a 'prostitute' of her, but the young'un took exception. Angered by the criticism of her media presentation, Miley posted a series of Sinead's old tweets about needing to find a psychiatrist. Mocking mental health? Really not cool.

@MileyCyrus

9/15 Miley licks a sledgehammer

In her 'Wrecking Ball' video, Miley opted to appear naked, swinging on said ball, while licking a sledgehammer provocatively in another memorable scene. Unsurprisingly, the video rapidly went viral.

10/15 Miley's 'Wrecking Ball' swing is parodied

A bearded, nude, slightly overweight man threatened to out-viral the singer with an alarming parody of her video. Steve Kardynal used Chatroulette, the forum that randomly connects users with live webcams, to horrify viewers with his naked take on Miley's salacious original. The clip scored nine million hits in one day.

11/15 Miley twerks with a dwarf

During her performance at the MTV Europe Music Awards 2013, Miley traded Robin Thicke for a black latex-clad dwarf named 'Little Britney'. The dancer spanked Miley, who groped her breasts in return. Different.

12/15 Miley smokes a joint on-stage

While accepting her Best Video award for 'Wrecking Ball' at the same awards, Miley dug out a joint from her handbag and said, 'I couldn't fit this award in my purse but I did find this, before flicking a lighter and smoking it.

13/15 Miley twerks with Santa Claus

The singer twerked with a Santa Claus and pulled a candy cane microphone from between his legs at KIIS FM's Jingle Ball in Los Angeles in early December. Then, just before Christmas, Miley tweeted a picture to her fans showing her wearing a Rudolph nose. The caption read "merry christmas #hoehoehoe".

14/15 Miley Cyrus writhes in bed sheets and simulates masturbation

The pop star's latest music video for 'Adore You' shows her writhing around in skimpy underwear, rubbing her body, squeezing her breasts and biting her lips suggestively, before slipping her hand into her knickers - all while filming herself. So not quite naked again then, but close.

15/15 Miley successfully sheds her Hannah Montana image

This is Miley Cyrus? Yes. Are you kidding? Nope. The pop star has been desperately trying to shed her squeaky-clean Disney image all year. But have her efforts gone too far now?

Getty Images

Video: Miley Cyrus - VMA performance
Reuse content