One Direction star Liam Payne was forced to apologise to fans last night after he posted a picture of himself dangerously balanced on the roof ledge of a 34-floor building, sparking fears that he was set to jump off.
The 20-year-old urged his followers not to copy his stunt and subsequently deleted the picture.
The image showed the singer teetering on the edge of the balcony he'd climbed to, backlit by the lights of London behind him.
It was thought to have been taken over the weekend following a night out with friends who were visiting the capital from Wolverhampton. Earlier on in the evening, the group had posted a series of photographs from their escapades, which saw them hit A-list haunt the Funky Buddha Club, among other venues, before returning to the address where the hazardous picture was taken.
Soon after he'd posted it on Twitter, fans responded in their droves, urging the singer not to jump.
"That photo of @Real_Liam_Payne on that balcony really gave me a mini heart attack ... please don't do that again!" one posted.
Another wrote: "@Real_Liam_ Payne should stop thinking he's Batman, when he's not ... Stop climbing on your balcony!"
Realising his error of judgement, Payne removed the image, before tweeting the following apology:
You may have seen a photo of me today taken on top of a building. I regret being there and having a photo taken.

Liam Payne (@Real_Liam_Payne) January 14, 2014
It was a stupid and irresponsible thing to do. I am sorry, and do not endorse any fans trying to repeat this, as it is extremely dangerous.

Liam Payne (@Real_Liam_Payne) January 14, 2014
Causing the star yet more strife, the image actually gave away the singer's location and avid One Directioners were quick to deduct his London address, turning up outside his home where they have remained since.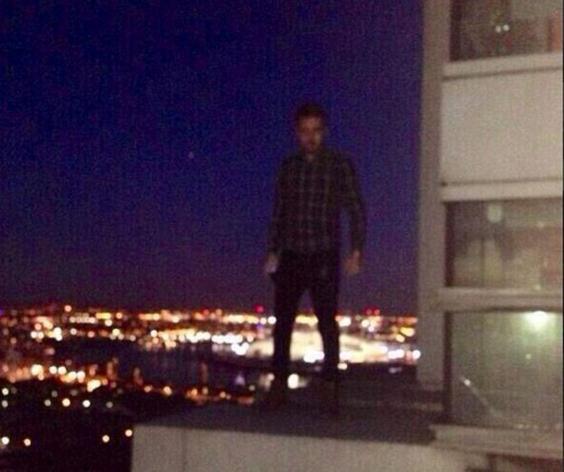 "I know my friends have tweeted a lot of pictures of my house the past few days but can people please stop coming and waiting outside," he tweeted.
"I'd just like to be able to walk outside as everyone does and enjoy time with my friends, not feel bad for not wanting to take a picture.
"Sorry if I've been rude to anyone but I've come to realise if I take one picture more people keep coming everyday xxx hope everyone's good."
One Direction's Midnight Memories  became 2013's biggest-selling album after a late surge saw the boyband overtake Emeli Sandé's Our Version Of Events.
The band were also the most retweeted and trending artists on Twitter last year.