It's rare that the evening's hired entertainment manages to stir so much as a smile from those serious folk in the Oscars audience.
But Pharrell Williams made Academy Awards history during his performance of "Happy" (scroll down to watch the video).
Taking to the stage surrounded by human-sized, glowing Oscars statuettes, and complete with ludicrously oversized Yosemite Sam Grammys hat, the 40-year-old former N.E.R.D star belted out a pitch-perfect rendition of the Best Original Song-nominated track, before veering off-course and into the audience.
Shoulder-shimmying his way into the crowd, he danced with Best Supporting Actress Lupita Nyong'o, got down with Amy Adams and threw some shapes with Meryl Streep.
The off-piste performance was a hit with the viewers at home and quickly trended on Twitter.
Oscars 2014: Red carpet in pictures
Oscars 2014: Red carpet in pictures
1/31 Lupita Nyong'o

Lupita Nyong'o stuns in a plunging pale blue dress at the 86th Academy Awards

2/31 Jennifer Lawrence

Jennifer Lawrence arrives in a shocking orange dress as she hopes to take home the Best Supporting Actress award

3/31 Amy Adams

Amy Adams ditched the American Hustle glam for a classic navy dress

4/31 Anne Hathaway

Anne Hathaway

Getty Images

5/31 Emma Watson

Emma Watson

Getty Images

6/31 Pharrell Williams

Pharrell Williams leaves the Grammy Awards hat at home in favour of a suit...with shorts

7/31 Jennifer Garner

Jennifer Garner

Getty Images

8/31 Liza Minnelli

No-one's going to forget Liza Minnelli in a hurry after this electric blue sack shocker

9/31 Steve McQueen

British director Steve McQueen will be hoping for success for 12 Years a Slave

10/31 Jared Leto

Dallas Buyers Club's Jared Leto gives a double thumbs up on the red carpet

11/31 Naomi Watts

Naomi Watts at The Oscars 2014

Getty Images

12/31 Benedict Cumberbatch

Sherlock star Benedict Cumberbatch appears in a suave suit ready to present an award

13/31 Louise Roe

Louise Roe at the Oscars 2014

Getty Images

14/31 Jason Sudeikis

Jason Sudeikis wears a sleak blue tux

15/31 Shaun Robinson

Shaun Robinson at The Oscars 2014

Getty Images

16/31 Christoph Waltz

Christoph Waltz

Getty Images

17/31 Brooke Anderson

Brooke Anderson at The Oscars 2014

Getty Images

18/31 Lady Gaga

Lady Gaga

Getty Images

19/31 Joseph Gordon-Levitt

Joseph Gordon-Levitt

Getty Images

20/31 Jenna Dewan Tatu

Jenna Dewan Tatu

Getty Images

21/31 Tara Lipinski

Tara Lipinski at The Oscars 2014

Getty Images

22/31 Rocsi Diaz

Rocsi Diaz at The Oscars 2014

Getty Images

23/31 Bill Murray

Bill Murray

Getty Images

24/31 Sally Hawkins

Sally Hawkins

Getty Images

25/31 Elsa Pataky and Chris Hemsworth

Elsa Pataky and Chris Hemsworth

Getty Images

26/31 Jeremy Renner

Jeremy Renner

Getty Images

27/31 Jessica Biel

Jessica Biel

Getty Images

28/31 Christine Teigen

Christine Teigen

Getty Images

29/31 Brad Pitt and Angelina Jolie

Brad Pitt and Angelina Jolie

Getty Images

30/31 Brad Pitt

Brad Pitt

Getty Images

31/31 Karen O of the Yeah Yeah Yeah's

Karen O of the Yeah Yeah Yeah's

Getty Images
More so, say, than the outfit he took to the red carpet wearing – a schoolboy-ish Lanvin tuxedo and shorts combination, all that was missing was the helicopter-topped cap.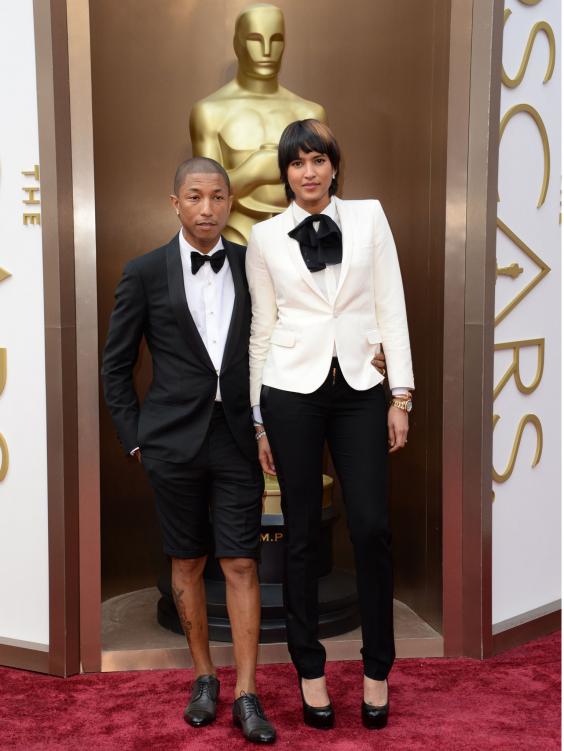 Just like his Vivienne Westwood Grammys hat, the spectacle even spawned its own spoof Twitter account @PharrellShorts.
Reuse content