It's the drug that has been declared the "hope of a nation", was declared an illegal narcotic by the UN, and has just been taken by a pope - for the third time.
During his trip to South America, the Pope Francis drank a traditional tea made of coca leaves, camomile, anise seeds and coca - one of the main ingredients of cocaine.
However, in its leaf form, coca is said to have medicinal abilities such as lessening altitude sickness, hunger, thirst, pain, and tiredness.
Altitude sickness is common at the pontiff's destination, El Alto airport, the highest international airport in the world at 13,000 ft.
Many Bolivians consider coca to be a sacred plant and say that the drink is no more stimulating than coffee, despite the UN declaring it to be an illegal narcotic in 1961.
President Morales told a 2007 UN general assembly, "This leaf represents…the hope of our people."
A 1995 report by the World Health Organisation said there were "no negative health effects" from coca use in leaf form.
According to the Catholic News Agency, Pope John Paul II drank coca tea during his 1988 visit to Bolivia, as did Pope Paul VI on his visit to the Andes in 1968.
Pope Francis is visiting Ecuador, Bolivia and Paraguay – three of the poorest countries in Latin America – on his trip.
He is to meet with workers and grassroots groups who represent the unemployed and impoverished.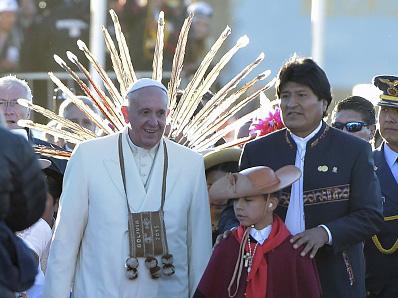 Pope Francis, the first Latin American pontiff, was greeted on the runway by Bolivian president Evo Morales, who at one time worked as a coca plant farmer.
President Morales is the first indigenous leader of Bolivia and has reshaped the country with economic reforms.
The Pope said that Bolivia has taken "important steps towards including broad sectors in the country's economic, social and political life", the Catholic Herald reported.
President Morales introduced a secular constitution in 2009, replacing its previous Catholic one; however, Pope Francis said that the Church has a "deep root" in Bolivian society.
Reuse content