Delivering a historic first address by a pontiff to a joint session of the US Congress, Pope Francis called for a "delicate balance" in combating religious extremism in the world and urged Americans to take a more humane approach in dealing with the issue of immigration.
He underscored the Catholic church's opposition to the death penalty and called for sympathy for the thousands of immigrants trying to reach the US.
"All of us are quite aware of, and deeply worried by, the disturbing social and political situation of the world today," he said.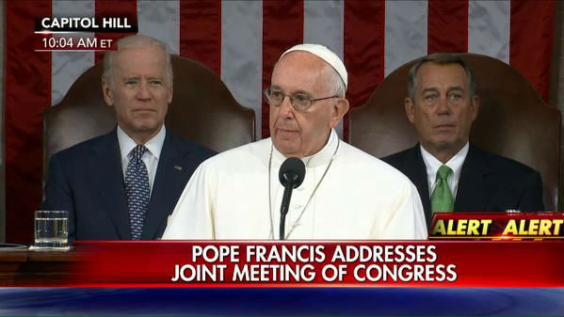 With the country' two most powerful Catholic sitting immediately behind him, House speaker John Boehner and Vice President Joe Biden, the Pontiff added: "Our world is increasingly a place of violent conflict, hatred and brutal atrocities, committed even in the name of God and of religion.
"We know that no religion is immune from forms of individual delusion or ideological extremism. This means that we must be especially attentive to every type of fundamentalism, whether religious or of any other kind."
Tens of thousands were gathered on the West Lawn of the Capitol to watch and listen to the pope on jumbo screens under a sunlit September morning.
"Our world is facing a refugee crisis of a magnitude not seen since the Second World War," he said,
"This presents us with great challenges and many hard decisions. On this continent, too, thousands of persons are led to travel north in search of a better life for themselves and for their loved ones, in search of greater opportunities.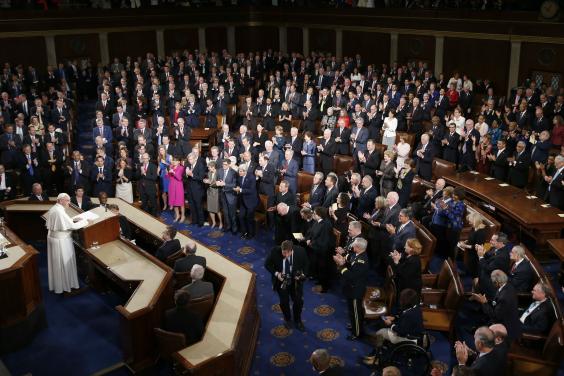 "Is this not what we want for our own children? We must not be taken aback by their numbers, but rather view them as persons, seeing their faces and listening to their stories, trying to respond as best we can to their situation. To respond in a way which is always humane, just and fraternal."
Pope Francis is treading a tricky path while in Washington, on the one hand preaching political conciliation while at the same time defending Church teachings that intersect either comfortably or not so comfortably with the partisan priorities of warring Republicans and Democrats. 
Both sides were waiting for words from the Pope offering support for their particular agendas.
Late on Wednesday, for instance, he paid an unscheduled and controversial visit to nuns of the Little Sister of the Poor, a move that Vatican officials said was intended to send a message of support for their legal battle against President Barack Obama's healthcare reforms that include requirements that family planning and contraception are included in insurance package offered to all employees.
Reuse content