Not everyone was over the moon for Woody Allen when he was honoured at the Golden Globes last night.
His ex-girlfriend Mia Farrow and his son Ronan voiced their disdain for the director when he received the Cecil B. Demille award for lifetime achievement.
Ronan, 26, who Mia recently revealed could well be the biological son of her first husband Frank Sinatra, was particularly acerbic.
He referred to charges Mia filed against the director in 1992 that claimed Allen had molested their adopted daughter Dylan when she was seven years old.
Ronan posted on Twitter:
Missed the Woody Allen tribute - did they put the part where a woman publicly confirmed he molested her at age 7 before or after Annie Hall?

Ronan Farrow (@RonanFarrow) January 13, 2014
Farrow sought legal action after she videotaped Dylan speaking about the alleged encounters, but judges threw the case out in 1993 to prevent her from having to go through the distress of a very public court case at such a young age.
Yesterday, Mia also took to Twitter to let the world know she was switching off as the Allen tribute video aired ahead of the acceptance speech.
She posted the following, before retweeting son Ronan's damning message:

Time to grab some icecream & switch over to #GIRLS

mia farrow (@MiaFarrow) January 13, 2014
She followed up with a second retweet, this time linking to the  Vanity Fair interview Dylan gave back in October 2013, where she spoke about the alleged ordeal for the first time.

On Woody Allen don't forget @LukeRsmom article w quotes frm the victim from his alleged sexual abuse http://t.co/1tyTD5bxX2 #GoldenGIobes

Luke Russert (@LukeRussert) January 13, 2014
"I'm scared of him, his image," she explained. "I have never been asked to testify. If I could talk to the seven-year-old Dylan, I would tell her to be brave, to testify.
"There's a lot I don't remember, but what happened in the attic I remember. I remember what I was wearing and what I wasn't wearing.
"The things making me uncomfortable were making me think I was a bad kid, because I didn't want to do what my elder told me to do… I was cracking. I had to say something. I was seven. I was doing it because I was scared. I wanted it to stop."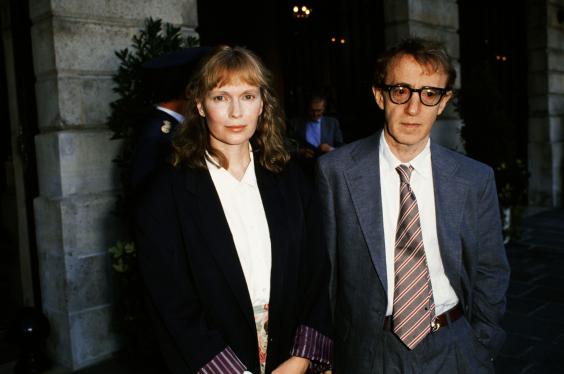 Despite the claims, Allen's career continued to flourish, and he is now widely considered one of the greatest directors of the last century.
Diane Keaton, who starred in Annie Hall, and Emma Stone, who will appear in his next project Magic In The Moonlight, accepted his the Cecil B. Demille award on his behalf.
"I think it's safe to say that Woody Allen is an anomaly," Keaton began in her speech.
"He's made 74 movies in 48 years. He's directed them, he's starred in them, he's produced them and, of course, he's written them. He's written all of them, every one.
"It's kind of hard for me to wrap my mind around the fact that 179 of the world's most captivating actresses have appeared in Woody's films and there's a reason for this. The reason is they wanted to.
"They wanted to because Woody's women can't be compartmentalised, right? I mean, they struggle, they love, they fall apart, they dominate, they're funny, they're flawed. They are, in fact, the hallmark of Woody's work.
"But what's even more remarkable is that absolutely nothing links these unforgettable characters from the fact that they came from the mind of Woody Allen. And there you have it.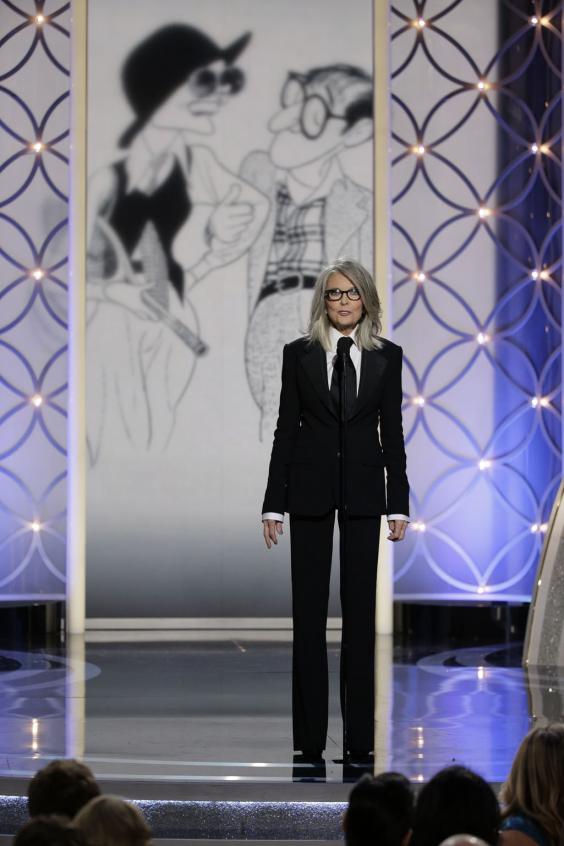 "We don't often associate people in show business with friendship and maybe that's because when we make these movies, we find ourselves in these intensely intimate situations with all these really remarkable people.
"And, for me anyway, these encounters, while wonderful, rarely become 45-year friendships. It kind of breaks my heart that I've known Woody for such a long time, but it also fills me with pride and affection and even love. If Woody saw this he'd say, 'Get the hook and get her off the f***ing stage.'"
The end of her speech got cut short because she started swearing.
Keaton and Allen famously enjoyed a five-year affair after meeting on the set of Broadway play Play It Again, Sam in the early 70s. They went on to work together on eight films between 1971 and 1993.
Mia Farrow began her relationship with Allen in 1980. She went on to star as the lead in several of his films from 1982 to 1992. The pair never married, though they adopted two children, Dylan Farrow (who has since changed her name several times) and Moshe Farrow. They also had one child, Ronan Farrow, although Mia recently stated he could be the biological son of Frank Sinatra.

Golden Globes 2014 winners
Golden Globes 2014 winners
1/12 Golden Globes winners

Actress Cate Blanchett, winner of Best Actress in a Motion Picture (Drama) for 'Blue Jasmine'

Getty Images

2/12 Golden Globes winners

Actors Aaron Paul (L) and Bryan Cranston (R) celebrate winning Best Series - Drama for 'Breaking Bad'

Getty Images

3/12 Golden Globes winners

12 Years A Slave: Steve McQueen with the Golden Globe award for Best Motion Picture (Drama)

Getty Images

4/12 Golden Globes winners

Jennifer Lawrence with her Golden Globe for Best Supporting Actress for her role in 'American Hustle'

Getty Images

5/12 Golden Globes winners

Leonardo DiCaprio with his Golden Globe for Best Actor for 'Wolf of Wall Street'

Getty Images

6/12 Golden Globes winners

Actress Amy Adams, winner of Best Actress in a Motion Picture (Musical or Comedy) for 'American Hustle'

Getty Images

7/12 Golden Globes winners

Actor Matthew McConaughey, winner of Best Actor in a Motion Picture (Drama) for 'Dallas Buyers Club'

Getty Images

8/12 Golden Globes winners

Director Alfonso Cuaron, winner of Best Director for 'Gravity'

Getty Images

9/12 Golden Globes winners

'American Hustle' actors Amy Adams, Bradley Cooper and Jennifer Lawrence. The film won best motion picture (comedy or musical)

Getty Images

10/12 Golden Globes winners

Writer-director Spike Jonze, who won Best Screenplay for 'Her'

Getty Images

11/12 Golden Globes winners

Actress Amy Poehler celebrates winning Best Actress in a Television Series (Musical or Comedy) for 'Parks and Recreation'

Getty Images

12/12 Golden Globes winners

Actor Jon Voight celebrates winning Best Supporting Actor in a Series, Miniseries, or Television Film for 'Ray Donovan'

Getty Images
Reuse content