Little Mix have said in an interview that they don't need to "act sexy" to sell music.
"There's no need to do that kind of dancing," band member Jade Thirlwall said about female singers who aim to be seen as sexy.
"Obviously, sometimes we do do a bit of sexy dancing but it's more empowering," she told the BBC.
"Yeah, it's sassy," agreed Perrie Edwards. "Not gyrating on the floor thrusting our vaginas."
The band was formed of Jade Thirlwall, Perrie Edwards, Leigh-Anne Pinnock, and Jesy Nelson on The X Factor in 2011 after the teenagers had auditioned separately.
Since becoming the only ever band to win The X Factor in the UK, Little Mix have sold 7.5 million records in four years.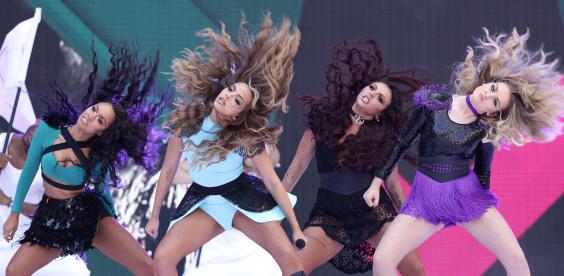 "Fans can find it intimidating if you're being sexy," Jesy Nelson said.
"I think that's why, a lot of the time, girl bands haven't really worked – because it's too sexy and girls are like, 'mmm… no, I'm a bit worried you're going to steal my boyfriend off me'. I think that's why we have done quite well."
"We're not about that anyway," Perrie said. "We're in our own lane, we know what we stand for. We want to inspire people."
"If we're a bit sexy, we're a bit sexy, if we're not, we don't really care. We don't feel like we have to have really skimpy outfits. We do whatever the heck we want," she said.
The band has spent the last year working on their third album which did not fall into place until they found the lead single.
The group opened their writing process up to the public when their album ideas did not mesh together enough.
It was the first time that they would produce a single that they hadn't been involved in writing but Jade said, "You can't deny it's a hit song."
Little Mix's new single Black Magic was released on 10 June and is currently at No. 1 in the UK iTunes chart.
Reuse content