Simon Cowell and his girlfriend Lauren Silverman welcomed the birth of their first child Eric on Valentine's Day.
The X Factor mogul revealed the baby was named after his late father and weighed 6ibs 7oz.
He tweeted little Eric was born "healthy and handsome" at 17:45 pm EST at New York's Lenox Hill Hospital.
The 54-year old jetted from London to New York to be by Silverman's side after she went into early labour, his spokesperson confirmed.
Fellow Britain's Got Talent judge David Williams was one of the first to send his well wishes to the couple.
He tweeted: "Huge congratulations to Simon Cowell and Lauren Silverman on the birth of their son."
His friend Piers Morgan tweeted a message of congratulations, which included a family photo of a young Cowell with his father, who died of a heart attack in 1999 aged 81.
He said: "A young Simon Cowell with his father Eric, who he adored- lovely tribute to name his son after him."
Former girlfriend Sinitta, who is also Eric's godmother, tweeted: "All is well and baby boy is says parents are well and CUTE. Happy Valentines day BABY #justInTimeValentine!"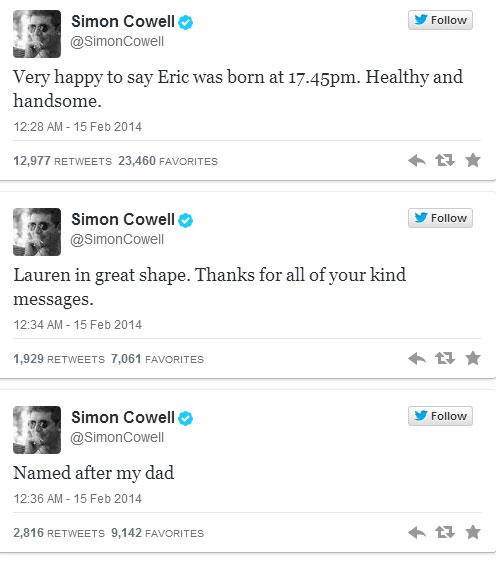 Reuse content