Russian President Vladimir Putin is not a homophobe because he loves Sir Elton John and has friends that are gay, he claimed during a pre-Sochi charm offensive with Andrew Marr over the weekend.
But is he enough of a fan to accept Sir Elton's offer to introduce him to members of the gay community in the country to show him the true impact his "deeply divisive" gay propaganda laws have had on their lives?
In an open statement, the musician described what he learned from gay and lesbian Russians during a visit to Moscow in December, who had been attacked or threatened as a result of the controversial legislation.
"What I heard reinforced all the media stories that have been circling since the propaganda Bill became federal law: that vicious homophobia has been legitimised by this legislation and given extremists the cover to abuse people's basic human rights," he said.
"The people I met in Moscow - gay men and lesbians in their 20s, 30s and 40s - told me stories about receiving threats from vigilante groups who would 'cure' them of homosexuality by dousing them with urine or beating them up.
The A-list opposing Russia's anti-gay laws
The A-list opposing Russia's anti-gay laws
1/15 When Madonna performed in Russia, she took to the stage with the words "No Fear" scrawled across her back. "Show your love and appreciation to the gay community," she urged her audience.

2/15 "In solidarity. From Russia with love," Tilda Swinton posted alongside this photograph of her holding a rainbow flag in support of the LGBT community outside the Kremlin in Moscow.

3/15 "As a gay man, I can't leave those people on their own without going over there and supporting them," Elton John said ahead of his boycotted string of shows in Russia in 2013. "I don't know what's going to happen, but I've got to go."

4/15 "The Russian government is criminal," Lady Gaga tweeted in August. "Oppression will be met with revolution. Russian LGBTs you are not alone. We will fight for your freedom." She later noted: "Sending bravery to LGBTs in Russia. The rise in government abuse is archaic. Hosing teenagers with pepper spray? Beatings? Mother Russia?"

5/15 "I think we should do more than just send gay Olympians there," the Star Trek actor said in a recent interview. ''What's happening there in terms of gay rights or the lack of it is extraordinary and awful."

6/15 Gay Star Trek actor George Takei that Russia's "cynical and deplorable actions against the LGBT community have given license to hate groups within its borders to act with violence and impunity against a group, based solely on whom they were born to love."

7/15 Prisonbreak star Wentworth Miller publicly came out in an open letter to Russia regarding its anti-gay laws. "I am deeply troubled by the current attitude toward and treatment of gay men and women by the Russian government," he wrote, turning down an invitation to a Russian film festival. "The situation is in no way acceptable, and I cannot in good conscience participate in a celebratory occasion hosted by a country where people like myself are being systematically denied their basic right to live and love openly."

8/15 Jamie Lee Curtis was one of many celebrities who joined the 'Love Conquers Hate' T-shirt initiative, lauched by the Human Rights Campaign, the largest gay rights activist group in the US.

9/15 Kevin Bacon also joined the 'Love Conquers Hate' initiative."We stand with Russia's LGBT community and their allies," said HRC President Chad Griffin. "We are committed to doing as much as we possibly can to support their efforts to repeal this heinous law."

10/15 "I'd boycott Russian goods if I could think of a single thing they made besides the rest of the world depressed," Hugh Laurie posted on Twitter in January 2014.

11/15 "I can't name names but my friend called who is a big oligarch over there, and asked me if I'd like to be an ambassador for the Olympics and open the show," Cher told Maclean's writer Elio Iannacci. "I immediately said no. I want to know why all of this gay hate just exploded over there."

12/15 Putin "is making scapegoats of gay people, just as Hitler did Jews," Stephen Fry warned in his appeal to the IOC.

13/15 "For real: Tell Russia & the @Olympics that #LoveConquersHate. Join @HRC and share your pic. #Sochi14," actress Kristen Bell tweeted, promoting her gay rights advocacy T-shirt scheme.

14/15 "Help us show Russia & the world that #LoveConquersHate," Wolf of Wall Street star Jonah Hill tweeted as part of the same campaign alongside a picture of himself wearing the T-shirt.

15/15 Grammy-winning singer Melissa Etheridge released a song, "Uprising of Love", in support of the Russian LGBT community, and partnered with Bruce Cohen to launch a coalition of celebrities and influential public figures, too.
"One young man was stalked outside a gay club by someone posing as a taxi driver who tried to garrotte him with a guitar string because he was a 'sodomite'.
"Everyone shared stories of verbal and physical abuse - at work, in bars and restaurants or in the street - since the legislation came into force last June. And some of the vital work providing HIV prevention information to the gay community has been labelled 'homosexual propaganda' and shut down."
"It was very clear to me that, although foreigners like myself who are visiting Russia are not affected by this new law (and President Putin has recently confirmed this), it is a very different story for those living inside the country," he continued.
"President Putin asserts that this was not the intention, but it is undoubtedly the effect that this law has had by promoting misunderstanding and ignorance. In particular, it is very disappointing that the law explicitly links homosexuality with child sex abuse, which countless studies have shown to be conclusively wrong.
"The people I met in Moscow were decent, kind, patriotic men and women who had no thought of forcing their sexuality on anyone.
"Whatever the intention of Russia's homosexuality and paedophilia propaganda laws, I am absolutely clear from my own personal experience that it is proving deeply dangerous to the LGBT community and deeply divisive to Russian society."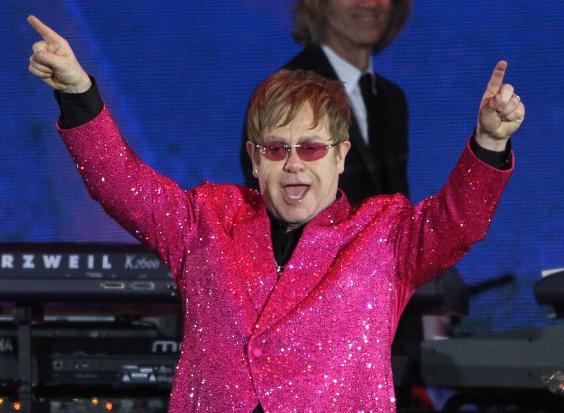 "I would welcome the opportunity to introduce President Putin to some Russians who deserve to be heard, and who deserve to be treated in their own country with the same respect and warm welcome that I received on my last visit," he added.
As of yet, there has been no word from Sir Elton fan Putin on whether he will accept the singer's offer.
The news comes after the President dismissed a Russian parent's committee's call to ban the musician from performing a string of dates in the country at the start of December 2013.
In an open letter, they argued that allowing Sir Elton to perform would thwart the anti-gay propaganda laws.
"The singer intends to come out in support of local sodomites and break the current Russian law, directed at protecting children," it read.
Another petition, by the Union of Orthodox Brotherhoods, referred to the planned gigs as an "amoral sabbath" and called Sir Elton's "support for gays and other perverts" an "insult to all Russian citizens".
The singer was told not to wear "flamboyant" clothes suggestive of his gay lifestyle on stage when he was set to play in the Russian region of Krasnodar in July 2013. The show was later cancelled when Sir Elton fell ill.
The Sochi 2014 Winter Olympics starts on 7 February. It's said to have cost £30billion, making it the most expensive Games in Olympic history.
Last week, Putin reassured the world that gay people will not be harassed during Sochi and said that they "can feel relaxed and comfortable", but only before adding that they must "leave the children in peace".
Reuse content