Two actors were sought to appear in an advert for millionaire footballer Steven Gerrard's new autobiography – for no pay.
Posted on castings website StarNow, the listing appealed for an elderly man and a "young, attractive" woman aged between 18 and 35.
"Based in Cardiff this is an unpaid role but wont take up much of your time and will be good for portfolio as it should get a wide exposure," the post said.
"Convincing Scouse accent preferential but not essential."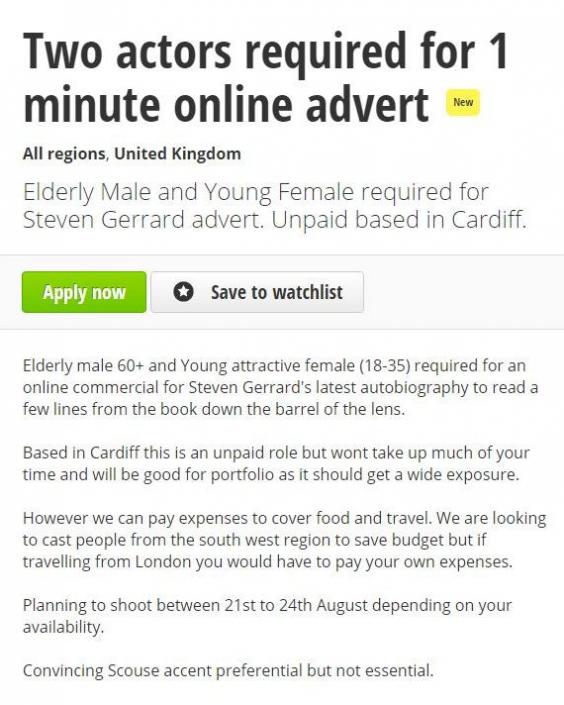 Although the roles were advertised as unpaid, the post said food and travel expenses would be covered - providing the actor was not travelling from London.
There is no suggestion former England and Liverpool captain Gerrard was in any way aware of the listing.
But the request was met with anger after being highlighted online by Twitter user @ProResting, who said: "What the... ? They really can't afford to pay two actors to advertise the book of a F*****G MILLIONAIRE FOOTBALLER?"
@DunsOnTheRun I suspect they've allowed a very minimal budget for this. But still, doesn't excuse actors not getting anything!

— Miss L (@ProResting) August 18, 2015
@MothTwiceborn responded: "Contains the magic words 'Good for portfolio' :-P"
And @CatherineMotuz wrote: "But, someone will do it. And so it continues."
The production company behind the advert refused to comment and the post now says "applications are closed".
Firms advertising for unpaid actors often blame the small budgets they are given by the organisations they are working for.
A spokeswoman for Penguin, the publishers of Gerrard's forthcoming book, said in a statement: "Thank you for bringing this to our attention.
"We didn't know that this was being advertised and haven't briefed the agency involved. We have of course asked them to take this down, as this advert was placed without Penguin's knowledge."