The notion of paying £208 to pick olives and grapes at Sting's Tuscan estate has left a sour taste in some mouths.
However, paying to plough the vineyards of Sting and Trudie's 900-acre property near Florence is an experience akin to that offered by a number of businesses in the region, at costs not dissimilar.
The couple's 16th century villa, called Il Palagio, was bought in 1999 after it fell in disrepair and following a lengthy restoration effort it now produces oil and honey in addition to wine.
According to the Daily Telegraph, 62-year-old Sting is now offering visitors the chance to pick its products, alongside local labourers, for €262.
The activity, which is reportedly described as "therapeutic" in a sales pitch, says tourists will be able to "roll up [their] sleeves and join the grape or olive harvest in the field of dreams at Il Palagio".
It continues: "Start the day with a picnic on the expansive lawn and a briefing from the estate manager to help you understand your work as a farmer-for-a-day: learn about the soil, the vines and trees, and techniques for harvesting."
As well as lunch, the day also includes a lesson from the estate manager on oil making, a crate of Il Palagio wine and a selection of its olive oil and honey, as well as a wine tasting session.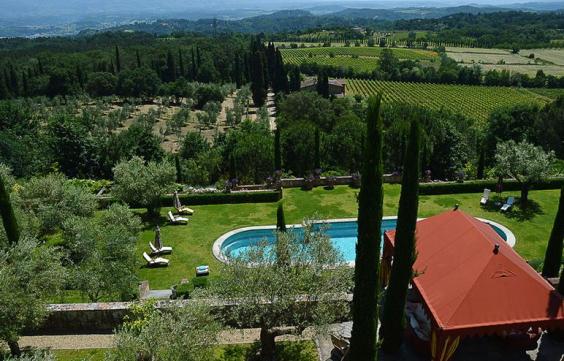 Following a not-so-arduous Google search of likewise activities and a quick telephone call, tour agencies offer similar experiences for the same price of €260, also with lunch, including one at the Settepassi farm near the city of Pistoia. Another, with Tuscany on a Budget, goes for €100.
Though the couple are worth millions, their business in Tuscany is a profiting commercial interest that must generate an income.
Its smaller houses are also available to hire for holidays with weekly rates beginning at €4,000. For comparison, a room in Francis Ford Coppola's luxury hotel in Bernalda, Italy, – the Palazzo Margherita – starts from around the same price.
Now, I think Sting's basically a decent chap. But WHAT A FACKIN LIBERTY http://t.co/fRQMAcpFqK

; Michael Moran (@TheMichaelMoran) August 27, 2014
Sting charging punters £200 for the privilege of helping him harvest his crops in Tuscany is beyond bizarre

; Ergo (@SniersMoregut) August 28, 2014
"We have spent many years now working to transform our vineyards and olive groves, and many thousands of bees have been at work to produce these glorious honeys," a blurb on Il Palagio's website says.
"We hope all the effort has paid off and the tastes will delight you as much as they do us, our family and friends. From Il Palagio – from our home to yours. Sting and Trudie."
Reuse content