Once asked what he liked most about his wife, Bill Gates replied: "She's numerate."
Melinda Gates is also good with people – especially the women and girls living in some of the poorest parts of the world – and makes the Microsoft founder seem more human.
Last night, Ms Gates received this year's Chatham House Prize from Prince William, which is awarded to the person the institute deems has made the most significant contribution to the improvement of international relations.
In a lunch-time conversation at Chatham House, London, yesterday, she demonstrated why she  is feted by politicians, pop stars and the poor.
She described how women and girls, and the need to provide them with adequate birth control, has become her personal focus as the Bill and Melinda Gates Foundation fights poverty and disease.
"All lives have equal value, anywhere on the planet, but we know that the world doesn't treat lives as equal. It's always bothered us that we weren't working on reproductive health," Ms Gates said.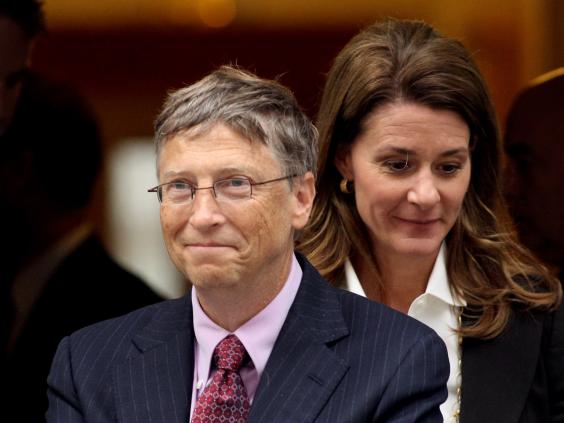 As the wife of the world's richest man, Ms Gates was initially viewed as the shy woman behind the scenes who had quietly managed to humanise her success-driven husband.
However, 15 years after the foundation was set up to spend the Microsoft-generated billions, she has emerged as a powerful figure in her own right with a smart financial brain.
"As I've travelled, I've met people on the ground, whether it's in rural Africa, the slums of Nairobi, the slums of India or Bangladesh. I like to sit down and talk to people because you learn so much," she said.
"You talk to the men and women initially but then the men return to the fields or farm. You stay and talk to the women and what you learn about their lives is incredible – what their dreams and hopes are for their children.
"I take this gender lens and focus on women. If we can lift up women and girls from being victims to being agents of change – the way women plough it back is different from men," she explained.
"For every marginal pound a woman gets, she puts 90 per cent of it back into her family. So if you invest in a woman, you invest in everyone else."
Ms Gates joined Microsoft in 1987 straight from university, where she studied computer science and economics. The couple first met at a company dinner in New York. Their romance began four months later after a chance meeting in a company car park.
They married in 1994 when she was 29 and Bill was approaching his 40th birthday. They have three children who live in the $129m (£80m) family home near Seattle.
Bill and Melinda have vowed to spend much of their estimated $53bn (£30bn) fortune on the foundation, which has focused on the development of new vaccines and other forms of medical assistance for the developing world.
However, Ms Gates said she was acutely aware that it was not enough to help babies in the Developing World to survive and that it was also important to offer women the injectable contraceptive Depo-Provera to limit the size of their families.
"Women use that shot because it is available but  also because it's covert, so they have control over it," Ms Gates explained.
"We were stocking condoms all over Africa but women will tell you over and over again that they cannot negotiate a condom even in their own marriage because, 'I'm either suggesting to my husband that he has Aids, or I have Aids'," she said.
Reuse content