Bret 'The Hitman' Hart has remembered his fellow wrestler Ultimate Warrior Jim Hellwig, telling his Facebook followers that he wishes he had worked with the WWE legend more.
Tributes have flooded in since Warrior collapsed outside his Arizona hotel room on Tuesday, with The Rock, Triple H, Hulk Hogan, Jim Ross and more offering their condolences to his family.
Hart added to them, writing:
"I'm deeply saddened at the sudden passing of Jim Helwig, The Ultimate Warrior. I wish I'd been kinder to him in the last moments that we had this past weekend at WrestleMania 30.
We did cross paths once or twice, but we were all so busy. I never went out of my way to see him, but if I could... I'd tell him he looked good. He looked content, and he looked like he'd finally found happiness within his children and his wife. He never ever harmed me nor did we really work with one another... I wish we had.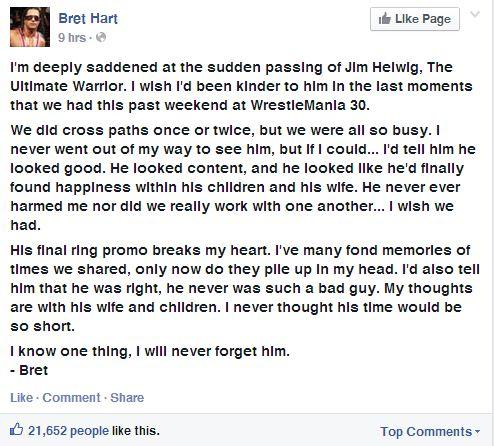 His final ring promo breaks my heart. I've many fond memories of times we shared, only now do they pile up in my head. I'd also tell him that he was right, he never was such a bad guy. My thoughts are with his wife and children. I never thought his time would be so short.
I know one thing, I will never forget him.
- Bret"
Hellwig's cause of death has yet to be confirmed, with Diamond Dallas Page going on TV yesterday to defend his previous steroid use, insisting Warrior was healthy and in better shape than ever in later life.
Reuse content