VV Brown has taken a stand against the "fickle part" of the music industry that she says has become "detached from real people".
The singer and former M&S model, who underwent a dramatic sound and image overhaul ahead of the release of her critically acclaimed album Samson & Delilah last year, is launching a video campaign to celebrate the various beliefs of her fans (scroll down to watch it in full).
"We live in a strange world of questions, opinions and beliefs," she told The Independent. "Faith is a fundamental part of human life. Believing in something with trust and conviction is a beautiful thing and a can also be terrible thing at the same time.
"I wanted to find out what real people have faith in, what their convictions are in there every day life."
So Brown has taken to the streets of London, New York and Paris to encourage people to freely share their opinions on faith and belief with her on camera. And she started by sharing some of her own with us, too.
"I believe in equality. Race, gender and sexuality," she said. "We are born into this world and we will die out of this world.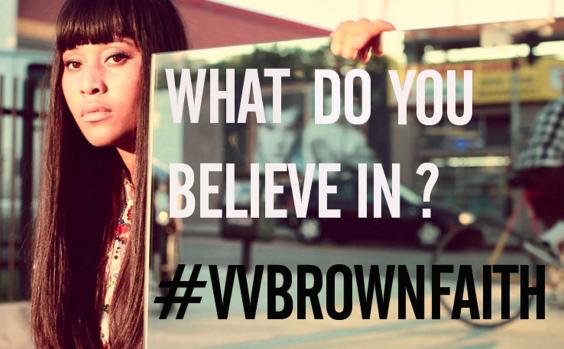 "Everybody has a voice, nobody is better than another. Everyone should be entitled to the same human rights. We all breath, vomit, live and die. You are no better than me and I am no better than you. I believe in equality."
 The campaign, launched partly in collaboration with designer Fred Butler, will take on a similar vain to her new TV show, The Gab, which she launches with business partner Vernon Francois later this year.
It also coincides with her aptly titled new single, Faith – the third track to be released from her new album. A special version of the song, featuring Bloc Party's Kele Okereke, will be released on 28 April through her own YOY Records.