Few images are perhaps more frightening than the one that is about to stare Judge Dredd comic readers in the face.
Introducing the biggest threat to Mega-City One since terrorism, gurning new villain 'Bilious Barrage', who is set for a rough encounter with the famed law enforcement character when he uses a series of attacks to ignite racial tensions between native citizens and immigrants.
Writers have thus far remained guarded over the exact plot line of the story, called Judge Dredd: People Like Us. However, editors did indicate that clash may not end well for Barrage.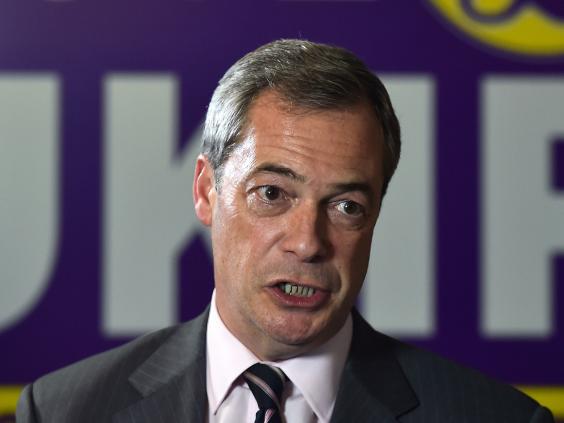 And it doesn't take a massive leap of the imagination to pinpoint the inspiration behind Dredd's evil new personality. The eagle-eyed among you may see a touch of Ukip leader Nigel Farage about Bilious.
Election 2015: Focus groups make unflattering comparisons
Election 2015: Focus groups make unflattering comparisons
1/4 David Cameron

The Prime Minister was likened to 'Wacky Races' villain Dick Dastardly

Getty Images

2/4 Ed Miliband

The Labour leader was compared to Mr Bean

PA; Getty Images

3/4 Nick Clegg

The Deputy PM reminded focus groups of Fred from Scooby Doo

Getty Images

4/4 Nigel Farage

The Ukip leader was described by floating voters as like Ray Winstone

Getty Images
"2000 AD has a long tradition of taking a pop at authority, stemming from its anti-establishment punk origins back in the Seventies," 2000 AD editor Matt Smith said of the caricature, which is set to appear in the comic later this year.
"Whether it was Margaret Thatcher being executed on the steps of St Paul's Cathedral by the Volgans in the very first issue, to Tony Blair being lampooned as the monomaniacal superhero B.L.A.I.R. 1, or Nemesis the Warlock ruthlessly satirising organised religion, 2000 AD has always taken a pop at the powerful and the pompous and no one, not even today's politicians, is safe."
Farage is set for a clash of altogether different proportions when he takes part in the televised leaders' debate on ITV between 8 and 10pm on 2 April.
The politician will appear in the live tête-à-tête alongside the current Prime Minister David Cameron, Labour leader Ed Miliband, Lib Dem Deputy PM Nick Clegg, Green party leader Natalie Bennett, Nicola Sturgeon of the SNP and Plaid Cymru leader Leanne Wood.
Reuse content