Noel Gallagher has spoken about a night out in Los Angeles with Russell Brand and Morrissey, who was branded "f**king mental".
Speaking to the Quietus, Gallagher spoke about getting "roaring drunk" with the Smiths frontman - leaving a sober Russell Brand a third wheel.
"F**king hell, it was funny," Gallagher said. "I was in LA on holiday with Sara [MacDonald, his wife] and the boys, and Russell [Brand] came to see us. And he goes: 'What you doing tonight? I was with Morrissey last night, and he reckons we should go out for a drink.' So Russell's texting him from my hotel room, saying: 'It's on,' and Morrissey's texting back, going [does pitch-perfect, drawling Morrissey impression] 'Wonderful. Tell him to bring his credit card.'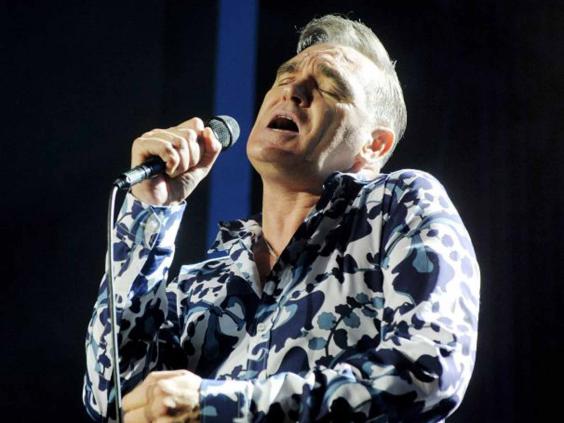 "And we get to this gaff – this is like at seven in the evening – and I'm saying to Russell: 'I'm up for it tonight, but I don't want to keep Sara up all night, we'll kick things in the head about two.' And Russell snorts. '2 o'clock? We'll be out of here in 40 minutes! I can't handle Morrissey for more than 40 minutes: he's f**king mental!' So, we go in, and there he's sat, and I could write a book on that night.
"Russell doesn't drink so me and Morrissey were roaring drunk. First thing, he got up and sort of shook my hand. I said: 'Alright mate, how're you doing?' because I've met him at awards ceremonies, I've been on planes with him going to festivals. He'd just cancelled all the gigs in South America because he had whatever it was. So I go: 'I thought you just cancelled a load of gigs, I thought you were at death's door.' And he said [raises eyebrows, does the voice again] 'Yet here I am'.
Russell Brand's Most Controversial Quips
Russell Brand's Most Controversial Quips
1/19 On puberty:

"By puberty I learned that nothing worth having could be easily attained and to succeed one must be single minded."

PA

2/19 On changing the world:

"I want to change the world, and do something valuable and beautiful. I want people to remember me before I'm dead, and then more afterwards."

3/19 On being strong:

"Strength does not have to be belligerent and loud."

Getty

4/19 On grammar:

"I couldn't possibly have sex with someone with such a slender grasp on grammar!"

5/19 On manners in England:

"In England we have such good manners that if someone says something impolite, the police will get involved."

6/19 On junkie v vegetarian:

"Even as a junkie I stayed true [to vegetarianism] - 'I shall have heroin, but I shan't have a hamburger.' What a sexy little paradox."

7/19 On the future:

"People don't realize that the future is just now, but later."

Rex Features

8/19 On sex addiction:

"Boggle with sex addicts is up there with go-kart racing with junkies."

Reuters

9/19 On life:

"My life is just a series of embarrassing incidents strung together by telling people about those embarrassing incidents."

Frazer Harrison/Getty Images

10/19 On happiness:

"If you want to be happy stop being so self-obsessed and start considering other people."

Getty Images

11/19 On drug addiction:

"The mentality and behavior of drug addicts and alcoholics is wholly irrational until you understand that they are completely powerless over their addiction and unless they have structured help, they have no hope."

Getty Images

12/19 On sitcoms:

"I do have a regard for the musicality of language that came from BBC sitcoms like Fawlty Towers."

13/19 On life motivation:

"That's what keeps me alive, perversion and star quality."

Getty

14/19 On love:

"When you fall in love you recognise you're not the most important person in the world, and your focus becomes another person."

Getty Images

15/19 On threesomes:

"I like threesomes with two women, not because I'm a cynical sexual predator. Oh no! But because I'm a romantic. I'm looking for "The One." And I'll find her more quickly if I audition two at a time."

16/19 On Conservatives:

"Conservatism appeals to our selfishness and fear, our designer and self-interest."

PA

17/19 On surfing:

"Surfing should be called "foam-choking" or "sea stabbing."

Getty Images

18/19 On Demi Moore:

"I've not made love to her yet, but it's a matter of time."

STEVE MORGAN/AFP/Getty Images

19/19 On success:

"When I was growing up, I thought I'd be a lot happier if I was famous and successful and if I had money."

Getty Images
"So it just descended, and he was f**king hilarious. He doesn't have a good word to say about anyone, anyone, anything. At one point he was asking [the voice again]: 'Who do we find funny?' and I was like: 'I don't know? Micky Flanagan?' and he'd just go [rolls eyes back in head, puts fingertips of stretched-out on table, shouts exasperatedly] 'Micky Flanagan!!!!'. And I'd say, "What about Jack Dee?' and he'd just go [leans forward and shouts] 'He! Is! Not! FUNN-Y!' Russell was just so nervous, and Morrissey was going, 'Come on, come on, can't we drink champagne and get pissed.' It just went on for quite a while, and he was brilliant."
In the interview, Gallagher also gives his opinion on The X Factor ("it's a good TV show), how to have a hit song ("write a f**king decent chorus") and whether he's happier working without Liam ("oh, f**king infinitely, yeah").
Reuse content