Former N*Sync singer Lance Bass has revealed that he was forced to come out by bloggers like Perez Hilton, after he was given a 24-hour ultimatum.
Bass made the revelations in an interview with Attitude magazine which celebrates advances in marriage equality. The singer appears on the cover with his husband, model and actor Michael Turchin, 27.
But Bass' journey to coming out in 2006 was turbulent and marred by bullying.
The singer, 35, told the Ricki Lake show in 2013 that he was frightened to come out in the early Ninetines and late Noughties, because he feared it would have "completely ruined" the hugely popular boyband.
He has since told Attitude that he was given a day to choose between coming out, or being outed.
The most important recent coming outs
The most important recent coming outs
1/17 Kristen Stewart

The actress has finally spoken about her private life, admitting that she is very much in love with her girlfriend and former personal assistant, Alicia Cargile. In the recently released interview with Elle UK, Stewart said: "I think also right now I'm just really in love with my girlfriend. We've broken up a couple of times and gotten back together, and this time I was like, 'Finally, I can feel again.'"

Getty

2/17 Cara Delevingne

The supermodel, whose last serious relationship was with bisexual actress Michelle Rodriguez, shared a picture of herself wearing a 'We Are You' T-shirt in honour of National Coming Out Day and added an enigmatic message: "Doesn't matter who you are or what you believe it, we are one! Go get yourself one of these shirts right now!"

Getty Images

3/17 Justine Greening

Justine Greening was the first British female MP to come out, revealing that she is in a same-sex relationship. Greening announced the news on Twitter during the Gay Pride 2016, saying : "Today's a good day to say I'm in a happy same sex relationship, I campaigned for Stronger In but sometimes you're better off out!"

Getty Images

4/17 Kezia Dugdale

The leader of Scotland's Labour party, Kezia Dugdale, was the fifth key political figure and fourth party leader in Scottish politics to come out as gay. In an interview to a Fabian Review, Dugdale said: "I have a female partner. I don't talk about it very much because I don't feel I need to." Her decision to reveal the information was met with widespread support among Scottish politicians.

PA

5/17 David Mundell

Scottish secretary has come out as gay on his personal website, where he wrote that it was time to "acknowledge in public as well as in private, who I am".

Reuters

6/17 Miley Cyrus

Miley Cyrus has described herself as pansexual in the interview with the fashion magazine. Cyrus said: "I'm very open about it – I'm pansexual, but I'm not in a relationship. I'm 22, I'm going on dates, but I change my style every two weeks, let alone who I'm with."

Dave Kotinsky/Getty Images for The ONE Campaign

7/17 Bella Thorne

Disney's actress has come out as bisexual following her split from English actor Gregg Sulkin. She revealed the news by uploading a picture of her kissing a girl – and then confirmed the speculation in a tweet.

Getty Images

8/17 Ellen Page

The 26-year-old actor came out in an inspirational speech at the Human Rights Campaign's youth conference, Time to Thrive, on 14 February this year. She spoke about her fear of coming out publicly and the effect that had on her. She said, to the crowd cheering her: 'My spirit suffered, my mental health suffered and my relationships suffered. And I'm standing here today, with all of the other side of all that pain.' Page said she hoped she could make a difference to others.

Getty Images

9/17 Vicky Beeching

Vicky Beeching, a British Christian rock singer popular in America's Bible Belt, came out in an interview with The Independent, risking her career. In her interview Beeching talked about her anguish as a teenager as her feelings went against church teachings. Beeching now says she wants to be an advocate for gay rights within the church and came to blows with homophobic US Pastor, Scott Lively. She said to him on Channel 4 News: "I'm taking this step today so young people don't have to listen to the kind of teaching you peddle, because it damages people."

Jason Alden/The Independent

10/17 Tom Daley

The 20-year-old Olympic diving champion came out in an emotional YouTube video in December 2013, saying he was 'dating a guy' and in April this year said on ITV's Celebrity Juice 'I am a gay man now.' This week Daley encouraged gay footballers to come out: 'I think people would be surprised how supported they'd be if they were to come out in a football environment,' he said at the Leaders in Sport conference in London.

11/17 Thomas Hitzlsperger

Speaking of footballers, the German, former Aston Villa player, Thomas Hitzsperger, became the highest profile footballer to be openly gay in January this year – he told the German newspaper, Die Zeit: 'It's been a long and difficult process… only in the last few years have I realised that I preferred living with a man.' The 31-year-old retired from the game in 2013 because of injuries. He said that he had thought about coming out earlier while he was still playing for Wolfsburg, but was warned against it. Afterwards he said 'there was not precedent, so people could only speculate on what would happen.'

Getty Images

12/17 Andreja Pejic

Andreja Pejic is known as the striking Australian model who has done shoots for Elle and Vogue, as a man modelling womenswear. In July 2014 she revealed she had undergone gender reassignment surgery and came out as a transgender woman. 'I hope that by being open about this, it becomes less of an issue,' she told People magazine.

Getty

13/17 Sam Smith

The singer and rising star of 2014 came out officially in May this year when he said his album was about unrequited love for a man. Speaking to the Fader he said: 'In the Lonely Hour is about a guy that I fell in love with last year and he didn't love me back. I think I'm over it now, but I was in a very dark place. I kept feeling lonely in the fact that I hadn't felt love before.'

Getty Images

14/17 Charlie King

The 29-year-old former The Only Way is Essex star Charlie King said he was gay in an interview with This Morning, only this month. In the interview he said he wanted to be honest about his sexuality to help other people in the same situation feel more comfortable about it.

15/17 Michael Sam

The 24-year-old was virtually unknown at the start of 2014 but came out in February and went on to become the first openly gay NFL player in the history of American football, hitting the headlines all over the world. He was picked up and then dropped in August by the St Louis Rams, and then became part of the Dallas Cowboys practice squad. He said in the New York Times: 'I'm Michael Sam, I'm a football player and I'm gay.'

Getty Images

16/17 Hodor!

The actor, Kristian Nairn, famed for his portrayal of the gentle giant Hodor on Game of Thrones came out in March this year. He told the Wall Street Journal he didn't fit the stereotype of what a gay man is supposed to look like: 'You have to be thin, you have to be tanned… that's never been be me.' He said he 'wanted to show the world that we are varied people, as everyone else, you don't have to be any way.'

HBO

17/17 Ian Thorpe

Australia's swimming champion Ian Thorpe denied being gay for years and did not feel comfortable coming out until July this year in an interview with Michael Parkinson. Thorpe is a five-time Olympic gold medallist and has recently retired from the sport, in his 2012 autobiography he said he was straight, and in July he said that being gay was something he was only just telling people: 'This is only something that very recently, we're talking the past two weeks, I've been comfortable telling the closest people around me.'

Getty Images
"Two years before I came out I was really bullied on the internet by bloggers, that's when Perez Hilton just started and was just really malicious against me," he said.
"So, because of the bloggers like him hounding me, all the other magazines started calling me and saying , 'Look, we know you're gay, you can write the story with or without us, but we have to write it,' I decided to go with People [magazine] and I think they did a great job.
"I had 24 hours to decide if I was going to come out or not, and within 24 hours it was on the stands."
Perez Hilton's representatives have not yet responded to a request for a comment from The Independent.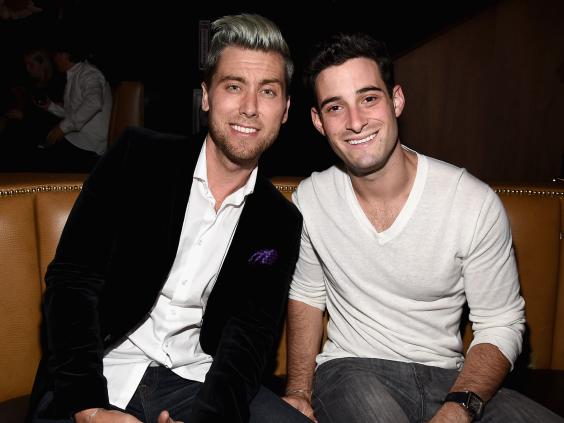 The revelation comes after Bass and Turchin tied the knot on 20 December.
Yesterday, the couple joined 100 same and mixed sex couples at a mass wedding to celebrate their union.