St Louis Cardinals' Oscar Taveras has been killed in a car crash in his homeland of the Dominican Republic, according to reports in both the Dominican and the United States.
Taveras, 22, had been tipped as one of the rising stars of the Major League Baseball, but El Nuevo Diario reported that both Taveras and his girlfriend Edilia Arvelo were killed in a crash on Sunday night.
Details of the accident remain unconfirmed, but the news spread throughout the crowd at yesterday's Game 5 of the World Series between Kansas City Royals and the San Francisco Giants at AT&T Park.
Taveras was reported to be driving a new Chevrolet Camaro at the time of the crash on a highway between the beaches of Sosua and Cabarete in Puerto Plata, roughly 215 miles north of the capital city of Santo Domingo.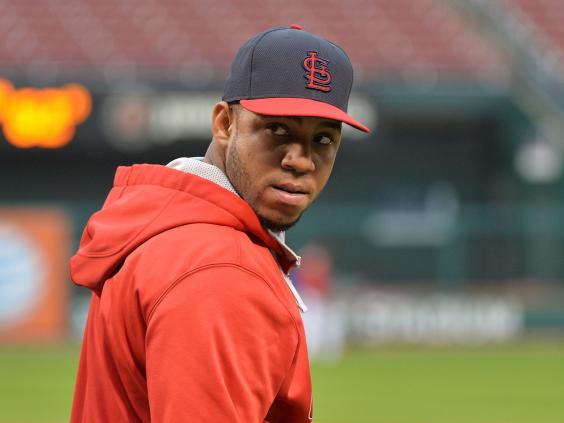 "He wasn't carrying document at the time of the accident, but his body was identified by family members," said Col. Diego Pesqueira of the Metropolitan Transportation Agency. Other reports claim that National police spokesman Jacobo Mateo Moquete confirmed 18-year-old Arvelo was a passenger in the accident and had also tragically lost her life.
"I simply can't believe it," Cardinals General Manager John Mozeliak said in a statement. "I first met Oscar when he was 16 years old and will forever remember him as a wonderful young man who was a gifted athlete with an infectious love for life who lived every day to the fullest."
Taveras's final game came at the same stadium that held last night's World Series encounter, which saw the Giants take a 3-2 lead in the best-of-seven series courtesy of a 5-0 shutout win. He hit a home run in his first and last games in St Louis, where he made his debut on May 31 this year. He had been ranked by Baseball America as the Number 3 prospect for this season, but saw his campaign hit by an ankle injury.
He played in 80 games for the Cardinals before his tragic death, hitting three home runs and playing predominantly in right field.
Taveras's death is the first of any active MLB player since the passing Greg Halman in 2011. The former Seattle Mariners was stabbed to death by his brother while in the Netherlands.
The Cardinals have had to deal with tragedy twice before since the turn of the millennium, with the deaths of pitchers Darryl Kile, who had a heart defect in 2002, and Josh Hancock, who was also killed in a car accident in 2007, rocking the franchise to its very foundations. Hancock was legally drunk at the time his car hit a tow truck.
Derrick Goold, of the St Louis Post-Dispatch, wrote how while Taveras's season had been a disappointing one, but said that he had shown his best signs in the latter stages of the season and would hopefully developed heading towards the new campaign.
"Frankly, the last two months for Oscar were probably his best two months," Mozeliak said. "And, now, I know he didn't play a lot. But I think he learned a lot. I think he now understands the ownership he needs to take moving forward. The game is pretty simple. You either do or you don't. When we get to Jupiter (Fla.) next year, we're going to know what he did and we'll know if we can count on him or not."
Reuse content