The actress Janet Hubert has criticised Jada Pinkett Smith for boycotting the Academy Awards over the lack of diversity in the 2016 nominations, saying she and Will Smith need to "get over themselves".
Hubert is best known for playing 'Aunt Viv' in The Fresh Prince of Bel-Air, which catapulted co-star and Pinkett Smith's husband Smith to fame.
After deliberating on Twitter over the weekend, Pinkett Smith announced in a video message on Monday that she will not be attending or watching this year's ceremony. 
"Begging for acknowledgement or even asking diminishes dignity and diminishes power and we are dignified people and we are powerful and let's not forget it. Let the Academy do them and let's do us differently," the 44-year-old said.
Smith, Idris Elba, Michael B. Jordon and cast members of the box office success Straight Outta Compton were overlooked in the nominations list which was announced on Thursday. 
Soon after they were announced, the hashtag #OscarsSoWhite began trending on Twitter because all of the nominees were white for a second year in a row. 
However Hubert, 60, ridiculed Pinkett Smith for presenting the lack of diversity at the Academy Awards as an important issue when there is "a lot of sh** going on in the world".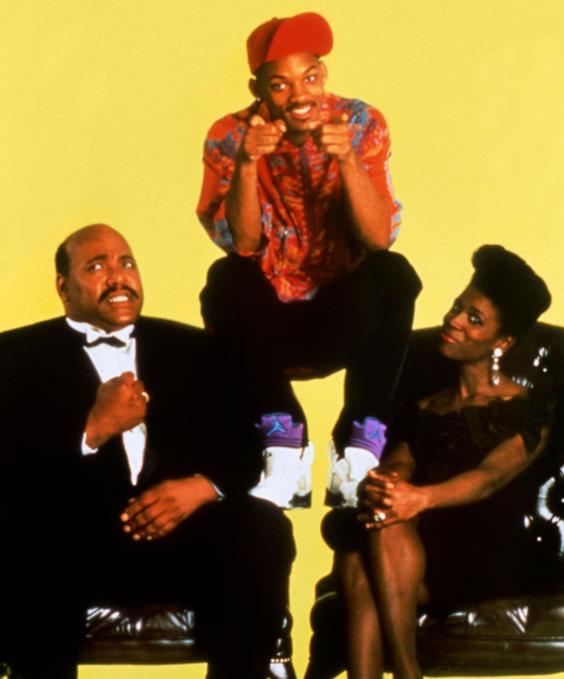 Addressing Pinkett Smith directly by calling her "Miss Thing" in a video posted to her Facebook page, she said: "Some of us got bigger s*** to worry about than the Oscars."
She criticised the actress for calling on other actors to make a stand against the Academy, claiming it is unfair to ask people to "jeopardise their careers". Hubert claimed it was ironic for Pinkett Smith and her husband to ask of this when they are "part of the system".
"I find it ironic that somebody who has made their living and made millions and millions of dollars from the very people you're talking about boycotting just because you didn't get a nomination. That is not the way life works baby.
People news in pictures
People news in pictures
1/9

US President-elect Donald Trump and musician Kanye West pose for media at Trump Tower in Manhattan, New York City

Reuters

2/9

Anna Wintour apologises for criticising Donald Trump on a train. Fashionista was reportedly heard saying the President-elect would use the Presidency 'to sell himself and his brand'

Getty

3/9

Ivanka Trump and her husband might be joining the next administration. The couple is plotting a move to the nation's capital

Getty

4/9

Samuel L Jackson calls Muslims 'the new black kids in America' 'People perceive them as a threat before even saying hello,' actor says of Muslims in the US

Getty

5/9

Former JLS star Oritse Williams denies rape allegation The singer has not been charged

Getty

6/9

Bill Gates announces $1bn investment fund for clean energy technology Team-up with Richard Branson, Jeff Bezos and others aims to fight climate change - and reap 'super' rewards

Getty

7/9

Donald Trump's aide worked for anti-immigation extremists Poll was used by President-elect during campaign to justify banning Muslims from the US

Reuters

8/9

Henry Kissinger tells Nobel Peace Prize forum to give Donald Trump a chance More than 7,000 people called for the 'mastermind of war' to be arrested while visiting Norway

EPA

9/9

John Travolta dismisses new Scientology documentary by former member Leah Remini The actor defends the church and says it was a source of support for him when he lost his girlfriend, mother and son

Getty
"You have a huge production company… you are a part of Hollywood, you are a part of the system that is unfair to other actors so get real."
Hubert appeared to sidestep Pinkett Smith several times by instead referring to her husband, asking: "Does your man not have a mouth of his own with which to speak?", before saying: "You ain't Barack and Michelle Obama and y'all need to get over yourselves."
Bringing up their time working together on the Fresh Prince in the 1990s, she alleged she asked Smith for support in getting a higher fee for some of the actors and he didn't co-operate, before continuing to criticise his current film roles.
"Karma must be a b**ch because now here you are, you've had a few flops and you know there are those out there who really deserve a nod and Idris Elba was one of them… you are not, maybe you didn't deserve a nomination."
This is not the first time Hubert has publicly criticised Smith. In 2013 she claimed Smith was responsible for her 1993 exit from the show and subsequent replacement by another actress, she told Omg! Insider.
The Independent has approached a representative for Pinkett Smith and Smith for comment.
Reuse content