Former England fast bowler David Lawrence fears Australian Sean Abbott may never play cricket again due to the after-effects of the death of Phil Hughes, who died on Thursday morning two days after he was hit in the head by a cricket ball.
Abbott's bouncer hit Hughes as he attempted to hook the ball, impacting on Hughes' neck which was unprotected by his helmet. Hughes staggered momentarily before collapsing on the Sydney Cricket Ground pitch, and despite receiving medical attention and being airlifted to hospital, he succumbed to his injuries early this morning.
Hughes suffered a vertebral artery rupture that caused massive bleeding on the brain, and it is just the second recorded incident that has resulted in such an injury that is nearly always fatal.
Lawrence speaks from experience having bowled the ball that struck Phil Simmons in the temple in a tour match. Then 24 years old, Lawrence had to deal with the fallout of hitting the West Indies batsman, who wasn't wearing a helmet, which inflicted serious brain injuries which required emergency surgery.
Phillip Hughes: Career in pictures
Phillip Hughes: Career in pictures
1/7 Phil Hughes

Hughes burst onto the international scene by scoring 115 and 160 against South Africa in just his second Test

REUTERS

2/7 Phil Hughes

Hughes, playing here in a tour match against Sussex, is well known to English fans after spells with Hampshire, Middlesex and Worcestershire

Getty Images

3/7 Phil Hughes

In last summer's Ashes series Hughes scored 81* at Trent Bridge as part of a 10th wicket partnership of 163 with the debutant Ashton Agar

EPA

4/7 Phil Hughes

Hughes's most recent Test outing was the Lords test of the 2013 Ashes series

Reuter

5/7 Phil Hughes

Hughes has scored 1535 runs in 26 Test appearances at an average of 32.65

GETTY IMAGES

6/7 Phil Hughes

Despite making his Test debut in 2009 Hughes is still just 25 - he has played 114 First Class matches and scored 26 centuries

GETTY IMAGES

7/7 Phil Hughes

Although he has been absent from the Test line-up, Hughes recently regained his place in the One Day side for series against Pakistan and South Africa

Getty Images
Simmons' heart stopped beating after the incident, but thankfully he made a full recovery and went on to play for the West Indies again. Being able to speak to Simmons and hear from him that it wasn't his fault helped Lawrence to recover from the ordeal, but he believes that Abbott's inability to hear similar words from Hughes could lead to him deciding to never play cricket again.
"He collapsed. They rushed him to hospital, and were able to save his life and take a blood clot off his brain - and he subsequently went on to play again," Lawrence said when speaking to BBC World News.
Lawrence said that he believes 22-year-old Abbott won't play again, given the shock that he will feel, and he sent his best to the Australian ODI player in the hope that he does recover from the ordeal.
"What gave me comfort was I was able to see Phil Simmons 48 hours after, and he was able to tell me it wasn't my fault," he added.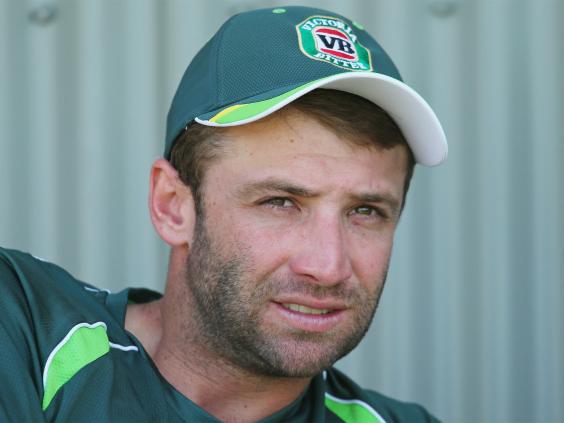 "The bowler in this instance wouldn't have been able to do that. Hughes didn't make a recovery, wasn't able to talk to him.
"So my thoughts go out to him as well - because whether he will come back from this or not, personally I don't think he'll play cricket again."
Despite the tragic circumstances of the last two days, Lawrence still believes that bouncers should be allowed in cricket as they form an integral part of a bowlers attack. He explained that "roughing up" a batsman was part of the game, but insisted that no one goes out onto the pitch with intentions to hurt an opponent.
"I don't think any fast bowler walks out there, looking to inflict danger on someone - or for them to end up in hospital, and lose their life," he said.
"It's a part of the game.
"You use it to 'rough up' a batsman, make him feel unsettled, and then you look possibly to pitch the ball up.
"I wouldn't like to see that taken away from the game."
Lawrence's own career was cut short by a horrific injury when he broke his kneecap while playing in the Third Test between New Zealand and England in 1992.
Reuse content