The Catholic Church's stance on gay rights continues to be a source of confusion, as official acceptance of LGBT people emerges on a seemingly intermittent basis. 
Following the recent synod, Pope Francis has again spoken out about homosexuals – as he said the Catholic Church must help parents to stand by their gay children.
But at the same time he maintained that gay marriage was still not on the Church's agenda.
The seemingly contradictory statements came in an interview published just a day after Francis urged the Church's top theologians to listen to what ordinary Catholics have to say and pay attention to the "signs of the times".
Speaking to La Nacion, the Pope said that leaders had a duty to help "famil[ies] to deal with that somewhat unusual situation".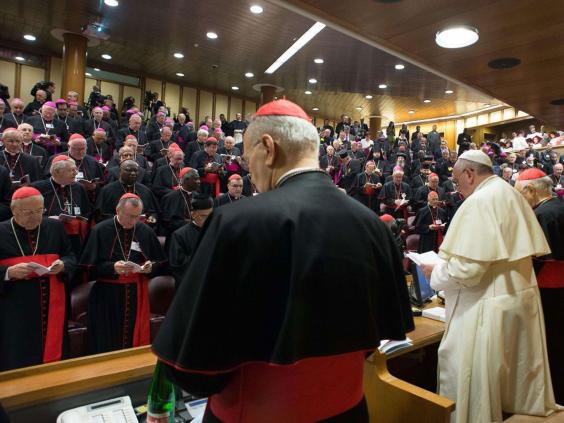 "What we did talk about was of how a family with a homosexual child, whether a son or a daughter, goes about educating that child, how the family bears up, how to help that family to deal with that somewhat unusual situation," he said.
"That is to say, the synod addressed the family and the homosexual persons in relation to their families, because we come across this reality all the time in the confessional: a father and a mother whose son or daughter is in that situation. This happened to me several times in Buenos Aires.
"We have to find a way to help that father or that mother to stand by their son or daughter."
But he said that "nobody mentioned homosexual marriage" at the synod because "it did not cross our minds".
In pictures: 'The many popes of Pope Francis'
In pictures: 'The many popes of Pope Francis'
1/12 The Pro-Gay Pope

In just a year, Pope Francis has managed to change the public perception of the Catholic Church, and the stance it takes on civil issues, like gay rights. Despite originally protesting the legalisation of gay marriage in his native Argentina some years ago, he told reporters this year: "If someone is gay and seeks the Lord with good will, who am I to judge?"

Getty Images

2/12 The Rebel Pope

No other Pope has urged a shake-up of the Catholic Church quite like Pope Francis, a true rebel of the dioceses. Who, incidentally, used to be a night club bouncer.

Getty Images

3/12 The Graffiti Pope

Pope Francis become... SUPER POPE in this Vatican-approved street art. But was he happy with the reference to the fictional DC comic character?"To depict the pope as a sort of superman, a sort of star, seems offensive to me. The pope is a man who laughs, cries, sleeps tranquilly and has friends like everyone else, a normal person," he said. So, that's a no, then.

4/12 The Biker Pope

Yes, the Pope used to own a Harley Davidson. And yes, he auctioned it off this year and donated the proceeds to a charity that feeds the hungry in Rome. Very Papal.

5/12 The 'Blue' Pope

Dropping the 'F' bomb during Sunday service? Classic Pope Francis. Sadly, down to a Spanish-speaking slip of the Italian language rather than pure bad-assery.

6/12 The 'Because I'm Worth It' Pope

That awkward moment when your Papal hat blows off, forcing your barnet into Sesame Street-like spikes. Pope Francis has been there.

7/12 The Chocolate Pope

Imagine the Pope's delight (horror?) when he was presented with a giant chocolate replica of himself outside the Vatican by by students on a chocolatier course at the Accademia of Maestri Cioccolatieri, near Venice.

EPA/Osservatore Romano

8/12 The Rock Star pope

The one and only religious leader ever to grace the cover of Rolling Stone magazine? Introducing... Pope Francis.

9/12 The People's Pope

His U-turn attitude towards sexuality won him Time magazine's coveted Person of the Year accolade, and the cover of gay rights magazine The Advocate.

Time

10/12 The Merchandise Pope

Thongs, mugs, onesies, earrings and even a baby mobile adorned with decapitated Pope heads, the 'Francis Effect' has seen sales of Papal merchandise soar by 200% over the last year.

11/12 The Fashion Pope

The only Pope, as far as we're aware, to be compared to fashion royalty (Karl Lagerfeld. Yes way.) and win Esquire's Most Stylish Man of 2013 award, too.

EPA

12/12 The Modern Pope

Let it be said, Pope Francis knows a thing or two about social media. He might be a way off 'doing a Dalai' and opting for Instagram, but he's not above posing for the odd 'Selfie' on Twitter.
In October Hungarian Cardinal Peter Erdo read out an interim report at the Synod's General Congregation, which declared homosexuals had "gifts and qualities to offer".
However, conservative bishops distanced themselves from the statement and the Church has since said it is simply a "working document" and was not intended to be an official statement of church teaching on family life.
Francis told La Nacion that the synod was a "process" and stated: "The opinion of a synodal father was just that, the opinion of a synodal father."
Reuse content