Pope Francis's suggestion that Donald Trump was not "not Christian" because of his views on immigration was not a personal attack on the Republican frontrunner, a senior Vatican official has said. 
Vatican spokesman Father Federico Lombardi said on Friday that Francis' comments, which stunned the US presidential election campaign, were more an affirmation of the Pope's longstanding belief that migrants should he helped.
"In no way was this a personal attack, nor an indication of how to vote," Mr Lombardi told Vatican Radio.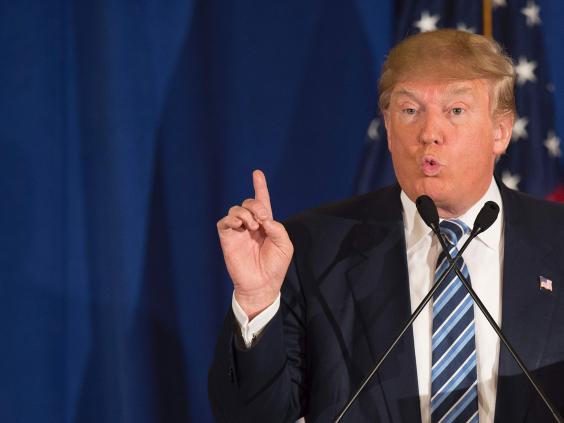 On Thursday, Francis had ignited US election campaign with comments to reporters as he flew back to Italy after a visit to Mexico. In a freewheeling discussion, the Pope suggested Mr Trump was not Christian because of his hardline views on immigration and his desire to build a wall on the US-Mexico border.
"A person who thinks only about building walls, wherever they may be, and not building bridges, is not Christian," the Pope said in answer to a specific question about Mr Trump's views. "This is not in the gospel."
Asked if American Catholics should vote for someone with Mr Trump's views, Francis said: "I am not going to get involved in that. I say only that this man is not Christian if he has said things like that. We must see if he said things in that way and in this I give the benefit of the doubt."
Donald Trump's most controversial quotes
Donald Trump's most controversial quotes
1/14 On Isis:

"Some of the candidates, they went in and didn't know the air conditioner didn't work and sweated like dogs, and they didn't know the room was too big because they didn't have anybody there. How are they going to beat ISIS?"

Getty

2/14 On immigration:

"I will build a great wall — and nobody builds walls better than me, believe me —and I'll build them very inexpensively. I will build a great, great wall on our southern border, and I will make Mexico pay for that wall. Mark my words."

Reuters

3/14 On Free Trade:

"Free trade is terrible. Free trade can be wonderful if you have smart people. But we have stupid people."

PAUL J. RICHARDS | AFP | Getty Images

4/14 On Mexicans:

"When Mexico sends its people, they're not sending their best. They're sending people that have lots of problems. They're bringing drugs. They're bringing crime. They're rapists."

Getty

5/14 On China:

"I just sold an apartment for $15 million to somebody from China. Am I supposed to dislike them?... I love China. The biggest bank in the world is from China. You know where their United States headquarters is located? In this building, in Trump Tower."

Getty Images

6/14 On work:

"If you're interested in 'balancing' work and pleasure, stop trying to balance them. Instead make your work more pleasurable."

AP

7/14 On success:

"What separates the winners from the losers is how a person reacts to each new twist of fate."

8/14 On life:

"Everything in life is luck."

AFP

9/14 On ambition:

"You have to think anyway, so why not think big?"

Getty Images

10/14 On his opponents:

"Bush is totally in favour of Common Core. I don't see how he can possibly get the nomination. He's weak on immigration. He's in favour of Common Core. How the hell can you vote for this guy? You just can't do it."

Reuters

11/14 On Obamacare:

"You have to be hit by a tractor, literally, a tractor, to use it, because the deductibles are so high. It's virtually useless. And remember the $5 billion web site?... I have so many web sites, I have them all over the place. I hire people, they do a web site. It costs me $3."

Getty Images

12/14 On Barack Obama:

"Obama is going to be out playing golf. He might be on one of my courses. I would invite him. I have the best courses in the world. I have one right next to the White House."

PA

13/14 On himself:

"Love him or hate him, Trump is a man who is certain about what he wants and sets out to get it, no holds barred. Women find his power almost as much of a turn-on as his money."

Getty Images

14/14 On America:

"The American Dream is dead. But if I get elected president I will bring it back bigger and better and stronger than ever before and we will make America great again."

GETTY
Mr Trump immediately hit back, saying that the Pope's comments were "shameful".
"I am proud to be a Christian and as President I will not allow Christianity to be consistently attacked and weakened, unlike what is happening now, with our current president," he said.
"No leader, especially a religious leader, should have the right to question another man's religion or faith."
Later, still campaigning in South Carolina, the billionaire appeared to step back and offer a gentler perspective. He also suggested that both the government of Mexico and the media were responsible for misleading the pope about the situation in regard to immigrants entering the US.
"I have a lot of respect for the Pope. He has a lot of personality and I think he's doing a very good job, he has a lot of energy," he said.
He also repeated his belief the Pope had been ignorant of the drugs being smuggled into the US and other security issues.
The Vatican spokesman, Mr Lombardi, said the Pope believed people "should build bridges, not walls", according to Reuters.
He added: "This is his general view, which is very consistent with courageously following the indications of the gospel on offering welcome and solidarity."