Prince Charles made an 80-mile trip by private helicopter over the weekend, just days after he encouraged the public to turn off their lights as part of a global campaign to save energy.
Last Friday, Prince Charles urged people to turn off their lights for Earth Hour between 8:30pm and 9:30pm on Saturday.
Some 700 landmarks across the world went dark to mark the occasion, including Buckingham Palace, London's Tower Bridge, Old Trafford football stadium and Big Ben.
But on Sunday, the heir to the throne and Camilla, the Duchess of Cornwall, were flown almost 80 miles in the Queen's helicopter from Highgrove, Gloucestershire to Ascot, Berkshire, where the couple watched the Prince's Countryside Fund Raceday.
It is estimated that the Sikorsky S76C aircraft burned 1.3 tons of carbon during the trip, The Mirror reported.
In pictures: Prince Charles's most controversial moments
In pictures: Prince Charles's most controversial moments
1/10 Princely influence

The Prince of Wales tried to influence Tony Blair's government on issues such as grammar schools, alternative medicine and GM food, a BBC radio programme revealed.

2/10 Charles and grammar schools

David Blunkett, right, was among those who disclosed they had been contacted by the Prince of Wales. The former Education Secretary spoke about Prince Charles' attempts to expand grammar schools, and how he 'didn't like' it when his suggestion was refused.

Rex

3/10 Ignoring austerity

The cost of the monarchy to the taxpayer rose by nearly six per cent last year - more than double the rate of inflation. Travel costs incurred by the Prince of Wales, who has recently begun to take over official duties previously undertaken by his mother, included a £434,000 visit to India with the Duchess of Cornwall, and a charter flight to attend the funeral of Nelson Mandela which cost £246,160

Getty

4/10 The 'withered' Prince

Spain's King Juan Carlos reportedly said the aging Prince Charles was partly his inspiration for abdicating in favour of Crown Prince Felipe (left). He was reported to have said: 'I do not want my son to wither waiting like Prince Charles'

JAVIER SORIANO/AFP/Getty Images

5/10 Reforming capitalism

In May, the Prince of Wales spoke at a major conference about reforming capitalism - despite being advised not to speak on matters of public controversy. Charles' comments over the course of the month had reignited debate about the British monarchy

Getty

6/10 Putin 'acting like Hitler'

Prince Charles was claimed to have compared the actions of Russian leader Vladimir Putin to those of Adolf Hitler during a private conversation with a woman who had fled the Nazis

PA

7/10 Australia? Take it or leave it

In April the veteran Australian journalist David Marr said the Prince of Wales once privately expressed his belief that if Australia became a republic it would be 'no skin off anyone's nose'

Getty

8/10 Satanic Verses

Prince Charles turned his back on Sir Salman Rushdie during his fatwa over publication of The Satanic Verses because he thought the book was offensive to Muslims, it was reported earlier this year. The claims were made by Martin Amis, who said Charles told him that he would not offer support 'if someone insults someone else's deepest convictions'

AP

9/10 Homeopathy

Prince Charles has reportedly pushed for further research on the NHS about homeopathic remedies for a number of years. Labour MPs reacted with fury at the revelation in July 2013 that the heir to the throne had met Health Secretary Jeremy Hunt, with NHS support for homeopathy believed to be on the agenda

Getty Images

10/10 The 'black spider letters'

The Guardian has been trying for years to secure the release of a series of 'particularly frank' letters written by Prince Charles to senior Government figures. In October 2012, the attorney-general Dominic Grieve overruled a court's decision to allow access but now, barring a successful appeal to the Supreme Court, Charles's correspondence will be revealed at last
In the video message released on Friday, Charles urged people to observe Earth Hour "not just for ourselves but also for our children and grandchildren".
"Ladies and gentlemen, Earth Hour is exactly what it says it is. One hour for the whole world to think about this extraordinary planet that sustains us all.
"It is a symbolic and powerful reminder that together we have the power to change things.
He added: "It should also remind us that we do not have much time in which to make those changes.
"If everyone in the world consumed natural resources at the rate we do in the United Kingdom, we would need three planets, not just one, to support us," he said.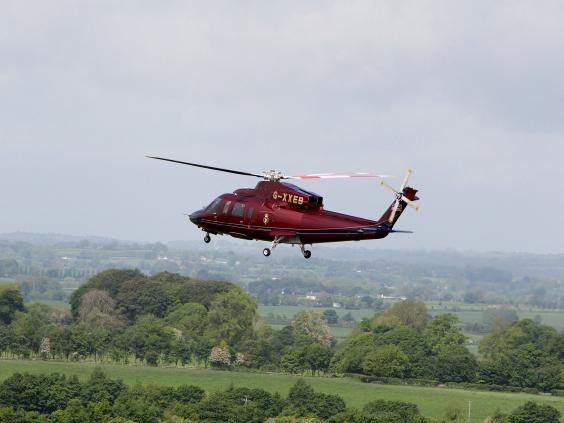 Clarence House said in a statement: "Safety, security, the need to minimise disruption for others, time and cost are just some of the factors taken into account when travel decisions are made.
"Clarence House balances out its emissions by investing in sustainable forestry and projects that reduce deforestation."
Reuse content