Prince George has landed his first Vanity Fair cover ahead of his first birthday on 22 July.
For those who care about subjects including the toddler's "colicky beginnings" or how the Duke and Duchess of Cambridge chose their nanny, Vanity Fair magazine contributor Katie Nicholl digs deep to discover how the not-yet-one-year-old became a "a media star, a style icon, and a P.R. triumph".
Behold - George's eating and sleeping habits, behavioural patterns and the 'photo scandal' that led the Duchess to decide to only walk her son in the grounds of Kensington Palace.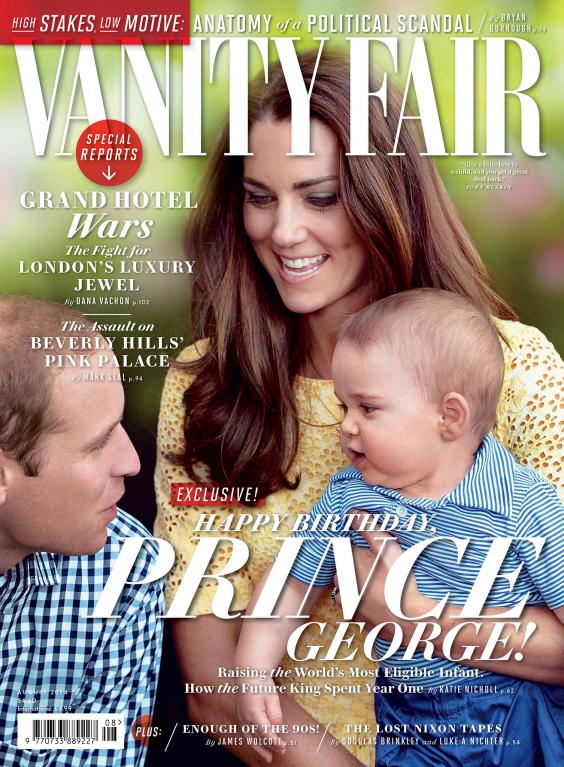 "Kate expressed relief that George behaved well during his first few public appearances," Vanity Fair's 'investigation' reveals.
"Nicholl reports that for the first few months the prince cried loudly and frequently, and he was not sleeping through the night. Nanny Jessie Webb tried hard to get him into a routine, but the baby prince, who was still breastfeeding, was permanently hungry. Nicholl reveals that it was only in the New Year, when Kate introduced solids, that George finally slept through the night."
A preview on the Vanity Fair also reveals "that there are rumours among the couple's friends that they plan to try this summer".
The August issue of Vanity Fair is on news stands from Friday 11 July.
Reuse content