The sun is shining, Britain is enjoying the first flush of summer; here, in a west London hotel, the flowers are in full bloom. Everything is perfect, except the bloke in front of me gives the impression of wishing he was somewhere else. Not because we've fallen out, you understand, but because his spiritual home is probably far away, on a polar ice cap – which one, North or South, does not really matter, either will do.
He's Ben Saunders and he's returned to the UK from an epic, 105-day trek to the South Pole and back. It was the same route taken by Captain Scott on his ill-fated 1912 expedition.
Unlike Scott, Saunders and his co- adventurer, former Wasps rugby player Tarka L'Herpiniere, did not have horses and dogs to help them even part of the way – they pulled their own supplies, weighing up to 200kgs, the entire 1,800 miles. To put that in context, they each completed 69 marathons back to back.
But unlike Scott, who perished with his team 11 miles short of the finish, Saunders gets to tell the tale. He also gets to dream of going again.
Prior to the Antarctic, he skied solo to the North Pole. He is only the third person in history and the youngest by 10 years to reach the North Pole alone and on foot.
Don't suppose, though, that that's it, and his next trip will involve a beach, a sun lounger, a swimming pool, a cocktail or two, and a good book. That may appeal to the rest of us, especially on a day like today, but it's not how Saunders is wired.
Even now, his thoughts lie in the freezing cold of the ends of the Earth. "It won't be such a long trip next time," he says. But, he adds excitedly, "it's a genuine wilderness in the middle of Antarctica. There's hundreds of thousands of miles not yet named, still to be discovered."
He does confess to still being "knackered" from his South Pole feat, despite the fact that he returned to the UK some time ago, in mid-February. "The journey back took us a few days. We finished at Ross Island, and flew to Chile, and then business class from Santiago to Madrid. That was very nice," he says of the last leg, in a rare concession to admitting enjoying creature comforts.
Then his eyes sparkle. "You know… people don't realise that Antarctica is twice the size of Australia."
In Scott's steps: Ben Saunders journeys to the South Pole
In Scott's steps: Ben Saunders journeys to the South Pole
1/7 The Scott Expedition

Ben setting out across the Ross Ice Shelf

Tarka L'Herpiniere

2/7 The Scott Expedition

Explorers Ben Saunders (left) and Tarka L'Herpiniere journeyed 1,800 miles across the landscape of Antarctica: 'Being back here is very, very odd'

Scott Expedition

3/7 The Scott Expedition

Ben Saunders and Tarka L'Herpiniere re-wrote history as they completed the ill-fated journey of Captain Scott's iconic Terra Nova expedition

Scott Expedition

4/7 The Scott Expedition

Making camp along the way

Tarka L'Herpiniere

5/7 The Scott Expedition

He is adjusting to life back home after his time on the ice

Micha Theiner/The Independent

6/7 The Scott Expedition

Ben Saunders and his partner Tarka L'Herpiniere make their way across the sastrugi – wind-blown ridges in the snow

Tarka L'Herpiniere

7/7 The Scott Expedition

Edge of the earth: Ben Saunders

Scott Expedition
He's 36 years old, an age by which many of his contemporaries will have long since settled down. He does have a girlfriend, called Liz. But she seems just as determined to push herself to the limit as he does. She's a cyclist, and guess what? "She's planning to cycle around the world." He laughs. "I guess we're cut from similar cloth."
How did they get together? "We met in 2012, she'd just cycled the entire route of the Tour de France." He pulls a face. "Our relationship is challenging because we're both travelling, both away the whole time."
Saunders grew up in Plymouth, although he moved around a lot in his childhood – which may explain his peripatetic nature – between Devon and Kent, as his parents divorced. His father was a bricklayer, his mother a secretary.
That's odd, because I swear he could have stepped straight out of a Jack Wills or Fat Face brochure. He's got public school, rumpled, skiing and surfing type, written all over him, an impression reinforced by his plummy voice.
The latter came from his stepfather, and he went to state school. He's got a brother, "a teacher, who lives in the Swiss mountains".
He completed his A-levels but university was not for him (his careers adviser asked him if he'd thought of becoming a tree surgeon).
"After A-levels I saved up and went travelling. Academically, I was OK, it wasn't a struggle. I suppose the wanderlust grew up on me. There's no doubt the outdoors inspired me – I was always walking, climbing, kayaking."
He wrote to John Ridgway, the yachtsman and rower, to see if he could work for him – Ridgway, ex-SAS, who rowed the Atlantic with Chay Blyth in 1966, was setting up his own outward bound centre. "John was an inspirational figure. I'd read a couple of his books. He was running leadership courses – his management training school was the toughest, physically, in the world. I worked for him for a year – it was seminal, it was like a gap year for me."
From Ridgway, he joined the British Army. "I thought it was my careers path. But I left during my third term at Sandhurst. I had 11 months in the Army, but it was definitely not for me. I value my freedom too highly." He grins. "It took the Army to make me realise that."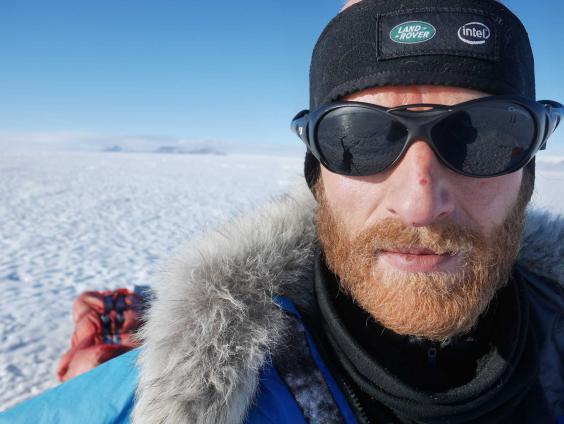 What was the problem? "I found it oppressive. There was not as much using my own initiative as the marketing led you to believe." He pauses. "I do miss the camaraderie and the teamwork. I still have friends in the Army."
A few part-time jobs followed then, in 2001, his first Polar expedition. It came about by default rather than design. "Pen Hadow had a business offering guided trips to the Magnetic North Pole. I applied to do an apprenticeship with him. He said, 'Come and see me for the weekend.' We got on hugely together – by a fluke he knew John Ridgway and he was looking for someone to go with him on a two-man unsupported expedition to the Geographical North Pole. So he asked if I would come along."
On that expedition, which began at Cape Arktichevsky in Siberia, the pair trekked for 59 days across the ice. "The North Pole trips are entirely across ice. There's no land underneath. The ice breaks up and then refreezes – there are no maps, no landmarks."
They failed in their attempt, but not before Saunders was attacked by a polar bear. "They can do 30 miles per hour," he says, almost casually. "It approached us. Luckily, we had a rifle. We had to fire five times before it was scared away." He shakes his head. "That was only on day two. In the end we ran out of time. We were too slow at the start. The ice was starting to melt and the plane needed to be able to land to pick us up."
In 2003, he completed a 240km solo round-trip to the North Pole from a temporary ice station. A year later he was back on the ice, walking alone from Russia to the North Pole, becoming only the third and youngest to do so.
Then his thoughts turned to the South Pole, but the scale of the task was much greater. "It's three times as far to the South Pole as it is to the North Pole."
It took 10 years to put the expedition together, to secure sponsorship (from Intel and Land Rover), and to train. He won't say how much the sponsors put in, but the expedition cost in the order of £1.6m.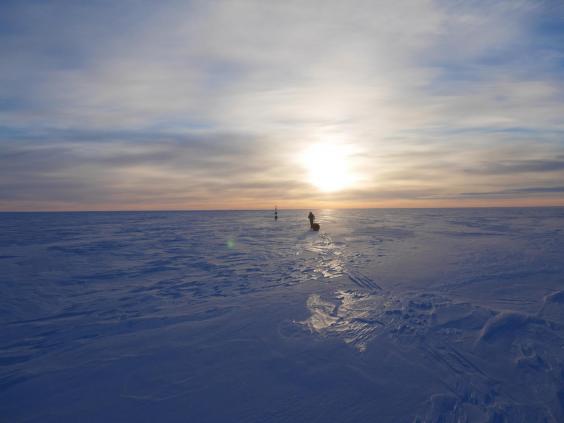 Saunders and L'Herpiniere followed the same route as Scott and Sir Ernest Shackleton, from Ross Island. They set out on 26 October 2013, reached the South Pole on Boxing Day, and finished, back at Ross Island, on 7 February 2014. Scott had horses, but they were lugging their equipment themselves.
They came to Scott's expedition hut, preserved exactly as it was left. "I normally don't get that excited by relics and artefacts, but it had an incredible feel. It felt simultaneously very homely, like they'd just walked out – there were darned socks hanging off a bed – and also quite eerie. You can only have a sense of awe at Scott and his men. They didn't have any communications, they had no chance of being rescued. They might as well have been on Pluto as at the South Pole."
The pair were each eating 6,000 calories a day and burning up a bit more. Saunders had fattened up beforehand but still lost a third of his normal bodyweight.
Much of the time, all they saw was white – the sky, the ground, with no discerning features in-between. "There were white-outs that gave us very poor visibility. On consecutive days we did not see a single thing, everything was white."
The weather was "worse than we thought it would be. We knew it would be chilly but the lowest temperature we faced was -45C, which, with wind chill equated to -60C."
Arriving at the South Pole was surreal. "There were some tents from the US base there – about 20 people were living there. It was a bit of an anticlimax. There was a lot of junk lying around – pallets of rubbish and parts of old aircraft." Because they had to complete the return journey, they pitched their tent "about 20 kilometres away from the South Pole so we could resist the temptation to stop there. We had to get back."
They skied for "nine-and-half to 10 hours a day. It was totally unprecedented – the longest polar journey on foot by 400 miles. It was very hard. We ran the risk all the time of hypothermic exhaustion and going mad, but I was tougher physically and mentally than I thought."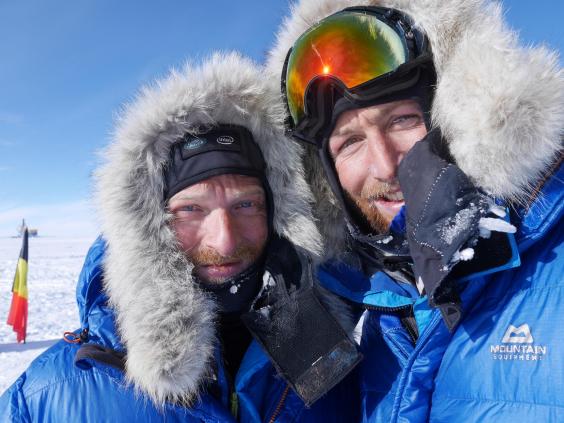 He declares himself "awestruck" at Scott. "They covered nearly 1,600 miles before they died. We did 1,800. But we also knew more about nutrition. If you compare them with modern endurance athletes, they were suffering what sports scientists call 'total metabolic expenditure'. A Tour de France cyclist consumes 180,000 calories in three weeks; Scott and his team had each consumed 1m calories."
He was, he says, "expecting more scenery. We went for weeks without seeing anything. We crossed the Ross Ice Shelf – it's the same size as France but featureless." He had already known L'Herpiniere for 10 to 11 years: "We were good mates. We had a Greenland training trip beforehand. Even so, it was a gamble that we'd get on. There was real scope for falling out, because such high-pressure living stretches relationships. We were OK, though."
The amount of waste was a shock. "The South Pole was like ski-ing through someone's backyard, with refuse waiting to be thrown away. Scott would be horrified to see it."
Not surprisingly, man's attitude towards the Poles worries him greatly. "The Treaty for the South Pole expires in 2041. What happens beyond that is anyone's guess. It's got very rich oil and gas reserves, and that concerns me."
More pressing, however, is the North Pole. "It's changing very quickly and I remember with Pen seeing an oil drum stuck in the sea ice. It's clear to me, from what I've seen, that we're not leaving the planet in a better state than we found it."
L'Herpiniere now works in the Alps as a computer programmer. Saunders, meanwhile, is in demand as a motivational speaker.
As he gets up to go, I marvel at the sunny weather. He also expresses his delight. But there's something in his tone. He's too polite to say so – but I can't help wondering if he's the only person in the whole of the UK who would prefer it to be snowing.
Reuse content