Not so very long ago, Chris Ashton found himself at serious risk of experiencing the Tuesday Night Torment – the lonely drive home from the England camp in Surrey made by those players declared surplus to requirements ahead of a red-rose international at Twickenham. By his own admission, the Saracens wing went through a miserable spell in the second half of last season, to the point where he was genuinely surprised by the national coach Stuart Lancaster's decision to retain his services.
"You end up thinking so much about what is happening to your form that you go into a downward spiral," he said. "The more you try, the worse it gets – and the more frustrated you become.
"At the start, I wasn't too sure the coaches were right in what they were saying to me about the way I was playing. That kind of thing can be hard to take. But I came to realise that they were right, and that I was really lucky to stay in the team. I have to thank Stuart for keeping the faith, because towards the end of the Six Nations there were times when I thought I might be dropped."
Ashton started the 2012-13 campaign as a candidate for a Lions Test place in Australia, but it dawned on him as the Six Nations unfolded that he had blown his chances sky high. Tries were desperately hard to come by – even the trademark broken-field runs that at least threatened to end in a score were rarer than rocking-horse droppings – and defensively, he was all over the place.
Lancaster and company decided he should have the summer off rather than undertake England's three-match trip to South America, mentioning that he might like to spend some time improving his kick-chase routine and beef up his tackling. It was a sound call, even though he found it "horrible" taking his holidays while his peers were still at work. "It took me a while to let it go," he admitted.
"I understand now where I was going wrong and I feel more confident, more relaxed," Ashton continued. "I'm back to my old self again." Which is welcome news for England, who would like nothing better than to see him tear off into the distance and put a long-range try past the Wallabies at the weekend – the kind of try that illuminated Twickenham on Australia day three years ago.
"That seems like ages ago," he remarked. "I don't really think about it, although there's always someone coming up to me in the street and telling me: 'I was there; I remember that score.' I'd like it if a try like that came along every week, but I know it won't."
There is every chance that Ashton will spend the lion's share of this meeting with the Wallabies standing next to Joel Tomkins, his Saracens clubmate and a prime candidate to make his international debut as Manu Tuilagi's replacement at outside centre. The two men go back a long way, having played rugby league against each other as small children, joined sporting forces at secondary school and teamed up at Wigan before heeding the union call.
"I went all the way through school with Joel," the wing said. "I remember us running around when we were six or seven and I played with him from the age of 11. If anyone had said a few years ago that we'd play rugby union for England together, I'd have offered long odds on it happening. Back then it never entered our heads that we'd move to union, so it's brilliant that he's put himself in a position to challenge for a place. It's pretty strange, all this, but it's a good kind of strange."
The way he sees it, this set-to with an Australian side in a deep state of flux is the perfect opportunity to "put down a marker" following the crushing disappointment of the Grand Slam game in Cardiff back in March – the last time a full-strength England side took the field. Is he nervous, building towards a game in which he has so much to prove individually as part of a side asking so much of themselves collectively? "Not really," he said with a shrug. "But I'm sure I'll be feeling it just before kick-off."
Another wing whose ambitions on the Lions front were ultimately unfulfilled, Tim Visser of Scotland, finds himself in far bleaker circumstances than the rejuvenated Ashton. Visser suffered a fractured shin – hardly the best of injuries for a wide runner – while playing for Edinburgh against the Italian side Treviso at Murrayfield five days ago and will not play again this year. He may even struggle to feature in the Six Nations Championship, which begins in February. Further medical examinations revealed additional damage to ankle ligaments, which will require surgery.
England blow as concussion rules out Parling
Geoff Parling, the Lions Test lock from Leicester and one of England's senior forwards, was concussed during this afternoon's training session at the team base near Bagshot and will miss this weekend's opening autumn international against Australia at Twickenham. It is a heavy blow for Stuart Lancaster's team: Parling runs the line-out and has become an influential team member since his debut last year.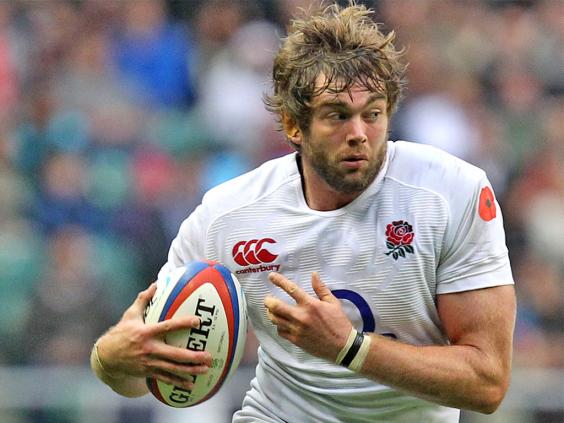 This unfortunate development leaves Joe Launchbury of Wasps, Dave Attwood of Bath and the in-form Courtney Lawes of Northampton fighting for two engine-room places. The rest of the pack picks itself, with Billy Vunipola of Saracens expected to beat Ben Morgan of Gloucester to the No 8 shirt and join his brother, the loose-head prop Mako, in the starting XV.
Outside the scrum, the decision to send the uncapped Gloucester centre Henry Trinder back to Kingsholm guarantees an international debut for the Saracens midfielder Joel Tomkins. Another Sarries player, Alex Goode, has also been released and therefore loses his place at full-back. The Harlequins scrum-half Danny Care has also suffered a fall from grace, with Ben Youngs and Lee Dickson contesting the No 9 role.
Chris Hewett