Ed Miliband yesterday backtracked from his stated aim to be the "first Jewish prime minister" of Britain, saying he was "happy to give the title to Disraeli".
The Labour leader told The Independent on Sunday that he would leave it to "rabbis and historians" to decide whether Benjamin Disraeli was the first Jew at 10 Downing Street.
Mr Miliband triggered a bout of intense debate following his comment to reporters in Jerusalem on Friday: "I have said I hope that I'll be the first Jewish prime minister if we win the election."
Yet it was pointed out that, while Disraeli had converted to Anglicanism, he still regarded himself as Jewish and represented the "blank page between the Old Testament and the New", telling the Commons: "I am a Jew", and "When the ancestors of the right honourable gentleman were brutal savages in an unknown island, mine were priests in the temple of Solomon." Mr Miliband has said he has no faith but is culturally Jewish, describing himself as a "Jewish atheist".
Mr Miliband said: "I will leave that to the rabbis and historians. I am very happy to give the title to Disraeli. But the rabbis and historians can decide. I am proud to be Jewish and it is part of who I am, part of the Jewish story."
Commentators said it was startling that Mr Miliband appeared to have forgotten about Disraeli, particularly as the 19th-century Conservative prime minister had pioneered the concept of One Nation, which the Labour leader has adopted as his own. Yet his allies pointed out that there is a common perception that Disraeli, while ethnically Jewish, had been a convert to Christianity.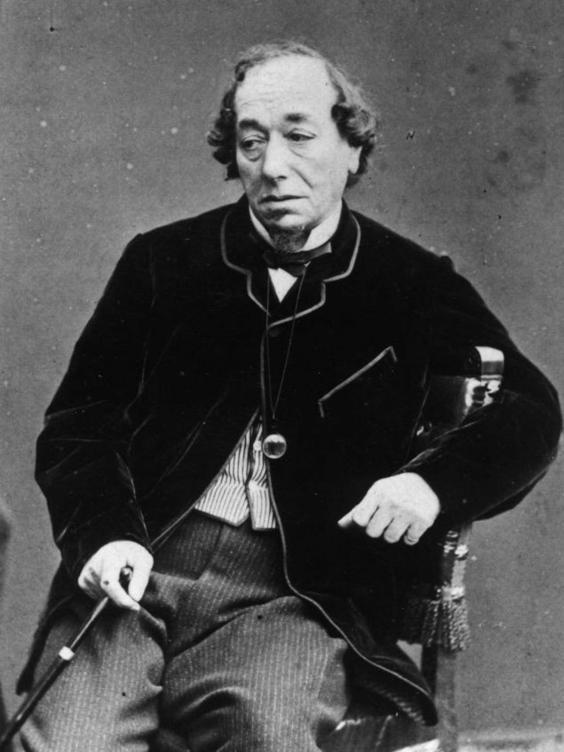 Mr Miliband spoke of how his five-day Middle East tour has been an intensely personal journey – meeting, with his wife, Justine Thornton, his relatives who had come to Israel after fleeing the Nazis – as well as a mission to explore a Labour government's foreign policy priorities. He said: "I came here because this is a really important foreign policy priority. I didn't just come here as a politician, I came here as a son and grandson, that is my story." After visiting the Yad Vashem Holocaust museum on Thursday, Mr Miliband telephoned his mother, Marion, to talk with her about his visit to the memorial and about some of his 60 relatives who had died at the hands of the Nazis.
Yesterday he visited East Jerusalem, the Khan Al-Ahmar Bedouin camp on the Palestinian West Bank, where families are threatened with forced displacement if Israeli settlements are built, and later held talks with the Palestinian President, Mahmoud Abbas.
Mr Miliband said: "The expansion of Israeli settlements on the Palestinian West Bank is not only wrong and illegal, but represents a mortal threat to the two-state solution and to a successful outcome of the peace process.
"If we are going to have a viable, democratic Palestinian state the more we see an expansion of settlements the more it becomes difficult to construct this state."
The Labour leader said there was a "massive urgency" to the peace negotiations being pushed by US Secretary of State John Kerry, which have once again stalled.
He added: "Our role in this is to be the people who are encouraging both sides to take risks for peace. That is what I said when I saw Prime Minister Netanyahu; that is what I will be talking about with the Palestinian President.
"It is also right that the international community is clear about the danger settlements represent. Both sides are going to have to make compromises when it comes to making peace. What it just shows you is this is not just lines on a map but about real lives and the human cost." After visiting Sderot, an Israeli town facing a barrage of rockets from Gaza, on Friday and the Bedouin camp yesterday, Mr Miliband refused to say whether he sympathised with one side in the conflict more than the other. "I feel more determined that we have got to get to a satisfactory peace process and outcome."
On Friday night, Mr Miliband had a traditional dinner with his mother's cousin, Sarah Ben Zvi, whom he had last seen when he was a seven-year-old visiting her kibbutz near Tel Aviv. He said yesterday: "It has been great to meet members of my family. It is fantastic being part of a Jewish family: good food, good conversations. These are people who are my relatives and it makes me even more determined that a satisfactory outcome for the Middle East peace process is a top priority for a Labour government. It has been brilliant for Justine to meet my relatives. Incredibly moving to go to Yad Vashem, and I've been talking to my mum about it. I made a conscious decision to come here because it is important as a foreign policy priority."
Reuse content