In YouTube clips of previous interviews, he speaks as slow as a stoner, with lots of yeahs and ums. The comments beneath the videos – as is so often the case – are livelier. "Hottest guy ever ÍÍÍÍ" squeals one. "God he's so sexy" drawls another. "Hes [sic] so boring," contends a third.
What a relief, then, to discover he is much better company than that final comment suggests. We meet in the bedroom of a Soho hotel, where, weirdly, the bed has been taken away. He has just flown in from Los Angeles, but looks fresh and switched on. He swears like a navvy, which I don't notice until later, playing back the tape. He isn't good at eye contact, and shifts restlessly about the sofa. Behind me is a large mirror, and as we talk, he is sometimes distracted by his own gaze, checking himself out to make sure his close-cropped hair is still in place.
It's hard to think of many great actors who would have had much to say at his age. Robert Redford, for example, had done some waitering and travelling by 23; George Clooney had only just landed his first part on a sitcom. "I've achieved more than some people do in a lifetime, but it doesn't mean I've done it all," laughs Taylor-Johnson. He began acting aged six, and was in his first feature film aged 10. His big break came in the 2008 teen romcom Angus, Thongs and Perfect Snogging, in which he played Robbie, the fit one.
A flood of teen-flick parts came in, so he changed tack, and took the lead in Nowhere Boy, a biopic of the young John Lennon. The director was Sam Taylor-Wood, the Brit artist and ex-wife of art dealer Jay Jopling. It was her first film, and she and the young actor had instant chemistry on set. One journalist saw them "dance and laugh like teenagers in love" and said he had "never been on a film set with such a strange atmosphere". Johnson's maturation subsequently hit full-throttle: he and Taylor-Wood moved in together, had two children, and last year got married in a secret ceremony in Somerset, where she has a house.
It's a genuinely romantic story. How often do you read of a man marrying a woman exactly twice his age, with two kids from a previous marriage? He mentions her almost as soon as we start talking and calls her his "soul-mate".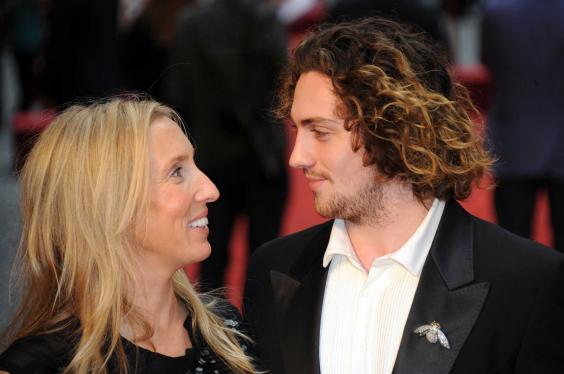 As he will later admit, he's more interested in his family than his work, but we're here to discuss Kick-Ass 2, his latest film. It's a follow-up to 2010's Kick-Ass, an adaptation of the cult adult comic book of the same name. Back then, he was still plain Aaron Johnson, and played the lead role of Dave Lizewski, a nerdy high-school teenager who becomes an accidental superhero. The film was a curious mix of violence and comedy, and utterly divided audiences. Some loved its kookiness and Tarantino-esque style. Others found it disturbing, especially when it came to the character of Johnson's knife-wielding fellow crime-fighter, Hit-Girl, played by the then 13-year-old Chloë Grace Moretz.
The sequel has already attracted controversy. Jim Carrey, who plays the leader of a motley band of amateur vigilantes, recently distanced himself from it, tweeting that he regretted taking part in a film with "that level of violence" in the light of the massacre at Sandy Hook Elementary School last December. Does Taylor-Johnson have any sympathy with his position? "I can see why he did that; everyone's entitled to their opinion," he says. "You know what: he was a huge advocate of it when he stepped on. A major fan of the first one, and of the comic book."
Taylor-Johnson, however, does not believe there is a link between violence in films and in society. "For me, I can't watch violence when it's too grotesque, and it's just like, that's revolting to watch. I don't enjoy it. But when it's a Tarantino film, I'm lining up outside the door to see it, and I'm expecting to see something really crazy, a lot of blood, and for it to be funny.
"I don't shoot a gun," he adds of Kick-Ass 2. "I don't think anyone does. At the end of the day, it's not reality. It's a fictional character."
What's unusual, and endearing, about Taylor-Johnson is that he can waffle on about the process of acting and how much he loves his work, but in the end, he doesn't care that much. "I just find it therapeutic," he says. "It's my release of expression and my way of exploring."
When I ask a banal question about what his ideal role might be, he sighs and launches into this speech: "My whole thing, my priority, is my family, my kids and my wife. That's my future. I don't really care about what role is next. That shit couldn't bother me in the slightest. Because, in the back of my head, I know there's always something. That's not in an arrogant kind of way, it's just like you can step in and out of it. Sometimes I think I'd like to step out for a good four or five years.
"And maybe I'll do that, you know. I'm not attached to things, I don't have that ambitious thing that most actors my age have. They go from job to job, and when I'm filming with them, and we've just started filming, they're like, 'Oh, so what are you doing next?' And I'm like, 'What am I doing next? Just taking some time off!' For me, I just want to spend time with the kids. But they've already set up what they're doing next. And that's fine. I was like that at one point. But I don't live to act, to go from job to job, and being in everyone's face all the time. I live for my wife and my kids and I wake up to them and that's what I enjoy."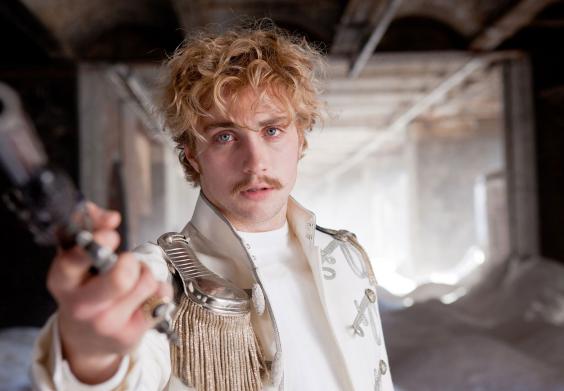 He describes having children as "the most wonderful thing" and says he learns more from them than anybody. "It's indescribable, and beautiful. It's humbling and grounding." It's refreshing, I say, to meet an actor who isn't completely self-absorbed. "Right!" he says, "I mean exactly. And then to be surrounded by all those people all the time! That's why it's good to get away and just be at home, to do normal things." As well as his two daughters, Wylda Rae and Romy Hero, who are three and 18 months respectively, he also has two step-daughters, Angelica (16) and Jessie (seven), and a three-year-old Newfoundland dog called Bear.
Home is, theoretically, in London, but recently he's been splitting his time between Vancouver, where he's been shooting a reboot of Godzilla, and Los Angeles, where his wife has started work on the adaptation of erotic-novel phenomenon Fifty Shades of Grey she is directing – naturally, he's been repeatedly forced to deny he'll be playing its sadistic hero, Christian Grey. They won't be back in the UK until Christmas, he says; recently, their house in Primrose Hill was put up for sale for £15.5m, up on the £11m his wife paid for it in 2010.
"We travel so much, you know, filming so much," he says when I ask whether Los Angeles is their home now. They must have an army of nannies, I say. "We have a nanny, but we don't have an army. The nice thing is that I'll take the job on and Sam will step back and vice versa, so you know there's always a parent around." And what about the dog? "She is ginormous! She has a passport and comes travelling with us on the train around Europe; but when we go to LA, I think it's too extreme, for a dog her size. They'd have to tranquilise her, and I don't like the idea of that, so she stays behind with friends."
The trouble with having children and dogs is that you can't go out on the lash. "But I don't want to go out on the lash!" he wails. "You can still go out for a drink. It's not like you're bound to be in the house all the time. Personally, I don't like getting off my face." Besides, he did all that when he was younger: he left school at 15 and had a rackety few years. He doesn't talk about what he got up to, though it included various girlfriends and he "got it all out of my system". He cites his lack of an addictive personality as a reason why he didn't get into too much trouble. His wife has described him as an "old soul", and seems a young 46, fizzing with ideas, energy and creativity, so they meet somewhere in the middle.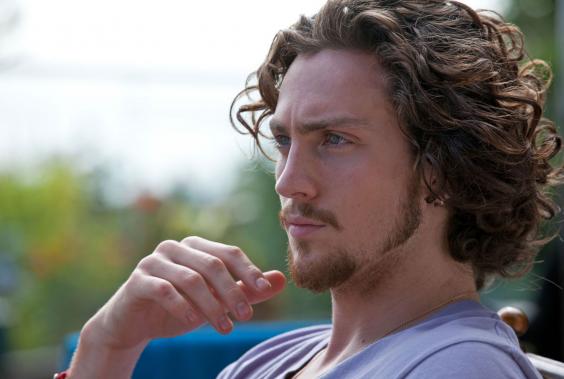 And now he's a father, how do his own parents fit into his life? In an interview last year, he said he gets on with them, though he never goes to see them: if they want to see their grandchildren, they come to him. When I ask him when he gets to see them, he simply says, "Well, they don't live in the country," and moves on.
Raised in Holmer Green, a suburb of High Wycombe, Buckinghamshire, he has described it as a "nothingy sort of place", from which he was desperate to escape. He was "very active as a child", and thanks his parents for encouraging him to do lots of extracurricular activities. "Without that, I'd have been lost. I did swimming, gymnastics, dance, and the acting was just a small part. I didn't have pushy parents, it wasn't forced upon me. They just said, 'See if you like it. If you do, great; if you don't, don't worry about it.' I was really fortunate to have that guidance and supportive parents."
He has an older sister, to whom he is close, and says the four of them were "pretty tight as a family" when he was growing up. When he was 10, his mother quit her job to accompany him to Amsterdam for six months, while he played both titular twins in children's film Tom & Thomas, opposite Sean Bean. He had to play one twin then the other, using a ping-pong ball on a stick as a sightline. He has previously credited his mother with keeping him level-headed, telling how she would "take the piss" out of the other pushy parents. "We would just crack up. That's why we always got along. We felt sorry for them."
He enjoyed the alternative education of being a child actor. He liked being taken seriously and having his opinion valued by directors, whereas at school he was taught never to speak unless he was spoken to. I wonder whether he feels at a disadvantage not having been to drama school. "I definitely thought of it, but I bypassed that because I was already in a position where I was working," he says. Instead, he learnt by watching the work of other actors, especially his heroes, Gary Oldman and Daniel Day-Lewis –though he admits he could "barely get through Lincoln". "Most things that come out are rubbish now," he says. "I can't remember the last time I enjoyed anything at the cinema."
After Kick-Ass 2 and Godzilla, he may make it an action-blockbuster hat-trick: he is currently in talks about a part in Joss Whedon's Avengers Assemble sequel. But, for all the big-money offers, perhaps one of his greatest strengths is that he has learnt to say no. "People say to me, you'll regret not taking that part. And I say, no I won't. How am I going to regret spending time hanging out with my girls?"
I suspect his greatest role is yet to come. As he points out, most actors don't hit their peak until 30, or even later. So what's the hurry? "Right. Like you said, I'm only 23."
'Kick Ass 2' (15) is out on Wednesday
Reuse content