A cramped, basement room in the bowels of a suburban repertory theatre seems an unlikely place to be getting a lesson in cool from the man who defined the very notion for a generation of kids. But here he is: The Actual Fonz, albeit dressed in a bright green Patagonia anorak rather than that trademark black leather jacket.
Dress aside, though, the 68-year-old Henry Winkler still has plenty of the smooth-talking charisma that he channelled into playing Arthur Fonzarelli, the stud mechanic in classic US sitcom Happy Days. And as it happens, I couldn't be more wrong worrying about our location: the fact that I'm meeting him in Bromley rather than a trendy restaurant in his home town of LA is neither here nor there.
"You cannot represent cool," he says, in his gentle old-school New York accent. "You've got to be cool. You've got to be authentic. I think, after all these years, that is how I define cool. It is being authentic. That is powerful." For the record, you can't tell somebody how to be cool, he adds. "You either have it, or you don't … you either pick an incredibly elegant, black-linked necklace, or you don't." Seeing as that's exactly what I am wearing, his credibility dips a tad at this point, especially as he goes on to claim that he "as a human being, was not cool" when playing the Fonz. Nowadays he is certainly more authentic, he says: "I let some of my anxiety go and I am who I am. I say pretty much what I think."
He's here to talk cool not just with me but the cast of a new Happy Days musical, which opens in Bromley on Saturday, before touring the country. Winkler is the show's "creative consultant", even if he was somewhat winkled into the role by its very persuasive, first-time producer Amy Anzel. In an episode of Channel 4's recent fly-on-the-wall series The Sound of Musicals, she was seen ambushing him at a book signing and begging him to get involved after 14 emails went unanswered.
Not that he minds; Winkler doesn't do resentful. Plus he was also nudged into it by "my mentor, my don" Gary Marshall, who created the original 1970s  show and wrote the new musical. "He said, 'Would you go and take a look and see if there is anything you can do?'" Winkler bats away my later attempt, on a follow-up call, to get him to admit to being railroaded: "No, no. Gary is one of the few geniuses I have met in my life. He's the man who chose me for Happy Days. He is the man who gave me all that followed. He's like my family."
The UK is his adopted Christmas country, in any case – it turns out he is mad for pantos and is starring as Captain Hook in Peter Pan for the fifth time in seven years. And, on top of that, this month sees the launch of a new CBBC show based on Winkler's phenomenally popular, semi-autobiographical children's book series about Hank Zipzer, an under-achieving schoolboy with learning difficulties, co-written with Lin Oliver. This means the world to Winkler, who grew up thinking he was hopeless because he was so profoundly dyslexic. Not that this was diagnosed until he was trying to work out why his stepson Jed also struggled so badly with school.
"I can't even begin [to tell you] how extraordinary it is that [Hank Zipzer] even exists in my life. [To think] that a book was written and has my name on it, and was on The New York Times' bestseller list. The character is me. I love the Fonz, but outside of my children, the proudest thing in my entire life are the books."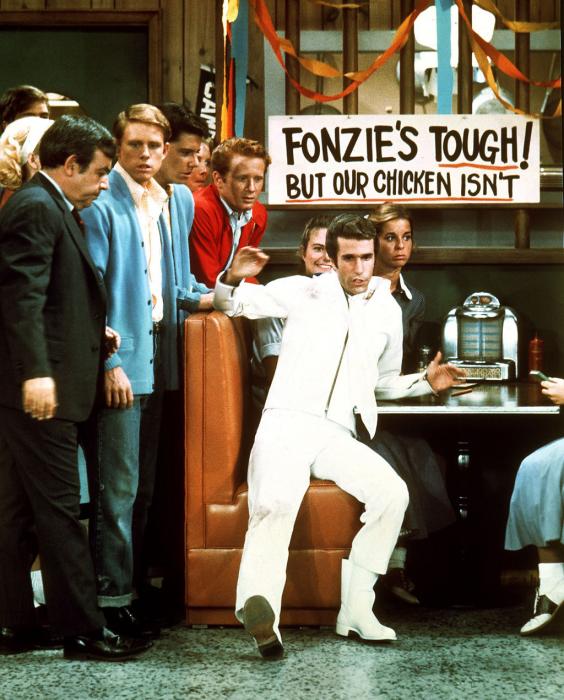 These days Winkler, who is nearing his ruby wedding anniversary with his wife Stacey, puts everything he can into helping children feel better about themselves, as if to bury old ghosts: his own father, a German Jew who emigrated to the United States in 1939, always told him he "would never achieve". He has received an OBE for his work raising awareness of dyslexia in British schools, and asks to talk to the schoolkids in his Peter Pan audiences after the show. "I say, 'I was bad in every subject; I mean, in the bottom three per cent academically in America. And what I learned in my life was that every one of you is powerful, and every one of you has greatness inside. How you learn has nothing to do with how brilliant you are.'"
It was Winkler's own brilliance, or at least his magnetism, that caused producers to turn the Fonz from a bit part into a main role after Happy Days first aired in 1974. "I put a lot of myself into him," he says. Meaning? "He is loyal to his friends. When I first auditioned, I asked if I could show the emotional side of the character and not just the one dimension of [him] combing his hair all the time. And they said yes." This is as far as Winkler will go to explaining Fonzie's enduring legacy, which stretches to inspiring the phrase "jumping the shark". Now commonly used to describe the point at which a once-loved TV show begins to fall apart, it originates from the title of an episode where he jumped, yes, an actual shark while water-skiing.
For the record, he points out, the show was still "number one, two or three in America for the next four or five years after I jumped the shark. But when they talk about it, they usually put a picture of me on water-skis in the newspaper. Now, at that time, I really had great legs. So, I don't care. It is just a phrase. And I was not insulted by it."
When we meet, it's the day after selfiegate – that Obama/Cameron/Thorning-Schmidt pic – and I ask him what he thinks about the furore. "If I could, I would do the same!" he smiles. "I'd like to meet the princes and take a selfie. 'William! Get over here. Let's take a picture together! Harry! C'm here!'" He warms to his loving-the-royals theme: "Harry [is] one of the coolest guys in the world – from the Antarctic, where he races for his injured soldier comrades, to Las Vegas. The guy is great!" As for Camilla, whom he met in December at a Clarence House reception for The National Literacy Trust: "She is as lovely as the day is long. I thought I had known her all my life. She knew everything about the books. We're going out on a date! No …! She's cute."
So, I have to say, is Winkler. And undeniably cool, whatever he might say.
'Happy Days', the musical, opens at the Churchill Theatre, Bromley, on Saturday before touring the country. 'Hank Zipzer' begins on CBBC at the end of Jan
After the laughter: What happened next to the 'Happy Days' cast?
Ron Howard
Who would have thought that the guy who played little Richie Cunningham would go on to become one of Hollywood's most successful directors? And yet, that he certainly is, having become a prime purveyor of prestige awards bait such as A Beautiful Mind, Apollo 13, Frost/Nixon and, most recently, Rush.
Tom Bosley
After playing understanding paterfamilias Howard Cunningham, Bosley continued to thrive in lovable TV roles until his death. in 2010. Choice parts included Sheriff Amos Tupper in Murder She Wrote and the titular detective-priest  in the Father Dowling Mysteries.
Marion Ross
As stereotypical 1950s housewife Marion Cunningham, Ross was a model of all-American optimism, but since then, the actress, now 85, has shone in less sunny parts, from a cantankerous grandmother in Happy-Days-a-like That '70s Show to Sally Field's, er, cantankerous mum in Brothers and Sisters.
Erin Moran
Things have been less than favourable for sparky Joanie Cunningham in recent years: since her appearance in misguided spin-off Joanie Loves Chachi, her most conspicuous appearances have been in the US tabloid press, which have keenly followed her alleged financial and relationship troubles.
Scott Baio
Happy Days' resident heart-throb, the aforementioned Chachi, is now mostly known as a pop-cultural footnote referenced by ironic hipsters, though he has built a certain notoriety on Twitter, where he has upset users with rants and tasteless jokes about Michelle Obama, as well as by coming out in support of Mitt Romney.