Before George Best came along with his pop-star ways, even the greatest footballers tended to be self-effacing types.
Tom Finney, the Preston plumber, was the exemplar, taking the bus with the fans to the match on a Saturday afternoon after a morning spent fixing people's sinks. Nowadays they act like gods and, by and large, demand to be treated as such. But not Lionel Messi, the humble hero.
Another famous Argentinian has personally anointed him his successor as the game's greatest player; many observers would say he's even better than Diego Maradona. In Rio de Janeiro tomorrow night, when his Argentina side take on Germany in the World Cup final, Messi will have his chance to demonstrate that proposition beyond all doubt and make an indelible mark on sporting history. But without a ball at his feet it is difficult to discern any star quality about him.
His only current rival claimant to the unofficial title of the best footballer in the world is Cristiano Ronaldo, not known for his humility (and whose Portugal side, like England, slunk out of the World Cup at the group stage). Straight-backed Ronaldo struts across the pitch like George C Scott playing General Patton; slouching Messi pads round like a teenager creeping into the house at 4am.
A misplaced pass to Ronaldo elicits a look of profound displeasure at having to share a planet with mere mortals. Messi just gets on with it, a team player first and last. "I prefer to win titles with the team ahead of individual awards or scoring more goals than anyone else," he has said. "I'm more worried about being a good person than being the best football player in the world. When all this is over, what are you left with? When I retire, I hope I am remembered for being a decent guy."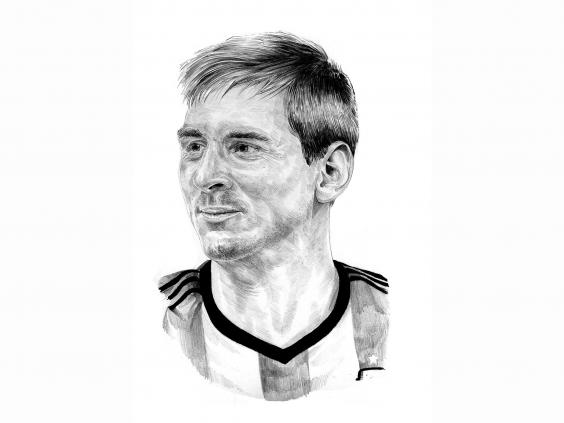 Decent, indeed – he even seems not to dive, a veritable eccentricity in modern football. Or if he does, he clearly brings to it the same bewitching skill he displays in the rest of his game. But for all his sublime talent, it has taken until now for his compatriots to warm to him, despite victory in the 2005 Under-20 World Cup and gold at the 2008 Olympics, principally because he left Argentina for Spain at 13 and has never reproduced for his country the sustained passages of brilliance that helped to make Barcelona arguably the greatest club side ever seen.
He was born in the industrial city of Rosario – also the birthplace of Che Guevara – the son of a father who worked in a steel factory and a mother who cleaned part-time. He didn't look like a potential world-class footballer as he was growing up; by his teens he was only 4ft 6in and needed daily injections of human growth hormone to have any chance of making it. After much agonising in the boardroom, Barcelona offered to pay for the costly medication, so Barcelona it was. "Just as the bright kids want to go to Harvard, Messi wanted to trial with Barça," his father said.
Father and son left for Spain, leaving the rest of his family – he has two brothers – back in Rosario. He endured an initially torrid time, unable to play for a while thanks to injuries and paperwork problems. His father suggested going home, but Lionel stood firm; for all his shyness and timidity, the lad had inner steel.
His eventual induction into Barcelona's team of all the talents heralded a golden age for the club: three Champions League wins, twice club world champions, six Spanish league titles, two Spanish Cups. And for Messi: more than 300 goals (91 in 2012 alone); the first player to win the Ballon d'Or, given to the world's best footballer of the year, four times; the only player to score five goals in a Champions League match; the statistical superlatives go on and on.
But how to parlay that into international success? When Argentina were dumped out of the Copa America – the South American championship – on home soil by Uruguay in 2011, he was booed and whistled by fans who referred to him with contempt as "el Catalan". So hurt was he that he contemplated international retirement; he had, it was pointed out, firmly rebuffed approaches for him to represent Spain.
When Alex Sabella took over from Maradona as coach of Argentina, he asked his Barcelona counterpart, Pep Guardiola, how best to handle Messi. "Understand his silences, build your team around him, give him the ball, and never, never substitute him," Guardiola told him. Sabella – Messi's stooge, some say – took note, and after an uncertain tactical start to the tournament, the team is now constructed to revolve around Messi.
For all his shyness and timidity, he has been asserting himself in other ways, too. When the system of playing three defenders at the back wasn't working in Argentina's first game of the World Cup, against Bosnia and Herzegovina, he reportedly persuaded Sabella to change the team's shape. And when the players huddled round to prepare for extra time in the semi-final, Messi gave the team talk.
But although he has scored four goals so far and put in several man-of-the-match performances, it would be unfair to call Argentina a one-man team – the former Liverpool player Javier Mascherano is the beating heart of the side, his defensive heroics as crucial as Messi's dribbles, feints, passes and something-out-of-nothing goals. And in an unbelievably dour and turgid semi-final against the Netherlands – the palest shadow of Brazil's extraordinary humiliation at the hands of Germany the night before – Messi was anonymous.
But even on an off-day he influences the game, as Sabella pointed out this week: "He sucks in three opponents to get the ball to team-mates. Every move he makes is a sign of hope to us and a danger to opponents ... It's water in the desert to us. Water in the desert."
 He will, presumably, be praying for victory at the Maracana stadium tomorrow. A reportedly devout Catholic – though he has yet to marry his girlfriend, a Rosario woman called Antonella Roccuzzo, who bore him a son in November 2012 – last year he met Pope Francis. "Without a doubt," said Messi of his papal audience, "today was one of the most special days of my life. We have to excel on and off the field."
Those are words he backs with deeds. He's never photographed tumbling out of a nightclub; he maintains close links with family, friends and former team-mates back in his home town; the Leo Messi Foundation helps vulnerable children, and he's a goodwill ambassador for Unicef. The only hint of anything untoward came last year when he and his father were accused of tax fraud, putting income from image rights through an offshore shell company. They paid several million euros in reparations, and last month Spanish prosecutors asked a court to drop the charges against him (though not against his father, who allegedly made all the arrangements).
Lionel Messi will not be remembered for tax irregularities, that's for sure. One thing does seem certain, though: if tomorrow night he produces anything like the level of performance of which he's capable, Argentina will win the World Cup. If he doesn't, they probably won't. Whatever happens, the watching millions would do well to take the advice of Pep Guardiola: "Don't write about him. Don't try to describe him: watch him."