Thirty years on from Band Aid and Sir Bob Geldof is rerecording "Do They Know It's Christmas?" to fight another catastrophe in Africa, while the man who inspired that astonishing 1984 global charity effort is preparing for an altogether different challenge.
The distinguished foreign correspondent and newsreader Michael Buerk, 68, is heading off to Australia to participate in ITV's I'm a Celebrity ... Get Me Out of Here!.
It was Buerk's reports from Ethiopia that stirred Geldof and fellow pop star Midge Ure into action. His film, in the wake of an exodus of desperate people after rain failed to arrive for a sixth year, began with the haunting words: "Dawn, and as the sun breaks through the piercing chill of night on the plain outside Korem, it lights up a biblical famine, now, in the 20th century."
Into the 21st century and Sir Bob is still railing at members of the public to get their wallets out. "Buy the thing, download it!" he said, launching the music industry's effort to contain Ebola this week.
It's tempting to think that Buerk, who was seen by viewers on 425 stations worldwide, his face knotted as he cradled an emaciated infant outside an African hut, has gone through some profound transformation. That caring frontline campaigner for the developing world has morphed into an angry reactionary, craving a wider audience for outbursts over the feminisation of society and growth of political correctness which are fast becoming his trademark.
I'm A Celebrity 2014: Who's in the jungle
I'm A Celebrity 2014: Who's in the jungle
1/12 I'm A Celebrity 2014

Former conservative politician Edwina Currie has entered as a last-minute addition to the line-up

ITV

2/12 I'm A Celebrity 2014

She is joined by X Factor 2014 contestant Jake Quickenden who was recently eliminated from the singing competition

c

3/12 I'm A Celebrity 2014

Singer Tinchy Stryder

ITV

4/12 I'm A Celebrity 2014

TV presenter Melanie Sykes

ITV

5/12 I'm A Celebrity 2014

Former Wigan player Jimmy Bullard

ITV

6/12 I'm A Celebrity 2014

Former professional motorbike driver Carl Fogarty

ITV

7/12 I'm A Celebrity 2014

Star of US reality TV show The Girls Next Door Kendra Wilkinson

ITV

8/12 I'm A Celebrity 2014

'Allo 'Allo actress Vicki Michelle

ITV

9/12 I'm A Celebrity 2014

Model and singer Nadia Forde

ITV

10/12 I'm A Celebrity 2014

BBC newsreader Michael Buerk

ITV

11/12 I'm A Celebrity 2014

TOWIE star Gemma Collins, who has since quit the show

ITV

12/12 I'm A Celebrity 2014

Coronation Street star Craig Charles. The actor has since left the show following the death of his brother

ITV
The truth, as ITV's commissioners realise, is Buerk, the veteran presenter of Radio 4's The Moral Maze, has always been a conservative down to the laces of his sensible shoes. He seems aghast at the downloading modern world which Geldof seeks to embrace, though he does possess a dry sense of humour that delights his golfing partners. "A stuck-up, self-important prig with a beard" is how he's billing himself to ITV viewers, dryly promising to spend his £150,000 fee on new double glazing.
"Stoic" is another word which Buerk uses to describe himself. And he never allowed sentimentality to infect his journalism, even amid the horrors of Korem. He was a dispassionate reporter, not a campaigner. "He wrote a spare and powerful commentary and left it to us to form our own judgement," said John Humphrys of his BBC colleague's work.
Although Buerk will always be associated with his Ethiopia reports, for which he won an award at the Monte Carlo Festival, he can't be accused of using it as his personal pedestal. This is perhaps because his finest hour was anything but empowering. "You feel an overwhelming sense of inadequacy," he has said. He was overcome by an "emotional numbness" and reminded – surrounded by nurses and aid workers – "how useless a journalist is in these circumstances".
When he was persuaded to return to Ethiopia to make a documentary in 2004, he despaired at the lack of positive change. "I wonder if all we have done is create a nation of half-starved beggars," he said. In that film he was reunited with Claire Bertschinger, a young nurse who featured in his original report and was recalled by Geldof as "God like" for her work in keeping small human beings alive.
Dame Claire Bertschinger was a guest this year on Desert Island Discs, and revealed that she was appalled by the behaviour of the man who made her famous. Buerk had told her: "Right, let's get some really sick children, Claire. Would you like to hold that one?" And he asked if it "did anything to her" to choose which children lived. She said: "I couldn't get rid of [the crew] fast enough. I thought 'This is just ridiculous. I don't want these people around me.'"
But Buerk was in the communications game and good at his job. He had reported for the BBC in Northern Ireland, El Salvador and from Argentina during the Falklands War before being deployed in Africa, and he had clout in the newsroom. "I knew they wanted about three minutes but I cut eight and thought, fuck 'em," he told The Observer on the 20th anniversary of the famine. "I tended to work on the basis that they got what they were given."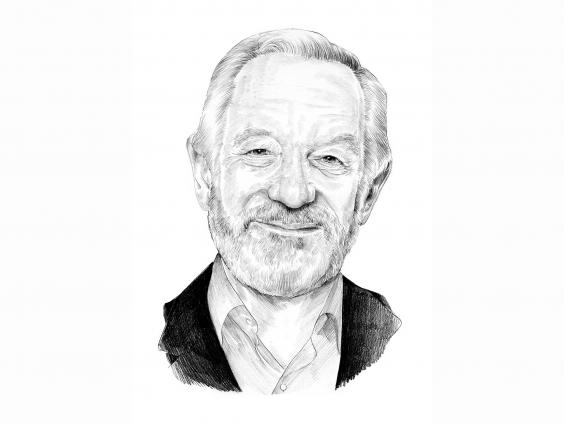 The roots of this determined obstinacy are in Solihull, West Midlands, where Michael Buerk grew up and was educated at the independent Solihull School. He dreamed of an RAF career but poor eyesight ruined his chances. Instead, he took a job at the Bromsgrove Messenger, where a highlight was ghosting the "Field, Wood and Hedgerow" column. He joined the Daily Mail in Manchester, where assignments included being asked to "follow George Best around the city's nightclubs". In 1970, he arrived at Radio Bristol, starting a long career at the BBC.
For more than a decade until his retirement in 2002, he was one of Britain's best-known newsreaders, the face of the flagship Nine O'Clock News bulletin.
By his own admission, he can be a snob. When he heard the plans for Band Aid in 1984, he "had the stereotypical view of rock singers as self-indulgent airheads lining their pockets". Although he later recognised the value of the campaign in saving millions of lives, his views on popular culture have not softened.
The tirades he has issued in the latter part of his career have invariably contained a sense of intellectual superiority. He derides many modern newsreaders as "real lame brains". He described Tess Daly as "a pneumatic bird-brain from Strictly Come Dancing" in a piece for the Daily Mail, excoriating the BBC's coverage of the Diamond Jubilee pageant, which made him so "ashamed" that "I would have wept if I hadn't been so angry".
Women and the BBC are repeat targets. A Radio Times article in 2005 identified a "shift in the balance of power between the sexes" and claimed "life is now being lived according to women's rules". Anna Ford, a female contemporary, described him as "bonkers" and "a dear old-fashioned chauvinist of the first order". By 2012, the globetrotting foreign correspondent was saying of London: "You feel the only way to hear English spoken is to hail a taxi."
Buerk once told The Independent he regarded himself as a "male middle-aged authority figure". That was in 1997. By this year he was reminiscing on how life had passed him by. "I still don't know when it happened: the moment a long time ago now, when the world stopped being all about me." In the same Radio Times article, he couldn't resist another attack on female peers, for complaining of ageism. "If you got the job in the first place mainly because you look nice, I can't see why you should keep it when you don't."
And there was the time last month that The Moral Maze had to apologise after a Buerk trailer described the victim in the Ched Evans rape case as "so drunk she could barely stand". He's also slated the youth-orientated BBC Three for producing comedy "drivel". So the announcement of Buerk's involvement in I'm a Celebrity prompted the comedian Jack Whitehall to tweet: "Look forward to seeing him eating kangaroo bollocks with Gemma Collins [from The Only Way Is Essex]."
It's not what Sir Bob meant by feed the world, but perhaps Michael Buerk, who seems to be looking for friends, can deliver some Christmas cheer.
A life in brief
Born: 18 February 1946, in Solihull, West Midlands.
Family: Married to Christine, with whom he has twin sons, Simon and Roland. Roland survived the South Asian tsunami on Boxing Day 2004 and the 2011 earthquake in Japan.
Education: University of Sussex and University of Wales Institute in Cardiff.
Career: Went from local newspapers in Wales to BBC News. Was South Africa correspondent in the 1980s. His reports from the Ethiopian famine inspired Band Aid.
Reuse content