'You were never going to work in a bank, were you, dear," my mother once said, but I'm not sure she expected me to make a living by dressing in leather and shouting at manacled men in a dungeon. The world of the dominatrix, however, is not exactly as you might imagine. Far from being a seedy, frightening world of pain, power and darkness, my dungeon is more like an arena for adult role-play, where fantasies are explored and the mind freed from everyday stresses. Everybody needs escapism. For some, it's skiing or stamp-collecting; for others it's dressing as a schoolboy and getting spanked by a 6ft stuntwoman in a corset.
After becoming a dominatrix and adopting the persona of the leather-clad Mistress Xena because of my resemblance to the warrior princess, I realised clients couldn't talk comfortably to me about their sessions. They'd clam up when I asked what sort of whip they wanted me to use or what persona I should adopt. Who could blame them? These were things they had thought about for years but if they ever raised the issue, it was probably to confusion, horror or derision.
To ease the pressure, I encouraged clients to write a description of their ideal session beforehand. Women often complain that men have no imagination, but they should read my letters. With the clients' approval, I began to collect them with a view to publishing them in a book.
At first, I received only hand-written letters, but these are becoming less common, which is a shame, as you learn so much from a person's writing. Some have elegant script while others become more frenetic as the fantasies reach a crescendo. There are no stereotypical clients, though most are male. I see judges, lawyers and politicians wanting to re-enact school beatings but also soldiers, actors, cabbies, doctors, athletes and policeman of every age, ethnicity and religion.
The letters come in all varieties. Some contain amazing detail, others are a few scribbled lines of abstract thought about power and domination. Some are personal fantasies, erotic stories or written as if sent by angry wives, co-workers or teachers. While some may appear unsettling to the untrained eye, many are funny or intriguing.
If I agree to see a client, they'll bring a letter to the session. I'll ask whether they really want something or have just written it down in excitement. These conversations often revolve around pain. Everybody has an erotic pain level, which triggers endorphins, and a point where pain becomes uncomfortable. I have to find that balance. Many men think they can handle pain but most are quite soft. My clients have to be honest – not just about their fetishes, but also their delicate hip, dodgy knee or hair transplant.
You wouldn't know those things from the letters, which can insist on alarming degrees of torture. It's all part of the fantasy, and writers get a thrill knowing they will be read by me. But they also need to understand my parameters – that there are things I won't do – and they must accept that they won't touch me. A dominatrix provides a surreal sensory experience, maintaining an unobtainable aura that feeds into the fantasy. We do not learn a range of specialist skills and invest in expensive clothing and equipment simply to lie on our backs.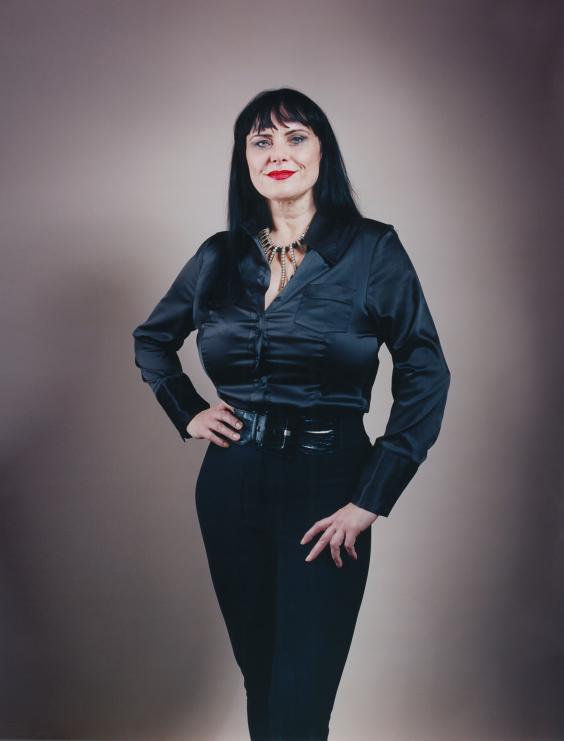 People don't always understand why they enjoy sadomasochism, but the desire for submission often comes from relishing the experience of role reversal. Usually, the man must be erect, ready to perform, but that isn't the case in the dungeon, where there is no sex and therefore no anxiety. Some will have tried bondage with their partners but it can take over and, for the partner, become a chore. Or they may grow more extreme in their fantasies and, for partners who aren't used to the peculiarities of the fetish world, it can be upsetting. Some wives know their husbands see me, and we develop our own correspondence.
Readers may think the men I meet are abnormal but I have found they are well balanced, able to separate the fantasy part of their lives from the reality. I have formed long friendships based on a mutual honesty that instantly puts the relationship on a different level. My clients know they can call me any time. I once heard from a regular who had become stuck in his high-heel boots. I managed to help him sort it out so he could return to his job as a long-distance lorry driver. Who else could he have rung?
As told to Peter Watts. This is an edited extract from 'Submitted: Letters to a Dominatrix' (£24.99, Probe Partners, submittedltd.com)
Dear Mistress Xena
Thank you for allowing me to contact you. I have been through your website and whilst I know you request that I contact you a day in advance I would like to beg in advance for the possibility of a session with you on Sunday 20 December at around 4pm.
I am a 34-yr-old male, fit and in good physical condition. I would be interested in a tough and demanding BDSM session. I do have experience but it is not regular as I am in a normal relationship (but I do manage a session once or twice a year and I started at around 22 years old). I have always found my previous experiences to be interesting, some tougher than others but never would I say that I have been pushed and stretched to my limits. I am looking for a beautiful but extremely demanding Mistress to push me further.
I would request a classical Mistress – slave relationship, polite but firm. I would expect you to demand respect, obedience, tough punishment as necessary. But I do not want you shouting and screaming at me. I would like you charming, wicked, with a sense of humour and to encourage me and guide me through the session but never hesitating to push me.
As your slave I would try to submit to your every desire but would expect this to include foot worship, tough whipping (not extreme but should be tough, it should be painful and it will make me cry out), cat o' nine tail, cane, paddles on all parts of body (back, buttocks, waist, inner thighs, genitals, bastinado on soles of feet, CBT, electro, nipple weights, clips, clamps, rack (though I have never experienced this), other as you see necessary.
Marking of the body is allowed but all marks must disappear within five days completely.
I do have strict no-go areas as follows:
No marks on face.
No restrictions on breathing.
No blood, no cuts.
No needles.
Date: Wed, 20 Apr 2005, 20:47:58
Subject: Egypt
Dear Mistress Xena
I am a fascinating, charming, attentionate and caring French male artist who would like to invite you for a week holidays in a five-star hotel in Egypt. I understand how short notice my proposition is but please be assured this offer is very serious. The dates are from this Monday the 25th and for one week.
I had booked this week for two persons, initially going just on my own. But I realised it was the opportunity of a lifetime for me to live my fantasy being at the service of a mistress for a week in an wonderful setting.
My wish is to serve you, pamper you and yield to your every whims.
I have already planned to spend this week confined in locking panties covering my nappies, and I would be honoured to give you the keys to my freedom. I am also thinking of bringing a few female clothes as dressing up has also always appealed to me. Those holidays are quite expensive, and I do not expect to pay an extra fee on this. I promise you a very good time and all my devotion.
I am 180cm tall, have blues eyes and regularly go to the gym, I am often told I have the body of a model… I am not at my desk and cannot for now forward you with more infos. Except that you do need a six- months valid passport. Over there I will be providing for your entertainment.
If you think I might possess what it takes to keep you wanting to know more about me, just press the right button.
I sincerely hope to hear from you soon.
Bises, a bientot...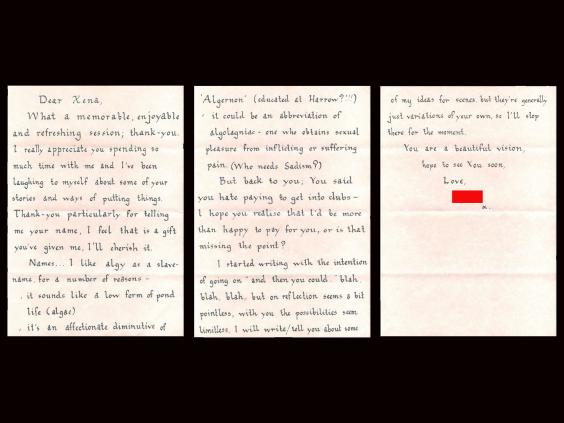 Sent: Monday, 12 November 2012, 8:52
Subject: Worship
Hello Mistress
I would be honoured to worship you in the following way :
Foot worship
Boot & shoe cleaning/licking
I have a chair that has had one of the legs shortened, I lie down and the shortened leg is placed on my teeth, then the Mistress sits on the chair.
If I can't stand the chair on my teeth for five minutes at a time, I give the Mistress extra tribute. I have worshipped several Mistresses in this way previously.
I will also give extra tribute for any damage to my teeth or gums.
Does this interest you ?
Humble regards.
Mxx
Dear Mistress Xena
I am a submissive male in my late twenties from north-west England who greatly enjoys enacting strict auntie/naughty nephew scenarios with an appropriate lady. Because I have been fortunate enough to retain my boyish, youthful looks and am only 5' 4" in height, I can still pass for a teenage schoolboy particularly when attired in school uniform.
In "real" life I'm single (never married, no children), professionally employed, have own house and car and can travel or accommodate.I'm financially stable and can be marked by punishment without requiring explanation to anybody. I'm also prepared to travel throughout the UK to meet a lady such as I'm about to describe. I'm seeking a mature (45 yrs+ or one who can be made to look older; grey wig, spectacles etc), tall (5' 10"+ without heels), powerful, dominant lady for role-playing with a difference.
Having visited numerous schoolmistresses/ aunties over the years I now seek the greater thrill of venturing out attired as a schoolboy and escorted by my strict, overbearing aunt. Naturally I will be attired in blazer, cap, shorts etc whilst my "auntie" will be immaculately attired in her prim and proper lady attire and heels. The presence of such a lady would lend credibility to my school attire and allow unlimited possibilities to scold and humiliate me in public. Whether this makes me more of an exhibitionist than a masochist I'm not sure but it seems incredibly more exciting "playing it for real" to unsuspecting members of the public than secretly behind closed doors.
Obviously such a scenario could not be played out in a rough inner-city area and I would expect to visit the leafy lanes of a quiet country village or early Sunday-morning mass at a posh village church to enact such a fantasy. I am therefore contacting you to inquire if you know of such a lady.
I should like to emphasise that if I didn't genuinely think I could convincingly appear as the character described and realistically carry the thing off, I would waste yours or anyone else's time in suggesting such a proposition.
I also have no wish to attract unnecessary attention from the authorities and would meticulously plan any such outing to avoid such complications. Naturally all expenses regarding travel, clothing etc will be covered by myself. I would also need to meet with such a lady in person to plan such an escapade in detail and again would remunerate her appropriately.
Now if only I could persuade Kim Woodburn from How Clean is Your House? to participate. Tall, mature, statuesque, buxom and with serious attitude. Absolutely perfect!
Hoping to hear from you positively soon.
Yours Respectfully.
Naughty Nephew XXXX
Reuse content