The overshadowing of Angela Merkel's visit to the British Museum on Wednesday was inescapable.
Only hours before the German Chancellor and David Cameron toured the museum's much-lauded exhibition "Germany: Memories of a Nation", the massacre of Charlie Hebdo staff in Paris has obliged the two leaders to drastically redraw their agenda. They stood on the museum steps and instead of being able to focus on making diplomatic noises about Anglo-German relations they had to address the horror of what had just occurred across the Channel.
That, however, was not the only overshadowing of the occasion. There was something else going on which was always going to lend a frisson to Merkel's visit – a behind-the-scenes-at-the-museum drama which anyone versed in the international to-ing and fro-ing of major-league arts chiefs would have been following, and which anyone who has been wowed by the museum over the past decade and more would want to be aware of.
"Germany: Memories of a Nation" is the latest in a long line of triumphs with which the director, Neil MacGregor, has turned the museum into one of the most dynamic institutions of its kind in the world. He has established himself as a unique figure on the UK cultural scene – a curatorial and commercial visionary, an administrative powerhouse, a master of international diplomacy and a public intellectual committed to reaching a mass audience through his exhibitions, books and broadcasting.
He does so without ever compromising on the rigour of his ideas, not the least of which is his certain belief in the rightfulness of the British Museum as the home of the Elgin Marbles. That's a controversy that never goes away, but so sure is MacGregor of his position that in December he was prepared to risk enraging Greece still further by overseeing the loan of one of the Marbles to the Hermitage in St Petersburg, saying that "when the British Museum says it holds these objects for the world, it means it".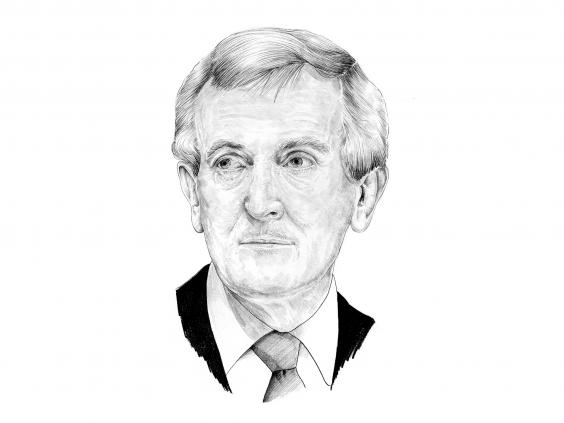 So as MacGregor took Merkel and Cameron on a tour of his Germany exhibition – a 600-year history of the nation told through objects ranging from Meissen porcelain to the VW Beetle – he did so as one of the hottest properties in a market in which the world's leading galleries and museums wield enormous heft as global brands, national symbols, and key attractions in a worldwide tourist industry worth billions.
No surprise, then, that other institutions would love it if MacGregor, who is 67, came along and sprinkled his stardust on them, which a few years ago is exactly what New York's Metropolitan Museum of Art wanted to happen. According to the former Culture Secretary Chris Smith, MacGregor "was offered a fortune" but resisted. "Neil would never do anything just for the money," Smith says. But for the artistic challenge? That is different, and now it seems that MacGregor may be on his way – destination: his beloved Germany where he has been courted by a new cultural centre in Berlin called the Humboldt-Forum.
It wasn't a moment for Merkel to be seen smiling on Wednesday, but inwardly she could have been forgiven for doing so. And if it really is the end of the MacGregor era at the British Museum, there can be no better example of quitting while you're ahead. His 13-year tenure, following on from similarly transformative work he did running the National Gallery, has comprised pretty much one No 1 hit after another – from the Terracotta Army (the centrepiece of an exhibition about ancient China), to Grayson Perry's "Tomb of the Unknown Craftsman", to MacGregor's own groundbreaking multimedia project that was "A History of the World in 100 Objects" (based on the British Museum's collection), to "Life and Death in Pompeii and Herculaneum". In the meantime, MacGregor's authoritative Scottish tones have made him one of Radio 4's most distinctive voices.
Of the Germany exhibition, a critical voice is raised in the form of Mary Fulbrook, professor of German history at University College, London, who thinks that in his handling of the rise of Nazism, MacGregor "failed to address the question of the sheer numbers of ordinary Germans involved". And over the years there have been gripes from the public about the sheer numbers that have been allowed to crowd into MacGregor's blockbusters, but that is really a back-handed compliment.
Perhaps what is most striking about MacGregor is not so much his professional excellence but the quite extraordinarily high regard in which he is held by all who have dealings with him. Another former Culture Secretary, Tessa Jowell, calls him simply "a saint", adding: "if you could choose anyone to spend a day with, it would be Neil". Chris Smith talks about his "enormous charm", citing it as a key attribute in securing loans from overseas museums, notably in negotiations he had in Iran.
Another senior arts figure who knows MacGregor well emphasises his lack of grandness. "He is completely committed to opening up the museum's treasures to everybody. You'll often see him just mingling with visitors, seeing for himself how they experience things." Smith recalls how, during MacGregor's tenure at the National Gallery, he would attend breakfast meetings with him. "We'd walk through the gallery at eight in the morning before it had opened to the public, and he would know every cleaner's and security person's name and say good morning to them". If MacGregor does leave the British Museum, it seems that the only people who will welcome his departure are the Greeks.
A career in the arts was slow to get going. MacGregor, born in 1946, is the son of Glasgow doctors and attended Glasgow Academy and then Oxford where he studied languages. That led to training as a lawyer, and he was 27 before he found his true calling, securing a place studying at the Courtauld Institute in London where the art historian (and spy) Anthony Blunt declared him "the most brilliant pupil I ever taught".
MacGregor himself became an academic, teaching art history at Reading University, before he took over the editorship of the fine-art journal The Burlington Magazine. It was from there, in 1987, that he made his breakthrough into high-level arts administration, as the director of the National Gallery, a post he held until 2002 when he took over at the British Museum, combining administrative and creative roles that had previously been split.
The energy required for the job is clearly something MacGregor has in spades. He often walks to work from his home in Maida Vale, west London, some five miles away. He is gay, a devout Christian, dedicated to his work – a man, according to Jowell, "of intense and acute moral purpose". He is, she says, sociable without being "one of the gang". He has twice turned down knighthoods. He doesn't ally himself with any political party, his independence and his mastery of his sphere such that, according to Jowell, "it would be a very foolish culture secretary who alienated him". He is committed to the principle of free entry to museums, and, says Jowell, "utterly understands that there is a fatuousness about the argument that you have to choose between access and excellence".
MacGregor embodies the ideal that you can very much have both. Germany's gain stands to be Britain's huge loss.
A life in brief
Born: 16 June, 1946, in Glasgow.
Family: His parents, Alexander and Anna MacGregor, were doctors.
Education: Read French and German at New College, Oxford. Then studied 17th and 19th-century art at the Courtauld Institute of Art.
Career: Director of National Gallery from 1987 to 2002. Presented the BBC Radio 4 series A History of the World in 100 Objects. Director of British Museum since 2002.