In the 10 years of its existence, we have come to know what to expect from the acts that win The X Factor. They will have a song that will go to number one at Christmas. They will then disappear for about a year before re-emerging to promote a first album that will either make them (Leona Lewis, 2006) or break them (Leon Jackson, 2007). Leon or Leona, they will almost certainly fit a mould. They will, in short, be shiny happy people, give or take the odd sad backstory about a recently deceased grandparent who would be so proud and so on and so forth.
"You don't," I find myself saying to last year's winner James Arthur, "strike me as being particularly shiny or happy. Depression, anxiety attacks [he had one after his second live performance; he thought he was having a heart attack], sleeping rough… These are not the sort of things that are supposed to exist in the X Factor universe. Weirdly, for a reality TV programme," I continue, "the X Factor often appears to steer itself as far away as possible from many of life's harsher realities. Couldn't you have just told us about an ailing pet?"
He smiles and nods, eyebrows slightly raised, mouth tightly closed in a way anyone who watched last year's show will recognise. "The thing is, I knew from the very first audition that I did not fit the classic X Factor criteria," he says.
The story of how Arthur, who is now 25, came to be on the show in the first place tells you most of what you need to know. Not for him the tentative approach, the outright invitation or the fast-track straight to the TV auditions. Arthur was asleep at home in Saltburn, when his family and friends started to text him saying that an X Factor audition van had parked up in nearby Middlesbrough. "My electricity was on a meter and I was sat there with no lights and no telly. I said to my mum, 'Look, if you can borrow me some money I'll happily go.' So she gave me my train fare there and a tenner for the electricity." He joined the back of the queue. "I thought about leaving a million times," he says. "I was thinking, 'I'll just go. They'll not want me anyway.'"
But Arthur did not leave, and the X Factor van's talent scouts did seem to want him, even if the song he performed that day was a self- composed acoustic number with a hip-hop element called "I'm a Liar, Cos I Do (Habit)". Next up was a second audition in Liverpool in front of four of the show's producers; then Arthur got the call to head to Newcastle, for the performance, shown on TV in August last year, in front of the celebrity judges and the general public.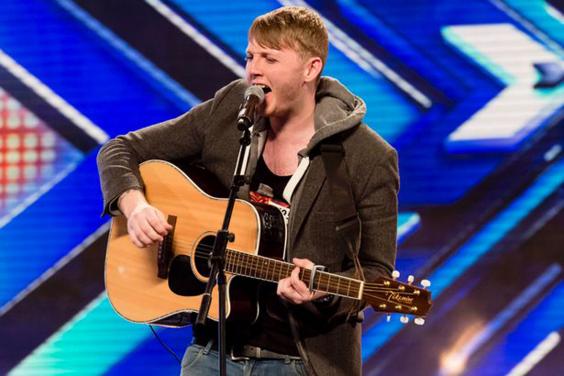 By that point, Arthur was starting to sense that there was more than a passing interest in him. "It became apparent that there was a lot of attention on me from the cameras. Dermot O'Leary came and spoke to me when I was in the crowd with my family and a producer interviewed me for an hour-and-a-half in the blistering sun."
In the course of that "chat", Arthur says he "spoke briefly about the whole mum and dad thing, and obviously that got spotlighted, because otherwise I didn't have a story that would suit the show". The "whole mum and dad thing" formed the backdrop to what was an electrifying performance of "Young", a song that had been a number-one hit for Tulisa, one of last season's judges, earlier that year.
The clip of Arthur performing "Young" has currently amassed around 25 million hits on YouTube. It is still the perfect distillation of his vocal talent: an emo-ish rawness, a funky way with phrasing, a plucked-from-the-depths-of-his-soul intensity and a punchy rap sprinkled in for good measure. He is, whatever you might think of TV talent contests, a natural and remarkable talent.
After that performance, the hard-to-please member of the panel, Gary Barlow, said: "James, we sit here all day and we watch lots and lots of people stand on that stage, and 99 per cent of those I sit here and go, 'We need to change this, we need to try that…' But if anyone dares touch what you do – because it's so good…"
And then there was the mum and dad backstory: for the Newcastle audition, Arthur's parents reunited for the first time in more than 20 years. As Arthur explains it now, "I had a bit of a strange childhood, to be honest. Me and my mum didn't see eye-to-eye for a lot of years and I've never really felt connected with my dad, because he wasn't there."
Arthur's parents divorced when he was a baby. Both remarried, but while his father is still with his second wife, his mother split up with Arthur's stepdad when he was in his early teens. "I wasn't a happy kid," he says. "I felt like my mum ruined our chance of a better life, because when she remarried we went to live in Bahrain, on a compound with a swimming pool, and she ruined it all. I don't know the ins and outs, so it would be unfair of me to comment on why that marriage ended, all I know is that I was angry. But I'm not some sob story. I'm like a lot of young lads in this country – I dealt with my demons in the wrong way, by lashing out. I got suspended from school, kicked out of the house, slept rough at times and ended up volunteering myself into foster care."
He was living in a bedsit, often with his 16-year-old sister sleeping in the bed while he slept on the sofa, until The X Factor live shows, at which point he moved to London. "I guess the point I'm making is that they kind of pulled all that stuff out of me and it became a blessing k because my mum and dad came together on the day and it was like all that shit just lifted off my shoulders. I was like, fair play to both of you, you've turned up and you're not being petty, which they had been for the past 20 years. It was a really momentous day for me."
If you are looking for an insight into how much life has changed for Arthur since those bedsit days, watch what happens in a quiet back street in north London while a photographer attempts to take the picture that will end up on the cover of this magazine. Drivers in white vans and Rolls-Royces hoot and give a thumbs-up. One car stops and parks, before a father tentatively steps out and asks whether his five children can say hello. Workers from nearby office buildings suddenly decide to step out to get some fresh air.
Arthur is getting used to the attention. "I was terrified at first," he says. "I felt embarrassed more than anything – people clamouring to give you Twitter addresses, asking if they can have a video for a friend, stuff like that. But now, whenever I see that people just want to give me a bit of love, it actually warms my heart. It can send shivers through you just to know that you can change someone's week or year or life with one hug. I like to think I'm a very warm person when you get under my exterior."
That warmth and openness can land him in trouble, though, and the flipside of fame comes in the form of the kiss-and-tells, Twitter spats and tabloid splats that Arthur is also, slowly, having to get used to. "There is a certain section of the media that would like to present me as this chavvy guy from the North who wants to bang everything," he says. "It's frustrating that these things can blemish your career, but it's just people who want to try to assassinate my character without knowing the first thing about me. Most of it's completely fabricated. I'm not that guy. I like to think that I'm a gentleman and I treat women with respect. Hopefully, once the album comes out, we can all talk about the music."
Ah yes, the music. Arthur's upcoming album is largely self-composed and features enough pop songs to earn it a place in those all-important Asda trolleys, while never betraying the talent that viewers saw at that first audition. Crucially, it will be no one's idea of a glossy cop-out.
"All the compromises I've made," he says, "are on things where I wasn't hell-bent either way. Any time people from the label [the Simon Cowell-owned Syco] would be like, 'How can we poppify this?', I'd take them back to the day when I was promised, 'James, you can have an "Explicit Advisory" sticker on your CD. If you want to say the word "shit" on your music, then do it.' Full credit to them, they quickly realised that they weren't going to get the best out of me without giving me that licence. "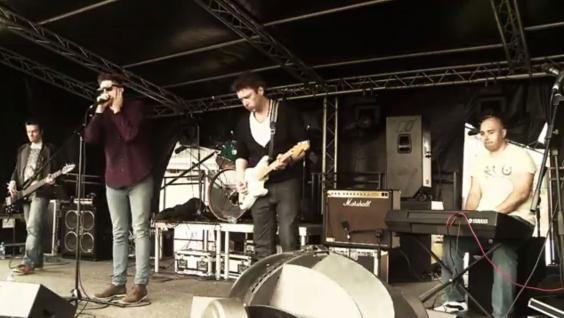 In fact, Arthur's debut album not only contains as much swearing as he wanted to keep things real (he's an Eminem fan), but also lines such as "I do drink and I do get high" and a song, "Smoke Clouds", that seems to be entirely about smoking weed. The One Direction crowd would be well advised to give this album a wide berth.
"Before I did The X Factor," he says, "I was active with music but, if I'm honest with myself, I was a self-loathing, self-deprecating, inward-looking, weed-smoking, pretentious guy, if you like. I'd pretend I was all right but I'd go home and smoke myself into a coma. It took away my anxiety but I was not looking after myself. I was depressed and I was out of touch with my family." And now? "When I got through that first audition I made a decision to better myself. I started going to the gym and I started taking responsibility for my life." (Spurred on by the embarrassment he'd felt on TV, he also decided that now was the time to sort out his teeth.)
Is he watching this year's show? "Of course," he says. "I'm Team Scherzy [Nicole Scherzinger, who mentored Arthur and remains in constant contact with him] all the way. She's got the best category. I love Hannah, the big gospel singer. I just believe her. I really believe her."
As for today, Arthur has been recording an acoustic version of his single, "You're Nobody 'Til Somebody Loves You" for an online programme, Transmitter. Watching him put his all into the song over and over until the director is satisfied with the take is another insight into what life is like for a young man who is, for the moment at least, as recognisable as anyone in the country. "Fame is repetition," he tells me. "Instead of going, 'Oh, I've got to do that song again,' I'm thinking this is an opportunity to step away from reality for a moment. If you start to think this is work, you'd get tired very quickly."
The single 'You're Nobody 'Til Somebody Loves You' is out now. The self-titled album 'James Arthur' is out on 4 November
Winner takes all?
You don't have to come first on 'The X Factor' to strike it rich…
One Direction
Total sales: 30 million
X Factor position: 3rd (Series 7, 2010)
Each member of One Direction auditioned as a solo artist, but Nicole Scherzinger suggested they form a boy band. They have since enjoyed success worldwide, and have a combined wealth of an estimated £25m.
Leona Lewis
Total sales: 28 million
X Factor position: Winner (Series 3, 2006)
Lewis's most successful single, 'Bleeding Love', reached number one in more than 30 countries. She has been nominated for seven Brit Awards and three Grammy Awards.
Olly Murs
Total sales: 10 million
X Factor position: Runner-up (Series 6, 2009)
Since losing to Joe McElderry in the final, Murs has released three platinum-selling albums and four number-one singles, and has toured with Robbie Williams.
JLS
Total sales: 10 million
X Factor position: Runner-up (Series 5, 2008)
JLS won the 2010 Brit Award for Best British Breakthrough Act. In April this year after five UK number ones, the band announced they were to split after seven years together.
Alexandra Burke
Total sales: 5 million
X Factor position: Winner (Series 5, 2008); originally auditioned in 2005
Has since become the first British female solo artist to sell a million copies of a single, 'Hallelujah', in the UK alone.
Zander Swinburne
Reuse content