Paul McKenna has spent the past decade promising people that he can make them thin, rich, confident, happy, smarter, quit smoking and sleep in a series of bestselling self-help books. He has even fitted some willing readers with a "hypnotic gastric band". His 17th book, Instant Influence and Charisma, published this month, contains a system to unlock the "glowing human energy" that is charisma. "When you apply it, you will make more money. You will get dates more easily. You will give better, more impactful presentations. You will win more arguments and make more sales. Above all, you will be more free to express your own values and live a more personally rewarding life."
Sounds good. So, first question: is Paul McKenna charismatic? "I'm told I am," says McKenna, with no hint of a pause. "I think of myself as charismatic, yes. And other people have told me that, which is a great compliment. I think I've learned to be. Because as a child, I didn't feel that charismatic."
Do many children go around feeling charismatic? Never mind, there is definitely something about McKenna the grown-up. At 52, he has made a fortune of £65m ("That's apparently what I'm worth but I'd have to ask my accountant. Ha ha ha!") mainly from his books and self-help seminars. He is also a celebrity favourite, having helped David Walliams to swim the channel, Sophie Dahl to lose weight and Ellen Degeneres to stop smoking. There are many more examples, and they come up often. "Roger Daltrey uses my confidence CD before he walks on stage. Not because he needs any confidence – he's fantastically confident. And Russell Brand uses it before he performs sometimes."
The weird thing is, the famous hypnotist with the super-slick patter, big gold watch and designer suits, the man who inspired Little Britain's Kenny "Look into my eyes" Craig, is a bag of nerves, face to face. He doesn't sit still for a second – scratching his head, taking his trademark black glasses on and off, itching his nose, jiggling his knee, sometimes stuttering. When I listen back to the interview later though, that famous voice is as calm and measured as it is on a hypnosis tape. Was all the fiddling one of his distraction techniques? I don't know, but I didn't dislike him. He reminded me of Alan Partridge.
We meet in his London house/office in a Kensington mews. The main living room is like a creamy hotel suite with black velour sofas and a few photographs – of his dogs, his late father, McKenna with Al Pacino, McKenna with Sting and Andrew Neil and so on – scattered around. There is a handful of engagement cards on the mantelpiece, though he got engaged to his PA, Kate Davey, more than a year ago.
Culture news in pictures
Culture news in pictures
1/30 27 May 2016

An image of an indigenous Australian man is projected onto the sails of the Sydney Opera House during the opening night of the annual Vivid Sydney light festival in Sydney

Reuters

2/30 26 May 2016

A woman walks on steps lined with plastic cups, an art project of four college students, in Wuhan, China

Reuters

3/30 25 May 2016

A view of the Pyramid of the Louvre museum covered with a gigantic black and white trompe l'oeil photo of the Louvre building by French artist JR in Paris. The exhibition 'Contemporary art JR at the Louvre' runs from 25 May to 27 June

EPA

4/30 24 May 2016

Artist paints a reproduction of one of the vincent Van gogh's painting for the 'Loving Vincent' film in Wroclaw, Poland. 'Loving Vincent', the world's first fully painted animation feature film, will be about the life and death of the Dutch famous painter Vincent van Gogh

EPA

5/30 23 May 2016

John Oliver, Jimmy Fallon and Jennifer Lawrence during a taping of "The Tonight Show Starring Jimmy Fallon" in New York City

Getty Images

6/30 22 May 2016

French Moroccan director Houda Benyamina (C) poses with the Camera d'Or next to actresses Jisca Kalvanda (L), Oulaya Amamra (2ndL) and Deborah Lukumuena (R) at the Palme D'Or Winner Photocall during the 69th annual Cannes Film Festival

Getty Images

7/30 21 May 2016

Swedish artist Andreas Englund signs one of his murals at the Urban Nation museum for urban contemporary art, in Berlin

Getty Images

8/30 20 May 2016

(L-R) Autor Tom Brokaw, Legion of Honor's Grand Chancellor General Jean-Louis Georgelin, Actor Tom Hanks, Ambassador of USA in France, Jane D. Hartley and Doctor Gordon "Nick" Mueller attend Tom Hanks, Tom Brokaw & Gordon "Nick" Mueller receive the Legion d'Honneur Medal at Palais de la Legion d'Honneur in Paris

Getty Images

9/30 19 May 2016

Visitors study work by Tod Papageorge in the gallery areas at the "Photo London 2016" event at Somerset House in central London. Featuring work from some of the world's most respected photographers, the event is aiming to put London on the map as the global city of photography

Getty Images

10/30 18 May 2016

A view of the building that will house planned Urban Nation - Museum for Urban Contemporary Art in Berlin. The street art museum is scheduled to open in 2017

EPA

11/30 17 May 2016

Kate Morais looks at the 'Colossal statues of a king and a queen' (283-246 BC) - which are reflected in a display cabinet glass - which stand over five meters tall during a preview of the 'Sunken Cities: Egypt's Lost Worlds' exhibition at the British Museum in London. This is the museum's first large scale exhibition of underwater archaeological finds and tells the story of two lost Egyptian cities and their recent discoveries beneath the Mediterranean, excavated off the coast of Egypt near Alexandria between 1996 and 2012

Getty Images

12/30 16 May 2016

Kurt Cobain's Univox electric guitar played and destroyed by Cobain at Nirvana's 13 July 1989 concert at Maxwell's in Hoboken, New Jersey is displayed during Julien's Auction Music Icons Press Exhibition at Hard Rock Cafe, Times Square in New York City

Getty Images

13/30 15 May 2016

Cast of the "From The Land Of The Moon (Mal De Pierres)" attend the premiere during the 69th annual Cannes Film Festival at the Palais des Festivals

Getty Images

14/30 14 May 2016

Jamala representing Ukraine with the song "1944" celebrates with the trophy after winning the final of the Eurovision Song Contest 2016 Grand Final in Stockholm

Getty Images

15/30 13 May 2016

A mural on a restaurant wall depicting US Presidential hopeful Donald Trump and Russian President Vladimir Putin greeting each other with a kiss in the Lithuanian capital Vilnius. Kestutis Girnius, associate professor of the Institute of International Relations and Political Science in Vilnius university, said: "This graffiti expresses the fear of some Lithuanians that Donald Trump is likely to kowtow to Vladimir Putin and be indifferent to Lithuanias security concerns. Trump has notoriously stated that Putin is a strong leader, and that NATO is obsolete and expensive"

Getty Images

16/30 12 May 2016

People visit the artwork titled Seven Magic Mountains by artist Ugo Rondinone, near Jean, Nevada. The artwork was recently completed in the desert south of Las Vegas

AP

17/30 11 May 2016

Justin Timberlake attends the "Trolls" Photocall during The 69th Annual Cannes Film Festival

Getty Images

18/30 10 May 2016

Curator Ben Russell poses with a 2.4 meter robot called Cygan, built in 1957, on display at the Science Museum before announcing a new robot exhibition for 2017

Getty Images

19/30 9 May 2016

A Palestinian artist paints a graffiti on a wall of the United Nations school of Beit Hanun, in the northern Gaza Strip

Getty Images

20/30 8 May 2016

Jon Snow collects the award for best news coverage on behalf of Channel 4 during the House of Fraser BAFTA TV Awards 2016 at the Royal Festival Hall in London

PA

21/30 7 May 2016

Illustration View of the 'Empires' exhibition of Huang Yong Ping as part of Monumenta 2016 to Grand Palais from 8 May till 18 June 2016

Getty Images

22/30 6 May 2016

People, including Russian servicemen, attend a concert of Mariinsky Theatre in the amphitheatre of the Syrian city of Palmyra, Syria

Reuters

23/30 5 May 2016

A child looks at an artwork titled 'Bi-lateral Relations' by Uruguay artists Fernando Foglino and Valentina Cardellino during the Latin America and Caribbean Art Festival Visual Art Exhibition 2016 at the World Art Museum of the China Millennium Monument in Beijing. The exhibition runs until 26 May, and is part of joint activities to mark the China-Latin America and Caribbean Cultural Exchange Year

EPA

24/30 4 May 2016

(L-R) David Furnish, Lady Gaga and Macy's CEO Terry J. Lundgren attend Love Bravery by Lady Gaga and Elton John Launch at Macy's Herald Square in New York City

Getty Images

25/30 3 May 2016

The Hofburg palace is illuminated by a projection of Viennese artist Viktoria Coeln for the project Dystopia Eutopia in Vienna, Austria

AP

26/30 2 May 2016

A visitor looks at paintings by Yemeni female artists displayed at a gallery during an exhibition entitled Women Creativity for Peace in the capital Sanaa

Getty Images

27/30 1 May 2016

A man looks at an art piece during the Oshtoora festival in an open desert north Fayoum, Egypt. Oshtoora festival, or "A temporary sate," is held only once a year in a different locations within Egypt. The festival is based on expression of music, arts, and cultures in an open natural environment

AP

28/30 30 April 2016

Actress Lupita Nyong'o attends "Eclipsed" To Launch A Dedications Series In Honor Of Abducted Chibok Girls Of Northern Nigeria at Golden Theatre in New York

Getty Images

29/30 29 April 2016

Kabuki actor Shido Nakamura (in red) performs in a final dress rehearsal for the kabuki theatre show 'Hanakurabe Senbonzakura' in Tokyo, Japan. The latest digital technology kabuki theatre piece 'Hanakurabe Senbonzakura' is part of the Niconico Chokaigi festival in Tokyo. The festival was organized by video website Niconico, combining Kabuki, a traditional Japanese theatre art and cutting edge animation technology, co-starring kabuki superstar Shidou Nakamura and the popular virtual idol Hatsune Miku

Getty Images

30/30 28 April 2016

Members of the Australian ballet perform in the scene from "Scent of the Love" during the dress rehearsal for the national premiere of Symphony in C that comprises of five short ballet works at the Opera House in Sydney

Getty Images
We retire to the "red room", an archetypal therapist's lair of crimson sofas and walnut furniture. A wall is lined with hardbacks – biographies of Hitler and Churchill, Elton John and Billy Graham, books about James Bond and cocaine, a few Grishams. There's a McKenna crest on the mantelpiece and a giant gold crucifix and a Ganesh figure in the fireplace. Is he religious? "I'm not religious but I do believe in God. I do believe in something greater than myself, I don't think this is all an accident. I pray every day." He looks thoughtful. "Mostly I give thanks rather than ask for something."
This isn't his proper home – that's in Los Angeles. "I found this fantastic house which has a lot of Hollywood history," he pauses. Go on, who lived there? "Well, the Rolling Stones who made a movie there that was never released… Who else? Sean Connery. Richard Gere and Cindy Crawford. John Schlesinger owned it and used to rent it out to people. So a lot of people would say to me, 'Oh I know that house – it's a party house.' When I first moved there I used to have a barbecue every Sunday and invite all the Brits around… I was a single man, I had a good life."
That's all over now. He wants to move back to Britain. "I've become friends with one of the moguls", he confides, as if this is a totally normal thing to say. Which mogul? His good friend Harvey Weinstein, perhaps. "I wish I could tell you. He said to me 'You know what Henry Kissinger told me? Make three circles: a big circle – that's your acquaintances; the next is a smaller circle – that's your friends; and the next one is a really small circle and that's your real friends.' And I did it, I wrote it all down and I thought – most of my real friends are here."
This pragmatic approach fits with the man who revealed last year that he chose his fiancée by spreadsheet. Davey had been his personal assistant for more than 20 years but it was only when he entered her vital statistics into Excel that he realised, "Good God, I love Kate!" It wasn't just a spreadsheet, he demurs, his mother also told him that he should date her. "She's delirious about it. When I rang her and said, 'I've got something to tell you, me and Kate are in a relationship', she went, 'Goody, goody, goody!'" He laughs, absolutely delighted.
He proposed in Big Sur in October 2014. He hired a Maserati, though he has a very nice car of his own – "Yeah, I've got a Bentley. Azure. But I wanted to fly back, you see" – and drove her along the Pacific coast highway before getting down on one knee after dinner, with a £1m ring. "And she said 'Yes!'" He slaps his thighs and kicks up his feet like a child. They will marry in Buckinghamshire this year in a friend's house. Will it be a big do? "Yeah, and it will be a fairly eclectic mix of people from different worlds – from the arts, science and sports."
McKenna has quite a lot of famous friends and he has no qualms around talking about them. Indeed, he interviewed most of them on his American talkshow on Hulu in 2014. His LA gang includes "Paul Oakenfold, DJ and producer, Sir Ken Robinson, the most fantastic mind on education of our time. Obviously I'm good friends with Simon Cowell and Ryan Seacrest, who is a remarkably talented broadcaster." Cowell, in particular has been a "great counsel" to him and will be his best man. "A very, very kind friend. I often ask Simon for advice. He's a very clear thinker."
He freely admits that he is "very shallow", when it comes to stars in need. "If someone famous rings me, I'm like..." he grins. "It's great to meet people from the arts or science who you admire." Has he ever been starstruck? "Once and it will never happen again. David Bowie. I was so blown away that I couldn't… The president of any country could sit in front of me right now and I wouldn't let it affect my work with him, I would absolutely be on my game. But I got a bit starstruck with David Bowie."
He tells me that he doesn't charge for his one-to-one sessions, instead asking patients to give a donation to a charity. So could I have a free session? "I can't work with everyone. If it's a few hours out of my life but it's a life-changer for them, then it makes me feel good," he says. "I don't take on a job unless I think I can do it well. If people want a magic show, they should book a magician." His real money is made in global seminars – attending a one-day weight loss course costs around £300 – and books. "I thought to myself, if I worked as a therapist, one-to-one, within my lifetime, I could see 1,000 people, something like that. Whereas I've impacted the lives of millions of people."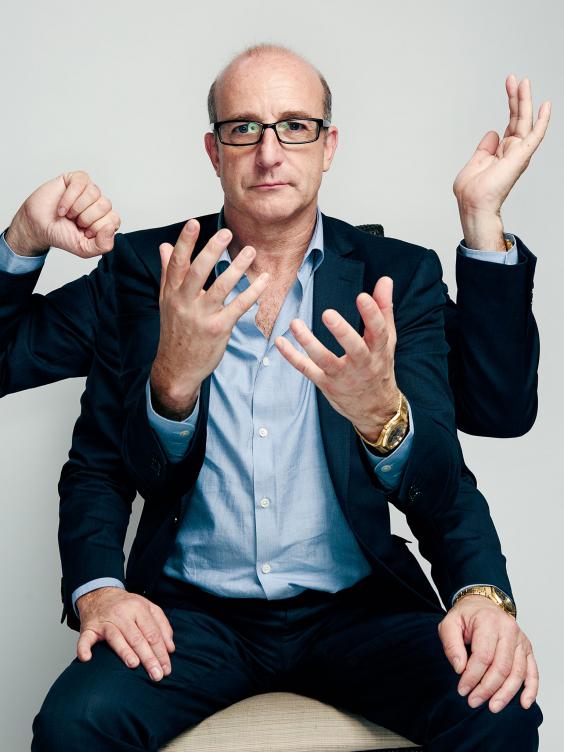 The new book – he writes at least one a year – is the product of 20 years studying the psychology of influence. Broadly, it's a guide to how people get what they want by using certain postures, verbal tics, mirroring and rapport – or "hot buttons" – and suggests how readers might do the same. It comes with a code for an online video which guides readers into a hypnotic trance and through the "havening" technique, which involves stroking your arms while saying, "I am free to be powerful and successful".
It's taken him longer than usual to put together because his thesis kept coming across as "icky". "I don't want people to think it's about tricking or forcing or manipulating people into things they don't want to do. This is much more a book about social confidence." He writes in the introduction that he "firmly believes this system should be taught in every school." "It should, yes, it would make it an even playing field for everyone," he confirms. "Why not be able to use your own judgement to be able to see when you're being manipulated against your will by salespeople, or politicians or cult leaders? It would be nice if mind-mapping was taught in schools, if social confidence was available as a course."
McKenna's upbringing in Enfield, north London was happy. His mother was a teacher – "charismatic, very intelligent, very positive" – his father a building contractor – "A very dignified man – put on a tie every day. He was very smart and very kind." He has a brother who is a building contractor and lives in Enfield. He was a nerdy child, a bit insecure but "pretty popular". He hated his school, St Ignatius in Enfield. "It was very violent. It was a place where I saw cruelty and I think it gave me a taste for compassion. When I left there I had a lot of Catholic guilt so I wouldn't feel comfortable about enjoying things. It wasn't a happy time in my life. I think the Jesuits are very good mind-manipulators – if anything, I learnt a little bit about it from them."
After school he got a job on Radio Topshop, moving on to Radio Caroline and Chiltern Radio. He also did voiceovers – "Yes! When I was a DJ," he says, emphasis on the D. He adopts a deep, smarmy voice. "'The wonderful world of Disney'". I also did 'Kentucky Fried Chicken: the secret's in the taste!' and 'Blockbuster Video: wow what a difference!' I really enjoyed doing voiceovers – you have to compact quite a bit into those 30 seconds."
It was interviewing a hypnotist on Capital Radio that changed his life. He borrowed a book and started hypnotising people in pubs for a laugh. It led to a glittering television career in the 90s but in time Cowell advised him that he would have to leave entertainment if he wanted to be taken seriously in the self-help industry. The controversy of Christopher Gates, who sued McKenna in 1998, alleging that his participation in a live show had triggered schizophrenia, may also have played a part. McKenna won the case but estimates that it cost him around £4m in lost earnings.
Does he ever do the silly stuff – making friends fall in love with a broom etc – just for fun at dinner parties? "No, I haven't done it for many years. I see that as the me of the past – I can see that was once me but it's not me any more really… No, it's not appropriate now." That said, last month Cowell bid £3,000 at a charity auction in Barbados for a McKenna hypnosis session for his wife, Lauren Silverman, joking that it was to cure her of her "shopping habit".
Has McKenna helped hypnotism to be taken more seriously? "Definitely. It's now part of the A-Level psychology syllabus, I believe, since I've been on television. If you look at the reviews on Amazon, they're all four/five star, four and a half stars. We know from whenever we've done a study, it's usually about 7 in 10 people that my techniques work for – which is way above average. I can live with that," he says. "I think I can cure most psychological problems most of the time." He has picked up a few professional rivalries along the way. "The saying goes that the best form of defence is attack but for me it is a last resort," he writes. "Having said that, if I do it, I do the job properly." The first chapter of the new book has a dig at Allen Carr – "No I don't rate Allen Carr," he confirms. "Well, we never got along really. Allen was not very friendly to me." Then there's his spat with Derren Brown, who was quoted as saying something rude about McKenna in an interview and then emailed asking, "Are we still friends?" McKenna emailed back, "Well, you're the fucking mind reader."
There's no sign of that anger today, perhaps because McKenna has just started on a new 10-year plan. "I wake up sometimes surprised – how did I get this wonderful life? Some of it is what I visualised. I had a 10-year plan. I just finished the last one." What does this plan hold? "Well I see myself and Kate married. Living perhaps in the country. She likes to ride, so I can see a horse… Let me just think what else I can see", he holds his hand in front of his face, conjuring the vision. A family, perhaps? "Children? Probably not. I can see myself working on television occasionally. I'll certainly continue to write books. I can see myself doing events. Probably not working as hard as I have been the last few years. A comfortable couch and Apple TV – I can see that."
No more glitzy parties? "That's not me any more. I liked that lifestyle, it was good but it was of its time. And now, we tend to – myself and my fiancée – stay in quite a lot. We enjoy each other's company. And it's quite nice."
The last year has been trying. In August, his bid to have a lurid lawsuit thrown out of court in America failed. His ex-fiancée/manager, Claire Staples, is suing him for millions, claiming that McKenna was addicted to cocaine, alcohol and prescription pills "to the point he could no longer be trusted to follow through on business commitments". McKenna denies the claims and is counter-suing in the High Court.
In the light of this, the move to leafy Buckinghamshire makes more sense. "I've enjoyed the trappings of celebrity very much but I think the next 10 years are going to be different," he says. Quieter? "Quieter, yeah. I was thinking of retiring from public life, I've been considering that. I thought maybe I've done everything I can right now. I just want to step back and do nothing. But then I thought, I don't know, maybe I'd get bored."
Has he had therapy? "Of course." One last question then: if I could write a book for Paul McKenna, a "I Can Make You…" guide, what might he need help with? "For me? What would I want? That is a very good question isn't it? Do you know, if anything I'm a little bit tough on myself at times. That just came into my head just then! I think maybe I could be kinder to myself."
'Instant Influence and Charisma' by Paul McKenna (£12.99, Bantam Press)