Paul McKenna has spent the past decade promising people that he can make them thin, rich, confident, happy, smarter, quit smoking and sleep in a series of bestselling self-help books. He has even fitted some willing readers with a "hypnotic gastric band". His 17th book, Instant Influence and Charisma, published this month, contains a system to unlock the "glowing human energy" that is charisma. "When you apply it, you will make more money. You will get dates more easily. You will give better, more impactful presentations. You will win more arguments and make more sales. Above all, you will be more free to express your own values and live a more personally rewarding life."
Sounds good. So, first question: is Paul McKenna charismatic? "I'm told I am," says McKenna, with no hint of a pause. "I think of myself as charismatic, yes. And other people have told me that, which is a great compliment. I think I've learned to be. Because as a child, I didn't feel that charismatic."
Do many children go around feeling charismatic? Never mind, there is definitely something about McKenna the grown-up. At 52, he has made a fortune of £65m ("That's apparently what I'm worth but I'd have to ask my accountant. Ha ha ha!") mainly from his books and self-help seminars. He is also a celebrity favourite, having helped David Walliams to swim the channel, Sophie Dahl to lose weight and Ellen Degeneres to stop smoking. There are many more examples, and they come up often. "Roger Daltrey uses my confidence CD before he walks on stage. Not because he needs any confidence – he's fantastically confident. And Russell Brand uses it before he performs sometimes."
The weird thing is, the famous hypnotist with the super-slick patter, big gold watch and designer suits, the man who inspired Little Britain's Kenny "Look into my eyes" Craig, is a bag of nerves, face to face. He doesn't sit still for a second – scratching his head, taking his trademark black glasses on and off, itching his nose, jiggling his knee, sometimes stuttering. When I listen back to the interview later though, that famous voice is as calm and measured as it is on a hypnosis tape. Was all the fiddling one of his distraction techniques? I don't know, but I didn't dislike him. He reminded me of Alan Partridge.
We meet in his London house/office in a Kensington mews. The main living room is like a creamy hotel suite with black velour sofas and a few photographs – of his dogs, his late father, McKenna with Al Pacino, McKenna with Sting and Andrew Neil and so on – scattered around. There is a handful of engagement cards on the mantelpiece, though he got engaged to his PA, Kate Davey, more than a year ago.
Culture news in pictures
Culture news in pictures
1/30 30 September 2016

An employee hangs works of art with "Grand Teatro" by Marino Marini (R) and bronze sculpture "Sfera N.3" by Arnaldo Pomodoro seen ahead of a Contemporary Art auction on 7 October, at Sotheby's in London

REUTERS

2/30 29 September 2016

Street art by Portuguese artist Odeith is seen in Dresden, during an exhibition "Magic City - art of the streets"

AFP/Getty Images

3/30 28 September 2016

Dancers attend a photocall for the new "THE ONE Grand Show" at Friedrichstadt-Palast in Berlin, Germany

REUTERS

4/30 28 September 2016

With an array of thrift store china, humorous souvenirs and handmade tile adorning its walls and floors, the Mosaic Tile House in Venice stands as a monument to two decades of artistic collaboration between Cheri Pann and husband Gonzalo Duran

REUTERS

5/30 27 September 2016

A gallery assistant poses amongst work by Anthea Hamilton from her nominated show "Lichen! Libido!(London!) Chastity!" at a preview of the Turner Prize in London

REUTERS

6/30 27 September 2016

A technician wearing virtual reality glasses checks his installation in three British public telephone booths, set up outside the Mauritshuis museum in The Hague, Netherlands. The installation allows visitors a 3-D look into the museum which has twenty-two paintings belonging to the British Royal Collection, on loan for an exhibit from 29 September 2016 till 8 January 2017

AP

7/30 26 September 2016

An Indian artist dressed as Hindu god Shiva performs on a chariot as he participates in a religious procession 'Ravan ki Barat' held to mark the forthcoming Dussehra festival in Allahabad

AFP/Getty Images

8/30 26 September 2016

Jean-Michel Basquiat's 'Air Power', 1984, is displayed at the Bowie/Collector media preview at Sotheby's in New York

AFP/Getty

9/30 25 September 2016

A woman looks at an untitled painting by Albert Oehlen during the opening of an exhibition of works by German artists Georg Baselitz and Albert Oehlen in Reutlingen, Germany. The exhibition runs at the Kunstverein (art society) Reutlingen until 15 January 2017

EPA

10/30 24 September 2016

Fan BingBing (C) attends the closing ceremony of the 64th San Sebastian Film Festival at Kursaal in San Sebastian, Spain

Getty Images

11/30 23 September 2016

A view of the artwork 'You Are Metamorphosing' (1964) as part of the exhibition 'Retrospektive' of Japanese artist Tetsumi Kudo at Fridericianum in Kassel, Germany. The exhibition runs from 25 September 2016 to 1 January 2017

EPA

12/30 22 September 2016

Jo Applin from the Courtauld Institute of Art looks at Green Tilework in Live Flesh by Adriana Vareja, which features in a new exhibition, Flesh, at York Art Gallery. The new exhibition features works by Degas, Chardin, Francis Bacon and Sarah Lucas, showing how flesh has been portrayed by artists over the last 600 years

PA

13/30 21 September 2016

Performers Sean Atkins and Sally Miller standing in for the characters played by Asa Butterfield and Ella Purnell during a photocall for Tim Burton's "Miss Peregrines Home For Peculiar Children" at Potters Field Park in London

Getty Images

14/30 20 September 2016

A detail from the blanket 'Alpine Cattle Drive' from 1926 by artist Ernst Ludwig Kirchner is displayed at the 'Hamburger Bahnhof - Museum for Contemporary Arts' in Berlin. The exhibition named 'Ernst Ludwig Kirchner - Hieroglyphen' showing the complete collection of Berlin's Nationalgallerie works of the German artist Ernst Ludwig Kirchner and will run from 23 September 2016 until 26 February 2017

AP

15/30 20 September 2016

A man looks at portrait photos by US photographer Bruce Gilden in the exhibition 'Masters of Photography' at the photokina in Cologne, Germany. The trade fair on photography, photokina, schowcases some 1,000 exhibitors from 40 countries and runs from 20 to 25 September. The event also features various photo exhibitions

EPA

16/30 20 September 2016

A woman looks at 'Blue Poles', 1952 by Jackson Pollock during a photocall at the Royal Academy of Arts, London

PA

17/30 19 September 2016

Art installation The Refusal of Time, a collaboration with Philip Miller, Catherine Meyburgh and Peter Galison, which features as part of the William Kentridge exhibition Thick Time, showing from 21 September to 15 January at the Whitechapel Gallery in London

PA

18/30 18 September 2016

Artists creating one off designs at the Mm6 Maison Margiela presentation during London Fashion Week Spring/Summer collections 2017 in London

Getty Images

19/30 18 September 2016

Bethenny Frankel attends the special screening of Disney's "Beauty and the Beast" to celebrate the 25th Anniversary Edition release on Blu-Ray and DVD in New York City

Getty Images for Walt Disney Stu

20/30 17 September 2016

Visitors attend the 2016 Oktoberfest beer festival at Theresienwiese in Munich, Germany

Getty Images

21/30 16 September 2016

Visitors looks at British artist Damien Hirst work of art 'The Incomplete Truth', during the 13th Yalta Annual Meeting entitled 'The World, Europe and Ukraine: storms of changes', organised by the Yalta European Strategy (YES) in partnership with the Victor Pinchuk Foundation at the Mystetsky Arsenal Art Center in Kiev

AP

22/30 16 September 2016

Tracey Emin's "My Bed" is exhibited at the Tate Liverpool as part of the exhibition Tracey Emin And William Blake In Focus, which highlights surprising links between the two artists

Getty Images

23/30 15 September 2016

Musician Dave Grohl (L) joins musician Tom Morello of Prophets of Rage onstage at the Forum in Inglewood, California

Getty Images

24/30 14 September 2016

Model feebee poses as part of art installation "Narcissism : Dazzle room" made by artist Shigeki Matsuyama at rooms33 fashion and design exhibition in Tokyo. Matsuyama's installation features a strong contrast of black and white, which he learned from dazzle camouflage used mainly in World War I

AP

25/30 13 September 2016

Visitors look at artworks by Chinese painter Cui Ruzhuo during the exhibition 'Glossiness of Uncarved Jade' held at the exhibition hall 'Manezh' in St. Petersburg, Russia. More than 200 paintings by the Chinese artist are presented until 25 September

EPA

26/30 12 September 2016

A visitor looks at Raphael's painting 'Extase de Sainte Cecile', 1515, from the Uffizi Gallery in Florence during the opening of a Raphael exhibition at the Pushkin State Museum of Fine Arts in Moscow, Russia. The first Russian exhibition of the works of the Italian Renaissance artist Raffaello Sanzio da Urbino includes eight paintings and three drawings which come from Italy. Th exhibit opens to the public from 13 September to 11 December

EPA

27/30 11 September 2016

Steve Cropper and Eddie Floyd perform during Otis Redding 75th Birthday Celebration - Rehearsals at the Macon City Auditorium in Macon, Georgia

Getty Images for Otis Redding 75

28/30 10 September 2016

Sakari Oramo conducting the BBC Symphony Orchestra, the BBC Symphony Chorus and the BBC Singers at the Last Night of the Proms 2016 at the Royal Albert Hall in London

PA

29/30 9 September 2016

A visitor walks past a piece entitled "Fruitcake" by Joana Vasconcelo, during the Beyond Limits selling exhibition at Chatsworth House near Bakewell

REUTERS

30/30 8 September 2016

A sculpture of a crescent standing on the 2,140 meters high mountain 'Freiheit' (German for 'freedom'), in the Alpstein region of the Appenzell alps, eastern Switzerland. The sculpture is lighted during the nights by means of solar panels. The 38-year-old Swiss artist and atheist Christian Meier set the crescent on the peak to start a debate on the meaning of religious symbols - as summit crosses - on mountains. 'Because so many peaks have crosses on them, it struck me as a great idea to put up an equally absurd contrast'. 'Naturally I wanted to provoke in a fun way. But it goes beyond that. The actions of an artist should be food for thought, both visually and in content'

EPA
We retire to the "red room", an archetypal therapist's lair of crimson sofas and walnut furniture. A wall is lined with hardbacks – biographies of Hitler and Churchill, Elton John and Billy Graham, books about James Bond and cocaine, a few Grishams. There's a McKenna crest on the mantelpiece and a giant gold crucifix and a Ganesh figure in the fireplace. Is he religious? "I'm not religious but I do believe in God. I do believe in something greater than myself, I don't think this is all an accident. I pray every day." He looks thoughtful. "Mostly I give thanks rather than ask for something."
This isn't his proper home – that's in Los Angeles. "I found this fantastic house which has a lot of Hollywood history," he pauses. Go on, who lived there? "Well, the Rolling Stones who made a movie there that was never released… Who else? Sean Connery. Richard Gere and Cindy Crawford. John Schlesinger owned it and used to rent it out to people. So a lot of people would say to me, 'Oh I know that house – it's a party house.' When I first moved there I used to have a barbecue every Sunday and invite all the Brits around… I was a single man, I had a good life."
That's all over now. He wants to move back to Britain. "I've become friends with one of the moguls", he confides, as if this is a totally normal thing to say. Which mogul? His good friend Harvey Weinstein, perhaps. "I wish I could tell you. He said to me 'You know what Henry Kissinger told me? Make three circles: a big circle – that's your acquaintances; the next is a smaller circle – that's your friends; and the next one is a really small circle and that's your real friends.' And I did it, I wrote it all down and I thought – most of my real friends are here."
This pragmatic approach fits with the man who revealed last year that he chose his fiancée by spreadsheet. Davey had been his personal assistant for more than 20 years but it was only when he entered her vital statistics into Excel that he realised, "Good God, I love Kate!" It wasn't just a spreadsheet, he demurs, his mother also told him that he should date her. "She's delirious about it. When I rang her and said, 'I've got something to tell you, me and Kate are in a relationship', she went, 'Goody, goody, goody!'" He laughs, absolutely delighted.
He proposed in Big Sur in October 2014. He hired a Maserati, though he has a very nice car of his own – "Yeah, I've got a Bentley. Azure. But I wanted to fly back, you see" – and drove her along the Pacific coast highway before getting down on one knee after dinner, with a £1m ring. "And she said 'Yes!'" He slaps his thighs and kicks up his feet like a child. They will marry in Buckinghamshire this year in a friend's house. Will it be a big do? "Yeah, and it will be a fairly eclectic mix of people from different worlds – from the arts, science and sports."
McKenna has quite a lot of famous friends and he has no qualms around talking about them. Indeed, he interviewed most of them on his American talkshow on Hulu in 2014. His LA gang includes "Paul Oakenfold, DJ and producer, Sir Ken Robinson, the most fantastic mind on education of our time. Obviously I'm good friends with Simon Cowell and Ryan Seacrest, who is a remarkably talented broadcaster." Cowell, in particular has been a "great counsel" to him and will be his best man. "A very, very kind friend. I often ask Simon for advice. He's a very clear thinker."
He freely admits that he is "very shallow", when it comes to stars in need. "If someone famous rings me, I'm like..." he grins. "It's great to meet people from the arts or science who you admire." Has he ever been starstruck? "Once and it will never happen again. David Bowie. I was so blown away that I couldn't… The president of any country could sit in front of me right now and I wouldn't let it affect my work with him, I would absolutely be on my game. But I got a bit starstruck with David Bowie."
He tells me that he doesn't charge for his one-to-one sessions, instead asking patients to give a donation to a charity. So could I have a free session? "I can't work with everyone. If it's a few hours out of my life but it's a life-changer for them, then it makes me feel good," he says. "I don't take on a job unless I think I can do it well. If people want a magic show, they should book a magician." His real money is made in global seminars – attending a one-day weight loss course costs around £300 – and books. "I thought to myself, if I worked as a therapist, one-to-one, within my lifetime, I could see 1,000 people, something like that. Whereas I've impacted the lives of millions of people."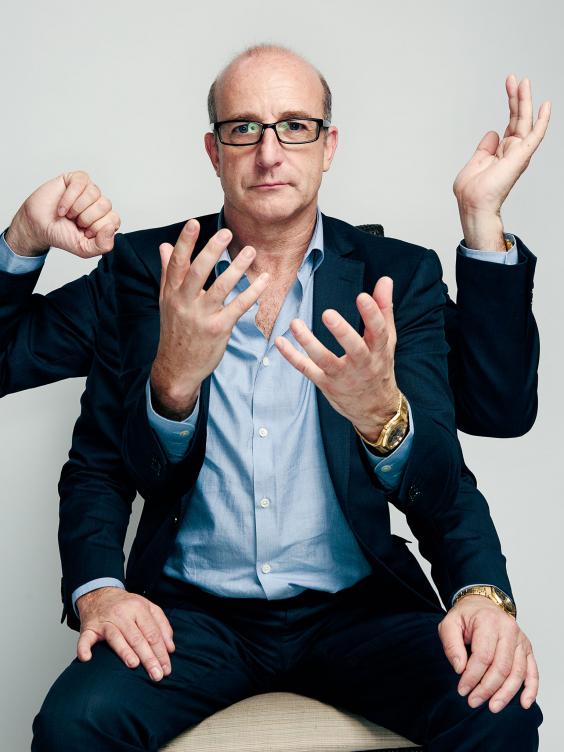 The new book – he writes at least one a year – is the product of 20 years studying the psychology of influence. Broadly, it's a guide to how people get what they want by using certain postures, verbal tics, mirroring and rapport – or "hot buttons" – and suggests how readers might do the same. It comes with a code for an online video which guides readers into a hypnotic trance and through the "havening" technique, which involves stroking your arms while saying, "I am free to be powerful and successful".
It's taken him longer than usual to put together because his thesis kept coming across as "icky". "I don't want people to think it's about tricking or forcing or manipulating people into things they don't want to do. This is much more a book about social confidence." He writes in the introduction that he "firmly believes this system should be taught in every school." "It should, yes, it would make it an even playing field for everyone," he confirms. "Why not be able to use your own judgement to be able to see when you're being manipulated against your will by salespeople, or politicians or cult leaders? It would be nice if mind-mapping was taught in schools, if social confidence was available as a course."
McKenna's upbringing in Enfield, north London was happy. His mother was a teacher – "charismatic, very intelligent, very positive" – his father a building contractor – "A very dignified man – put on a tie every day. He was very smart and very kind." He has a brother who is a building contractor and lives in Enfield. He was a nerdy child, a bit insecure but "pretty popular". He hated his school, St Ignatius in Enfield. "It was very violent. It was a place where I saw cruelty and I think it gave me a taste for compassion. When I left there I had a lot of Catholic guilt so I wouldn't feel comfortable about enjoying things. It wasn't a happy time in my life. I think the Jesuits are very good mind-manipulators – if anything, I learnt a little bit about it from them."
After school he got a job on Radio Topshop, moving on to Radio Caroline and Chiltern Radio. He also did voiceovers – "Yes! When I was a DJ," he says, emphasis on the D. He adopts a deep, smarmy voice. "'The wonderful world of Disney'". I also did 'Kentucky Fried Chicken: the secret's in the taste!' and 'Blockbuster Video: wow what a difference!' I really enjoyed doing voiceovers – you have to compact quite a bit into those 30 seconds."
It was interviewing a hypnotist on Capital Radio that changed his life. He borrowed a book and started hypnotising people in pubs for a laugh. It led to a glittering television career in the 90s but in time Cowell advised him that he would have to leave entertainment if he wanted to be taken seriously in the self-help industry. The controversy of Christopher Gates, who sued McKenna in 1998, alleging that his participation in a live show had triggered schizophrenia, may also have played a part. McKenna won the case but estimates that it cost him around £4m in lost earnings.
Does he ever do the silly stuff – making friends fall in love with a broom etc – just for fun at dinner parties? "No, I haven't done it for many years. I see that as the me of the past – I can see that was once me but it's not me any more really… No, it's not appropriate now." That said, last month Cowell bid £3,000 at a charity auction in Barbados for a McKenna hypnosis session for his wife, Lauren Silverman, joking that it was to cure her of her "shopping habit".
Has McKenna helped hypnotism to be taken more seriously? "Definitely. It's now part of the A-Level psychology syllabus, I believe, since I've been on television. If you look at the reviews on Amazon, they're all four/five star, four and a half stars. We know from whenever we've done a study, it's usually about 7 in 10 people that my techniques work for – which is way above average. I can live with that," he says. "I think I can cure most psychological problems most of the time." He has picked up a few professional rivalries along the way. "The saying goes that the best form of defence is attack but for me it is a last resort," he writes. "Having said that, if I do it, I do the job properly." The first chapter of the new book has a dig at Allen Carr – "No I don't rate Allen Carr," he confirms. "Well, we never got along really. Allen was not very friendly to me." Then there's his spat with Derren Brown, who was quoted as saying something rude about McKenna in an interview and then emailed asking, "Are we still friends?" McKenna emailed back, "Well, you're the fucking mind reader."
There's no sign of that anger today, perhaps because McKenna has just started on a new 10-year plan. "I wake up sometimes surprised – how did I get this wonderful life? Some of it is what I visualised. I had a 10-year plan. I just finished the last one." What does this plan hold? "Well I see myself and Kate married. Living perhaps in the country. She likes to ride, so I can see a horse… Let me just think what else I can see", he holds his hand in front of his face, conjuring the vision. A family, perhaps? "Children? Probably not. I can see myself working on television occasionally. I'll certainly continue to write books. I can see myself doing events. Probably not working as hard as I have been the last few years. A comfortable couch and Apple TV – I can see that."
No more glitzy parties? "That's not me any more. I liked that lifestyle, it was good but it was of its time. And now, we tend to – myself and my fiancée – stay in quite a lot. We enjoy each other's company. And it's quite nice."
The last year has been trying. In August, his bid to have a lurid lawsuit thrown out of court in America failed. His ex-fiancée/manager, Claire Staples, is suing him for millions, claiming that McKenna was addicted to cocaine, alcohol and prescription pills "to the point he could no longer be trusted to follow through on business commitments". McKenna denies the claims and is counter-suing in the High Court.
In the light of this, the move to leafy Buckinghamshire makes more sense. "I've enjoyed the trappings of celebrity very much but I think the next 10 years are going to be different," he says. Quieter? "Quieter, yeah. I was thinking of retiring from public life, I've been considering that. I thought maybe I've done everything I can right now. I just want to step back and do nothing. But then I thought, I don't know, maybe I'd get bored."
Has he had therapy? "Of course." One last question then: if I could write a book for Paul McKenna, a "I Can Make You…" guide, what might he need help with? "For me? What would I want? That is a very good question isn't it? Do you know, if anything I'm a little bit tough on myself at times. That just came into my head just then! I think maybe I could be kinder to myself."
'Instant Influence and Charisma' by Paul McKenna (£12.99, Bantam Press)