Paul McKenna has spent the past decade promising people that he can make them thin, rich, confident, happy, smarter, quit smoking and sleep in a series of bestselling self-help books. He has even fitted some willing readers with a "hypnotic gastric band". His 17th book, Instant Influence and Charisma, published this month, contains a system to unlock the "glowing human energy" that is charisma. "When you apply it, you will make more money. You will get dates more easily. You will give better, more impactful presentations. You will win more arguments and make more sales. Above all, you will be more free to express your own values and live a more personally rewarding life."
Sounds good. So, first question: is Paul McKenna charismatic? "I'm told I am," says McKenna, with no hint of a pause. "I think of myself as charismatic, yes. And other people have told me that, which is a great compliment. I think I've learned to be. Because as a child, I didn't feel that charismatic."
Do many children go around feeling charismatic? Never mind, there is definitely something about McKenna the grown-up. At 52, he has made a fortune of £65m ("That's apparently what I'm worth but I'd have to ask my accountant. Ha ha ha!") mainly from his books and self-help seminars. He is also a celebrity favourite, having helped David Walliams to swim the channel, Sophie Dahl to lose weight and Ellen Degeneres to stop smoking. There are many more examples, and they come up often. "Roger Daltrey uses my confidence CD before he walks on stage. Not because he needs any confidence – he's fantastically confident. And Russell Brand uses it before he performs sometimes."
The weird thing is, the famous hypnotist with the super-slick patter, big gold watch and designer suits, the man who inspired Little Britain's Kenny "Look into my eyes" Craig, is a bag of nerves, face to face. He doesn't sit still for a second – scratching his head, taking his trademark black glasses on and off, itching his nose, jiggling his knee, sometimes stuttering. When I listen back to the interview later though, that famous voice is as calm and measured as it is on a hypnosis tape. Was all the fiddling one of his distraction techniques? I don't know, but I didn't dislike him. He reminded me of Alan Partridge.
We meet in his London house/office in a Kensington mews. The main living room is like a creamy hotel suite with black velour sofas and a few photographs – of his dogs, his late father, McKenna with Al Pacino, McKenna with Sting and Andrew Neil and so on – scattered around. There is a handful of engagement cards on the mantelpiece, though he got engaged to his PA, Kate Davey, more than a year ago.
Culture news in pictures
Culture news in pictures
1/30 26 June 2016

Chris Martin of 'Coldplay' performs on the Pyramid Stage on day 3 of the Glastonbury Festival at Worthy Farm

Getty Images

2/30 25 June 2016

Adele performing on stage at the Glastonbury Festival, at Worthy Farm in Somerset

PA

3/30 24 June 2016

US artist Joan Jonas poses during the presentation of her exhibition 'Joan Jonas: Stream or River. Flight or Pattern' at the Bitin Foundation in Santander, northern Spain. The display featuring experimental film and video-installation of pioneering Jonas will be open to the public from 25 June to 16 October 2016

EPA

4/30 23 June 2016

Evie Ferris and Georgia Scott-Hunter, Artists of The Australian Ballet next to one of Edgar Degas' iconic ballet dancer paintings 'Dancer with Bouquets' during the media preview for the 'Degas: A New Vision' exhibition at National Gallery of Victoria in Melbourne, Australia. The exhibition will run from 24 June to 18 September as part of the Melbourne Winter Masterpieces series

Getty Images

5/30 22 June 2016

Figures of characters from the comic series 'Uncle Walt' by US cartoonist Frank King are on display in the exhibition 'Pioneers of the Comic Strip. A different Avant-Garde' at the Schirn Kunsthalle museum in Frankfurt am Main, Germany. The exhibition that features the works of six primarily US illustrators created between 1905 and 1940, runs from 23 June 2016 to 18 September 2016

EPA

6/30 21 June 2016

(L-R) Actors Jonathan Holmes, Paul Moniz de Sa, Daniel Bacon, Chris Gibbs, Jemaine Clement, Penelope Wilton, Mark Rylance, Ruby Barnhill, Bill Hader, Rebecca Hall and Rafe Spall arrive on the red carpet for the US premiere of Disney's "The BFG," directed and produced by Steven Spielberg. A giant sized crowd lined the streets of Hollywood Boulevard to see stars arrive at the El Capitan Theatre

Getty Images for Disney

7/30 20 June 2016

Tony Bennett attends as the Friars Club Honors Tony Bennett With The Entertainment Icon Award - Arrivals at New York Sheraton Hotel & Tower in New York City

Getty Images

8/30 19 June 2016

A woman walks in front of the paintings 'Without title' (1960), left, and 'Come closer' (1960), right, during the opening of the exhibition 'Xanti Schawinsky - From the Bauhaus into the World' in Magdeburg, Germany. The exhibition starts on 21 June and lasts until 25 September

AP

9/30 18 June 2016

Recording artist Johnny Bond (L) and Van McCann of Catfish and the Bottlemen perform onstage at Firefly Music Festival in Dover

Getty Images for Firefly

10/30 17 June 2016

Students from both the Richmond and Covent Garden schools perform for Prince Charles, Prince of Wales, in his role as President of The Royal Ballet, as he visits The Royal Ballet School, White Lodge campus in Richmond Park in London

Getty Images

11/30 16 June 2016

A part of the installation 'The Floating Piers' by Bulgarian-born artist Christo Vladimirov Yavachev known as Christo is seen on the Lake Iseo, northern Italy

REUTERS

12/30 15 June 2016

A unique outdoor gallery has been revealed in Hampstead Heath, to mark the return of the Affordable Art Fair in London. The colourful 'running gallery' previewed seven of the artworks going on show at the fair this week from 16 – 19 June. These works, along with thousands more original pieces will be going on sale as the fair opens – all priced between £100 - £5,000

Oliver Dixon/Imagewise

13/30 13 June 2016

The artwork 'Accumulation: Searching for Destination' (2014-2016) by Japanese artist Chiharu Shiota is on display at the show Unlimited in the context of the international art show in Basel, Switzerland. Unlimited is Art Basel's exhibition platform for projects that transcend the limitations of a classical art-show stand, including out-sized sculpture and paintings, video projections, large-scale installations, and live performances. Unlimited is curated by New York-based curator Gianni Jetzer. The Art Basel exhibition is open to the public from 16 to 19 June

EPA

14/30 12 June 2016

A costumed artist performs with fire during International Kiev Fire Fest show. Teams from Greece, Belarus, Lithuania, Slovakia, USA, Czech Republic, Scotland and Ukraine, take part with their fire-shows in the two-day festival in Kiev

Getty Images

15/30 14 June 2016

A man leaves his house as anotherone walks past murals painted as part of a program of the municipality that aims at rescueing public spaces of the historical center in Mexico City. The murals were made on shops' metallic shutters

AFP/Getty Images

16/30 11 June 2016

People look at an art installation named "Fog Assembly" by Danish artist Olafur Eliasson in the castle of Versailles, near Paris

Getty Images

17/30 10 June 2016

Tomatoes float in an aquarium which is part of an artwork entitled 'Something that Floats/Something that sinks' by Japanese artist Shimabuku during the 13th Triennial of smale-scale sculpture in Fellbach, Germany. The exhibition runs from 11 June until 2 October

EPA

18/30 9 June 2016

Swiss artist, Olaf Breuning, stands in front of his artwork 'Text Butt' (2015) in the NRW-Forum in Duesseldorf, Germany. The retrospective can be seen in Duesseldorf from 11 June until 21 August

EPA

19/30 8 June 2016

An artwork entitled 'Hang it all' by Colombian artist Gabriel Sierra is seen during the exhibition 'Under the Same Sun: Art From Latin America Today' at the South London Gallery. The gallery is the final venue on the exhibitionís international tour, following the Guggenheim Museum, New York in June 2014 and the Museo Jumex, Mexico City in November 2015

EPA

20/30 7 June 2016

An interior shows British artist Michael Landy's artworks in the exhibition 'Michael Landy. Out of Order' at the Museum Tinguely in Basel, Switzerland. Landy is one of the Young British Artists (YBAs) generation that emerged in London in the 1990s. The exhibition runs from 8 June to 25 September

EPA

21/30 6 June 2016

A Banksy mural is left painted on the side of one of the classrooms at Bridge Farm Primary in Bristol. The 14ft piece, showing a child with a stick chasing a burning tyre, was discovered at the school along with a letter to the caretaker and was said to be a thank you by the elusive artist after the school recently named a house after him

Getty Images

22/30 5 June 2016

More than 6,000 Colombians pose in the nude for American art photographer Spencer Tunick at Bolivar Square in Bogota. Tunick, famous for his pictures of huge crowds of naked people, convinced more than 6,000 Colombians to strip down in Bogota's main public square - all in the name of peace

Getty Images

23/30 4 June 2016

Bulgarian artist Christo poses in front of the monumental "Mastaba" art work at the Maeght Foundation (Fondation Maeght) on the opening day of the exibition in Saint-Paul, southeastern France. The exibition takes place from 6 June to 27 November

Getty Images

24/30 3 June 2016

Dutch King Willem-Alexander attents the opening of the SONSBEEK '16: transAction, an international contemporary art exhibition in Arnhem, The Netherlands

EPA

25/30 2 June 2016

A sculpture by Colombian artist Fernando Botero is displayed during the opening of an exhibition entitled 'Botero in Hong Kong' at Central district. The outdoor public art installation showcases nine monumental sculptures by Botero from 3 June to 14 August

EPA

26/30 1 June 2016

Everything by my side, a theatrical performance that sees actors in white beds whisper to individual audience members, created by Argentinian artist Fernando Rubio, is unveiled as it makes its UK debut at Canary Wharf in London. Free to the public from 1-3 June. Everything by my side is presented by LIFT, a London-wide festival of international performance and it is the first time the work has been shown since New York City in 2014

PA

27/30 31 May 2016

Visitors look at the painting 'The Unequal Marriage' (1862) by Russian artist Vasili Pukirev during the exhibition 'The Secrets of Old Paintings' at the Tretyakov Gallery in Moscow, Russia. The exhibition is open from 1 June to 27 August as part of the project 'The Tretyakov Gallery opens its store rooms'

EPA

28/30 30 May 2016

The view of an art installation by the artist group Wanda Barcelona, which is made of 8,000 sheets of A0 paper at the 'Drupa' print media trade fair in Duesseldorf, Germany. Drupa, the world's largest trade fair for print media, takes place from 31 May until 10 June 2016 in Duesseldorf

EPA

29/30 29 May 2016

Musician Alice Cooper and Johnny Depp of Hollywood Vampires perform onstage at Hessentags-Arena during the 56th Hessentag in Herborn, Germany

Getty Images

30/30 28 May 2016

Bosnian artist Vedad Trbonja stands in front of the mural painting of David Bowie during the unveiling ceremony in Sarajevo. The mural is a result of a four-month work of a Sarajevo's group of artists led by Vedad Trbonja. According to its creators, this is the largest mural in the world, dedicated to British rock legend, David Bowie

Getty Images
We retire to the "red room", an archetypal therapist's lair of crimson sofas and walnut furniture. A wall is lined with hardbacks – biographies of Hitler and Churchill, Elton John and Billy Graham, books about James Bond and cocaine, a few Grishams. There's a McKenna crest on the mantelpiece and a giant gold crucifix and a Ganesh figure in the fireplace. Is he religious? "I'm not religious but I do believe in God. I do believe in something greater than myself, I don't think this is all an accident. I pray every day." He looks thoughtful. "Mostly I give thanks rather than ask for something."
This isn't his proper home – that's in Los Angeles. "I found this fantastic house which has a lot of Hollywood history," he pauses. Go on, who lived there? "Well, the Rolling Stones who made a movie there that was never released… Who else? Sean Connery. Richard Gere and Cindy Crawford. John Schlesinger owned it and used to rent it out to people. So a lot of people would say to me, 'Oh I know that house – it's a party house.' When I first moved there I used to have a barbecue every Sunday and invite all the Brits around… I was a single man, I had a good life."
That's all over now. He wants to move back to Britain. "I've become friends with one of the moguls", he confides, as if this is a totally normal thing to say. Which mogul? His good friend Harvey Weinstein, perhaps. "I wish I could tell you. He said to me 'You know what Henry Kissinger told me? Make three circles: a big circle – that's your acquaintances; the next is a smaller circle – that's your friends; and the next one is a really small circle and that's your real friends.' And I did it, I wrote it all down and I thought – most of my real friends are here."
This pragmatic approach fits with the man who revealed last year that he chose his fiancée by spreadsheet. Davey had been his personal assistant for more than 20 years but it was only when he entered her vital statistics into Excel that he realised, "Good God, I love Kate!" It wasn't just a spreadsheet, he demurs, his mother also told him that he should date her. "She's delirious about it. When I rang her and said, 'I've got something to tell you, me and Kate are in a relationship', she went, 'Goody, goody, goody!'" He laughs, absolutely delighted.
He proposed in Big Sur in October 2014. He hired a Maserati, though he has a very nice car of his own – "Yeah, I've got a Bentley. Azure. But I wanted to fly back, you see" – and drove her along the Pacific coast highway before getting down on one knee after dinner, with a £1m ring. "And she said 'Yes!'" He slaps his thighs and kicks up his feet like a child. They will marry in Buckinghamshire this year in a friend's house. Will it be a big do? "Yeah, and it will be a fairly eclectic mix of people from different worlds – from the arts, science and sports."
McKenna has quite a lot of famous friends and he has no qualms around talking about them. Indeed, he interviewed most of them on his American talkshow on Hulu in 2014. His LA gang includes "Paul Oakenfold, DJ and producer, Sir Ken Robinson, the most fantastic mind on education of our time. Obviously I'm good friends with Simon Cowell and Ryan Seacrest, who is a remarkably talented broadcaster." Cowell, in particular has been a "great counsel" to him and will be his best man. "A very, very kind friend. I often ask Simon for advice. He's a very clear thinker."
He freely admits that he is "very shallow", when it comes to stars in need. "If someone famous rings me, I'm like..." he grins. "It's great to meet people from the arts or science who you admire." Has he ever been starstruck? "Once and it will never happen again. David Bowie. I was so blown away that I couldn't… The president of any country could sit in front of me right now and I wouldn't let it affect my work with him, I would absolutely be on my game. But I got a bit starstruck with David Bowie."
He tells me that he doesn't charge for his one-to-one sessions, instead asking patients to give a donation to a charity. So could I have a free session? "I can't work with everyone. If it's a few hours out of my life but it's a life-changer for them, then it makes me feel good," he says. "I don't take on a job unless I think I can do it well. If people want a magic show, they should book a magician." His real money is made in global seminars – attending a one-day weight loss course costs around £300 – and books. "I thought to myself, if I worked as a therapist, one-to-one, within my lifetime, I could see 1,000 people, something like that. Whereas I've impacted the lives of millions of people."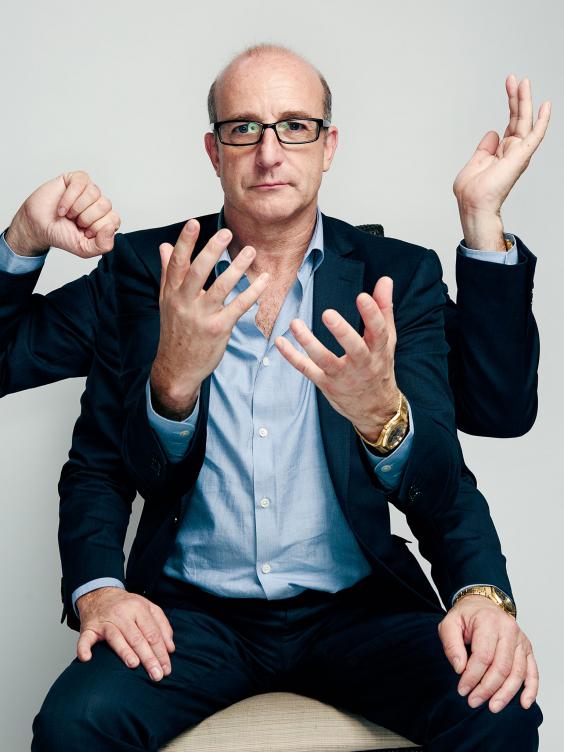 The new book – he writes at least one a year – is the product of 20 years studying the psychology of influence. Broadly, it's a guide to how people get what they want by using certain postures, verbal tics, mirroring and rapport – or "hot buttons" – and suggests how readers might do the same. It comes with a code for an online video which guides readers into a hypnotic trance and through the "havening" technique, which involves stroking your arms while saying, "I am free to be powerful and successful".
It's taken him longer than usual to put together because his thesis kept coming across as "icky". "I don't want people to think it's about tricking or forcing or manipulating people into things they don't want to do. This is much more a book about social confidence." He writes in the introduction that he "firmly believes this system should be taught in every school." "It should, yes, it would make it an even playing field for everyone," he confirms. "Why not be able to use your own judgement to be able to see when you're being manipulated against your will by salespeople, or politicians or cult leaders? It would be nice if mind-mapping was taught in schools, if social confidence was available as a course."
McKenna's upbringing in Enfield, north London was happy. His mother was a teacher – "charismatic, very intelligent, very positive" – his father a building contractor – "A very dignified man – put on a tie every day. He was very smart and very kind." He has a brother who is a building contractor and lives in Enfield. He was a nerdy child, a bit insecure but "pretty popular". He hated his school, St Ignatius in Enfield. "It was very violent. It was a place where I saw cruelty and I think it gave me a taste for compassion. When I left there I had a lot of Catholic guilt so I wouldn't feel comfortable about enjoying things. It wasn't a happy time in my life. I think the Jesuits are very good mind-manipulators – if anything, I learnt a little bit about it from them."
After school he got a job on Radio Topshop, moving on to Radio Caroline and Chiltern Radio. He also did voiceovers – "Yes! When I was a DJ," he says, emphasis on the D. He adopts a deep, smarmy voice. "'The wonderful world of Disney'". I also did 'Kentucky Fried Chicken: the secret's in the taste!' and 'Blockbuster Video: wow what a difference!' I really enjoyed doing voiceovers – you have to compact quite a bit into those 30 seconds."
It was interviewing a hypnotist on Capital Radio that changed his life. He borrowed a book and started hypnotising people in pubs for a laugh. It led to a glittering television career in the 90s but in time Cowell advised him that he would have to leave entertainment if he wanted to be taken seriously in the self-help industry. The controversy of Christopher Gates, who sued McKenna in 1998, alleging that his participation in a live show had triggered schizophrenia, may also have played a part. McKenna won the case but estimates that it cost him around £4m in lost earnings.
Does he ever do the silly stuff – making friends fall in love with a broom etc – just for fun at dinner parties? "No, I haven't done it for many years. I see that as the me of the past – I can see that was once me but it's not me any more really… No, it's not appropriate now." That said, last month Cowell bid £3,000 at a charity auction in Barbados for a McKenna hypnosis session for his wife, Lauren Silverman, joking that it was to cure her of her "shopping habit".
Has McKenna helped hypnotism to be taken more seriously? "Definitely. It's now part of the A-Level psychology syllabus, I believe, since I've been on television. If you look at the reviews on Amazon, they're all four/five star, four and a half stars. We know from whenever we've done a study, it's usually about 7 in 10 people that my techniques work for – which is way above average. I can live with that," he says. "I think I can cure most psychological problems most of the time." He has picked up a few professional rivalries along the way. "The saying goes that the best form of defence is attack but for me it is a last resort," he writes. "Having said that, if I do it, I do the job properly." The first chapter of the new book has a dig at Allen Carr – "No I don't rate Allen Carr," he confirms. "Well, we never got along really. Allen was not very friendly to me." Then there's his spat with Derren Brown, who was quoted as saying something rude about McKenna in an interview and then emailed asking, "Are we still friends?" McKenna emailed back, "Well, you're the fucking mind reader."
There's no sign of that anger today, perhaps because McKenna has just started on a new 10-year plan. "I wake up sometimes surprised – how did I get this wonderful life? Some of it is what I visualised. I had a 10-year plan. I just finished the last one." What does this plan hold? "Well I see myself and Kate married. Living perhaps in the country. She likes to ride, so I can see a horse… Let me just think what else I can see", he holds his hand in front of his face, conjuring the vision. A family, perhaps? "Children? Probably not. I can see myself working on television occasionally. I'll certainly continue to write books. I can see myself doing events. Probably not working as hard as I have been the last few years. A comfortable couch and Apple TV – I can see that."
No more glitzy parties? "That's not me any more. I liked that lifestyle, it was good but it was of its time. And now, we tend to – myself and my fiancée – stay in quite a lot. We enjoy each other's company. And it's quite nice."
The last year has been trying. In August, his bid to have a lurid lawsuit thrown out of court in America failed. His ex-fiancée/manager, Claire Staples, is suing him for millions, claiming that McKenna was addicted to cocaine, alcohol and prescription pills "to the point he could no longer be trusted to follow through on business commitments". McKenna denies the claims and is counter-suing in the High Court.
In the light of this, the move to leafy Buckinghamshire makes more sense. "I've enjoyed the trappings of celebrity very much but I think the next 10 years are going to be different," he says. Quieter? "Quieter, yeah. I was thinking of retiring from public life, I've been considering that. I thought maybe I've done everything I can right now. I just want to step back and do nothing. But then I thought, I don't know, maybe I'd get bored."
Has he had therapy? "Of course." One last question then: if I could write a book for Paul McKenna, a "I Can Make You…" guide, what might he need help with? "For me? What would I want? That is a very good question isn't it? Do you know, if anything I'm a little bit tough on myself at times. That just came into my head just then! I think maybe I could be kinder to myself."
'Instant Influence and Charisma' by Paul McKenna (£12.99, Bantam Press)