In January 2013 Stephen Sutton published online his "bucket list" of 46 things he wanted to do after being diagnosed with incurable cancer. Stephen, from Burntwood in Staffordshire, had been diagnosed with corectal cancer aged 15 in 2010. Number one on his list was to raise £10,000 for the Teenage Cancer Trust.
He had no idea that he would go on to raise millions of pounds for young people facing cancer or that he would come to be viewed as an inspirational figure.
"He reached his original target within a month," recalls his mother Jane, 50. "By the time the nation tuned in he had raised almost half a million pounds. His famous 'thumbs up' picture in his hospital bed generated a lot of interest.
"It was overwhelming to Stephen and to me. It was just his way of thanking people for all the help they'd given him in ticking off items on his bucket list. When Stephen realised the impact he'd had he couldn't understand it."
Stephen's spirit and determination earned him plaudits from a host of celebrities and politicians and captured the hearts of people across the nation. But on 14 May 2014, days after he was told he had been included on the Queen's Birthday Honours list, Stephen passed away aged 19.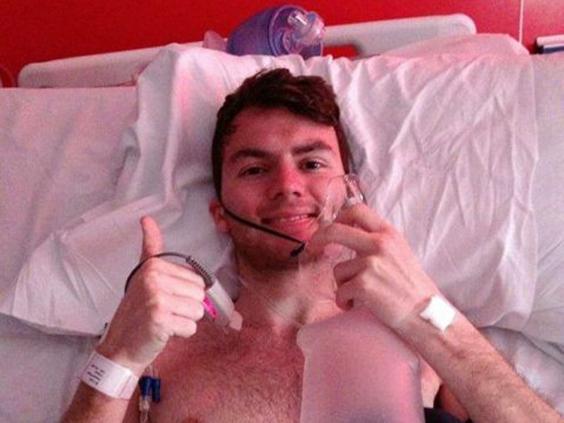 "Once he passed away the media interest grew even more," says Jane. "At times it felt intrusive but people did respect our wishes so it wasn't as bad as it could have been."
Since her son's death, Jane has felt "compelled" to continue his legacy and keep fundraising for the Teenage Cancer Trust.
"I feel really good knowing I'm continuing Stephen's legacy. It's all these other people organising the events now. It's fantastic to see it. People have called it the 'Stephen Sutton effect'. It makes me so proud."
A central part of continuing the legacy is to keep adding to the phenomenal amount of money already raised - the Teenage Cancer Trust says the figure currently stands at just over £5m. But, Jane insists, Stephen's legacy is also about urging people to appreciate what they have in life: "Nobody knows how much time they've got left. Challenge yourself constantly and make the most of every minute."
Jane describes participating in the London Marathon this year as a "massive challenge". She had never run more than three miles but had promised her son she would enter.
"He was a keen runner," Jane says. "He always said when he got better he was going to run the marathon. He was my reason for doing it. I knew I was going to complete it - I had made a promise to him."
Another enormous undertaking was helping to organise last month's Skydive for Stephen, which set a world record for the most tandem parachute jumps within 24 hours at a single venue. The attempt, at Hibaldstow Airfield in Lincolnshire, saw 402 people complete 403 jumps, and has brought in over £215,000.
But perhaps an even greater challenge for Jane was visiting one of the new specialist cancer units for teens that Stephen's money helped fund.
Over £800,000 of the money Stephen raised has gone toward creating the five-bed unit for 17-to 19-year-olds at Nottingham's Queen's Medical Centre and making improvements to the current Teenage Cancer Trust facilities for 19- to 24-year-olds at the City Hospital.
"That was the first time I returned to a unit since Stephen passed away," says Jane.
"It was a big thing for me to go but it was lovely to see that some of the money Stephen had raised will make such a big difference to young people and their families."
Jane, an accountant for the NHS, says balancing her job and the fundraising is a constant "juggling act", but that is nothing new. "Stephen was poorly for four years before he passed away. He never let his treatment stop him going to school and I never stopped going to work," she says.
"Losing a child is something no parent should go through. But it happens. The way I've chosen to deal with it is to help continue his legacy. It does help with the grieving."
'Postscript' runs in i and online every Saturday. If you would like us to return to someone who was in the news, please write to i@independent.co.uk
Reuse content