The tactical challenge for England against Montenegro at Wembley on Friday is an uncomplicated one. The nation who threaten their place in next summer's World Cup finals is populated by just 620,000 people and its football team by just two players with the individual class to damage them.
The Montenegrins know this. You do not imagine that coach Branko Brnovic's team talks are terribly drawn out because the perennial strategy is to defend tightly and shift the ball to Stevan Jovetic and Mirko Vucinic as rapidly as possible. Vucinic appears to be injured for Friday's qualifier – though England's manager, Roy Hodgson, will believe that when he sees it – which will make Manchester City's Jovetic even more important. That pair aside, set-pieces are the single most dangerous aspect of Montenegro's game.
There is actually a doubt among some inside the game about 23-year-old Jovetic's ability to maintain his performance levels against the top sides, though England have not had much reason to question it. Jovetic was especially dangerous during the 2-2 draw in Podgorica two years ago, when he might have won a penalty after a rash Phil Jones challenge. England qualified for the European Championship on that wild night when Wayne Rooney was sent off late on but Jovetic made it a bumpy business.
Liverpool have been on the receiving end, too. A 19-year-old Jovetic scored twice for Fiorentina in a Champions League defeat four years ago which left then manager Rafael Benitez reflecting that he had never seen a side struggle so much as his own did in the first half. It is one of the reasons why City were ready to sign Jovetic three years ago, until a cruciate injury put paid to that deal – and his 2010-11 season.
His fitness has also been in some doubt ahead of Friday – more Montenegrin subterfuge perhaps: Hodgson is too wise to dismiss such thoughts – though the prospect of a historic first qualification for the final stages of a tournament suggests that wild horses would not drag him away from Wembley. "I have two dreams – to win the Champions League with City and go to the World Cup in Brazil with Montenegro," he says, with the latter of those prospects considerably more realistic. "I am very excited by the game. We have two games left in the group and if we get good results we can qualify. For us it means everything to get to the finals of the World Cup or the European Championship because we are such a small country. It is important not just for football reasons but also for the prestige of the country."
Jovetic has been there from the inception of this footballing nation, who only began playing international fixtures after the 2006 World Cup. He vividly remembers their first international press conference, staged in the Hotel Podgorica with little Montenegrin flags flying, before the 2-1 win over Hungary. "We have seen neighbouring countries like Slovenia, Serbia, Croatia reach the finals in the past and now we want to get there," he adds.
He is diplomatic about the undeniable fact that the world's 27th-ranked side no longer need to fear England. "England are the favourites because they have so many good players and they are a huge nation but we have played them three times and shown we can compete with them," he says. But he does agree that there is more pressure on the home team. "Yes, I think they have more pressure than us because they are expected to win – and expect to win."
The challenge for Jovetic will certainly be greater than usual if Vucinic – who seemingly sustained a thigh injury during Juventus's Champions League draw with Galatasaray last week and was absent from the weekend's Serie A match with Milan – is not there with him. Though Jovetic can operate at the top of the team or anywhere in a three-man line behind the main forward, his preferred space for Montenegro is as a No 10 shadow striker, behind Vucinic.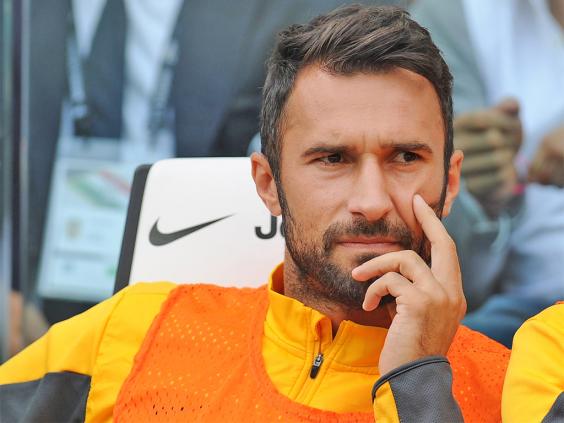 He has also struggled for match time since his £22m summer move to City. He arrived at his new club with a hamstring problem and by the time pre-season games were under way found himself undertaking the basic preparation work for the season. Another niggle followed his departure for international duty last month and despite getting a few outings – in the disappointing goalless draw at Stoke and the 5-0 Capital One Cup win over Wigan Athletic – had been suffering with a calf problem before the Champions League calamity against Bayern Munich last week. That also prevented him contributing to Saturday's 3-1 victory over Everton, after which City's manager, Manuel Pellegrini, hinted that he may be fit for this week's match at Wembley. "I would like to have played more going into this game but I've had a couple of injuries and not been able to get a run in the team," Jovetic admits.
If he does face England, we will see the usual footballing hybrid of his team-mates David Silva (he is always looking to get on the ball and direct play) and Sergio Aguero (he is direct and seeks to create openings for himself.) At Fiorentina, Jovetic was often used as a striker and by the end of his time there was averaging roughly a goal every other game. Some have suggested that there is a significance to Jovetic's idol being Andrei Shevchenko, who often played off Sergei Rebrov at Dynamo Kiev before being converted into a striker in Italy.
As England expects on Friday night, so does the population of the nascent nation that stands before them. "There is a lot of expectation on us from our own country," Jovetic reflects. "The people in my country expect us to beat any team, no matter who they are. I don't know why – but they always expect it!" Sound familiar?
Reuse content