On "Welcome to New York", her latest hit single, Taylor Swift sings with wide-eyed enthusiasm about the experience of being a youthful, aspirational newcomer to the Big Apple.
"The lights are so bright," she notes, a not entirely novel observation, "but they never blind me."
The average 24-year-old might indeed be dazzled on first arriving in the brilliant glare of the big city, but not so Swift. She has been a recording artist for a decade, has won seven Grammy Awards and has just sold almost 1.3 million copies of her new album 1989 in a week: the biggest seven days of sales for any LP since 2002.
She is one of a handful of musicians in the world who could shut down Hollywood Boulevard to traffic during rush hour – which she did last month, so that she could perform to a crowd of some 15,000 fans on Jimmy Kimmel's late night talk-show. She's also one of very few artists with the clout to yank their entire back catalogue confidently from Spotify, which she did earlier this week.
"Music is changing so quickly, and the landscape of the music industry itself is changing so quickly, that everything new, like Spotify, all feels to me a bit like a grand experiment," Swift, whose debut album was released the same year Spotify was founded, told Yahoo!. "I just don't agree with perpetuating the perception that music has no value and should be free."
Swift moved to New York less than a year ago – not to a poky, shared apartment in outer Brooklyn, mind you, but to a $15m Tribeca loft, where her neighbours include Orlando Bloom and Steven Soderbergh. Nevertheless, thanks to "Welcome to New York", she was recently named the global welcome ambassador for New York tourism. This has angered some of the city's more long-standing residents, who claim it as yet another example of celebrity phoniness.
Musicians against Spotify
Musicians against Spotify
1/10 Taylor Swift

Taylor Swift does not what her work to be used as an 'experiment' by Spotify and believes that artists are treated unfairly. She withdrew her entire catalogue in November 2014.

Getty Images

2/10 Thom Yorke

The Radiohead frontman famously described Spotify as 'the last desperate fart of a dying corpse' in October 2013.

Getty Images

3/10 David Byrne

David Byrne of Talking Heads wrote about not understanding Spotify's claim of discovery in a Guardian op-ed. 'The inevitable result would seem to be that the internet will suck the creative content out of the whole world until nothing is left,' he said.

Dan Burn-Forti

4/10 Beck

Beck dismissed the Spotify model as 'not working' because of how little it pays musicians. He added that the 'saddest thing' about streaming is the poor sound quality - 'It's like watching Citizen Kane on your phone'.

Rex Features

5/10 The Black Keys

Dan Auerbach has described Spotify's payment to artists as 'so minuscule it's laughable'. 'If you are a bigger band that's already known and you rely on record sales for a living then it's really no place to be,' he said.

6/10 Atoms for Peace

Thom Yorke's other band refused to let Spotify stream their songs. Nigel Godrich from the group described the service as 'an equation that just doesn't work'. 'Small labels and new artists can't even keep their lights on. It's just not right,' he said.

EPA

7/10 Yannis Philippakis

The Foals singer said he would rather that somebody stole his record on vinyl than bought it or streamed it on Spotify. He described using Spotify as like going to a top class restaurant and leaving only coppers without paying the bill.

Getty Images

8/10 Aimee Mann

The US singer-songwriter has not put her music on Spotify because she does not think artists make a fair amount of money from the streaming service.

Rex Features

9/10 Grizzly Bear

The band tweeted in 2012 that Spotify provides a great service for people but does as much to help bands as 'downloading from Limewire'.

Getty Images

10/10 Jason Isbell

Jason Isbell of Drive-By Truckers has used the single word 'evil' to describe Spotify.

Getty
But in an industry whose observers are forever obsessed with the notion of authenticity, there's no denying Swift is the real deal: a singer who has spent her entire young adult life under the spotlight, self-consciously decanting her biography into songs she writes herself, unlike so many others in her position. If her image is somehow manufactured, then by all accounts Swift is the foreman on the assembly line.
Her latest album is named after the year that the Berlin Wall fell, revolution swept across the Eastern Bloc, and Madonna released Like a Prayer. It also happens to be the year that Swift was born, in Wyomissing, Pennsylvania, about an hour outside Philadelphia.
Her father Scott is not some plaid-clad southern farmhand, as her country music background might suggest, but a Merrill Lynch vice-president from a long line of bankers; her mother, Andrea, also worked in finance before Taylor and younger brother Austin were born. As a child, though, Swift became besotted by the songs of Shania Twain and the Dixie Chicks. And so, aged just 11, armed with a demo CD of karaoke country covers and terrifying quantities of tween ambition, she persuaded Andrea to fly her to Nashville, where she touted her talents to the record labels of the city's so-called "Music Row".
At 12, she wrote her first original song. By 14, she had a record deal, and the entire Swift family relocated to Tennessee soon afterwards. There, Swift expertly pieced together her country teen persona, singing of chaste high-school romances in a southern accent, and even writing a song simply entitled "Tim McGraw", after another of her musical heroes.
One peculiarly deft lyric from her self-titled debut album, written when she was no more than 16, is the chorus to the single "Our Song". Swift complains to her boyfriend that they haven't picked out a romantic radio hit to soundtrack their relationship, to which the boyfriend artfully replies: "Our song is the slamming screen door/ Sneakin' out late, tapping on your window/ When we're on the phone and you talk real slow/ 'cause it's late and your mama don't know."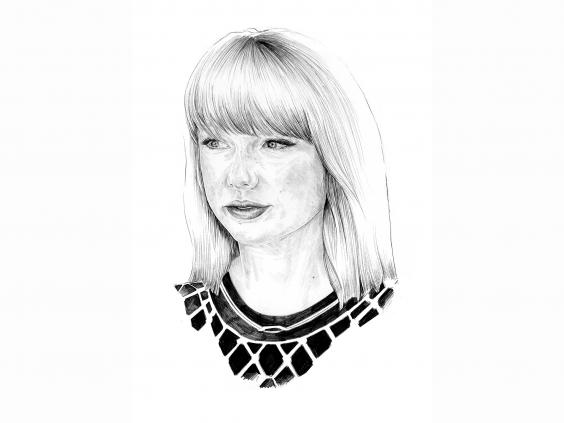 For such precocious songwriting, Swift was soon rewarded not only with multiplatinum sales, but also multiple music prizes. Her second disc, Fearless, became the most garlanded country album in history, and made her the youngest ever winner of the Grammy for Best Album. Her mainstream fame was sealed at the 2009 MTV awards when she accepted the gong for Best Female Video – only to be interrupted by Kanye West, who leapt on stage to complain that Beyoncé had been robbed.
Swift's has been a gradual evolution from girlish country-rocker to full-grown pop diva, but for her fifth album she has eschewed the country music promotional trail altogether, and fully embraced the pop tropes of rivals such as Katy Perry. One new track, "Bad Blood", is believed to refer to a falling-out with Perry, who reportedly poached some of Swift's dancers for a recent tour, and with whom Swift shares an ex, singer-songwriter John Mayer.
It's not just her enemies that have made it into her lyrics. Swift recently told Rolling Stone that she swore off dating after splitting from One Direction's Harry Styles last year. But her love life has been much scrutinised, and not without justification: many of her conquests appear in her songs. Styles, for instance, is supposedly the ex who "hit the brakes too soon/ 20 stitches in a hospital room", a possible reference to a snowmobile accident on "Out of the Woods". Mayer, meanwhile, has been identified as the subject of the 2010 break-up track, "Dear John" (a humiliation that he later described as "cheap songwriting", before composing his own riposte).
Swift has also accrued an impressive roster of celebrity girlfriends, including fellow singer Lorde, supermodel Karlie Kloss, actress Emma Stone and Girls creator Lena Dunham, whose boyfriend, Jack Antonoff of the band Fun, co-wrote two tracks on 1989. Swift recently explained to chat show host David Letterman that she and Dunham were kindred creative spirits, and became best pals after Dunham, a fan of her music, contacted her through Twitter.
Swift has a gift for outreach. Before 1989's release, she invited 89 young fans to a gig at her $18m mansion on Rhode Island, where she baked cookies and played the album live and in full. Another 60 appeared, dancing dorkily with Swift, in the video for single "Shake it Off". As Dunham discovered, Swift is the megastar who might just become your Best Friends Forever – or, at least, your teenage daughter's BFF.
In July, the singer published an op-ed in The Wall Street Journal about the current state of the music business, describing herself as "an enthusiastic optimist: one of the few living souls in the music industry who still believes that the music industry is not dying". Swift believed, she went on, that "the value of an album is, and will continue to be, based on the amount of heart and soul an artist has bled into a body of work ... It isn't as easy today as it was 20 years ago to have a multiplatinum-selling album, and as artists, that should challenge and motivate us."
It should go without saying that plenty of musicians bleed "heart and soul" into their body of work for scant reward. As for the relative ease of scoring a platinum record, only one album released in 2014 has so far sold a million copies or more – and it's Taylor Swift's.