For many people, Vicky McClure is Lol, the darkly troubled main character in Shane Meadows' ongoing semi-improvised This is England series. Set on a Midlands estate during the 1980s, it began with writer-director Meadows' 2006 film looking at skinhead racism, and developed into two further TV series following the same characters, on Channel 4.
McClure's plotlines have involved rape, incest and suicide. It could sound like something out of a soap opera or misery-porn – but her portrayal was lauded and awarded for its soul-baring honesty, and the Bafta-winning actress is still contacted by viewers moved by seeing such topics dealt with realistically on TV.
While there is a This is England '90 in the pipeline, the 30-year-old actress has also moved on. Her face – with those icy-blue eyes that can flicker with warmth or remain glassily inscrutable – has cropped up in two of the most popular British crime dramas of recent years: the ratings-buster Line of Duty (currently back for a second series), and the nation-gripping whodunit Broadchurch. She sure knows how to pick 'em.
Both roles are far removed from the grotty council-estate world of This is England: in Line of Duty, she's a steely undercover detective, investigating police corruption; in Broadchurch, she was a manipulative tabloid journalist, after a scoop. But it is her latest project that's the biggest departure: Svengali is a charming, low-budget British indie movie about a hapless Welshman determined to break a rock band on the London scene. Dixie, our Valleys Boy impresario, is played by Jonny Owen, who also wrote the script; McClure is Shell, his long- suffering girlfriend. Although, while she does have to put up with him spending their rent on gig venues, Shell isn't really that long-suffering – not by McClure's standards, anyway.
"I did find myself laughing out loud – and that's always a good sign," she says of reading the script. "And the character of Shell was really different to anything else I'd played before – so there were no questions about it. She's just good fun, isn't she?"
She is. A cheery, cheeky girl, with a bow in her hair and teasing humour, Shell is the steady heart of the film: however crazy London life gets – and this being a satire on the hype-machine excesses of the music industry, it gets pretty crazy – she just wants to make it work with Dixie. "There's no point in over-dramatising all that; I just [tried] to make it quite real. I loved Dixie and Shell – they're a lovely couple, and you just want them to get through it." Their relationship is one of the most moving and convincing parts of the film (which can be scrappy at points).
What happened next for McClure's 'This Is England' mates?
What happened next for McClure's 'This Is England' mates?
1/5 Stephen Graham

The man who played racist skinhead Combo in the original film has had a host of diverse parts since: from roles in 'Parade's End' to the 'Pirates of the Caribbean' franchise, from Sean Bean's love interest in 'Accused' to Al Capone in 'Boardwalk Empire'.

2/5 Thomas Turgoose

The young find of 'This is England' also starred in Meadows' 'Somers Town'. He's since played a soldier in BBC1's 'Birdsong', and put his pint-sized menace to good use in 'Eden Lake', a bleakly harrowing British horror movie also starring Michael Fassbender.

3/5 Rosamund Hanson

After playing the languid Smell in 'This is England', Hanson was a prostitute in another grim-oop-north TV show, 'Shameless'. She also starred in Ricky Gervais's 'Life's Too Short', winning praise as a stunningly dippy secretary to Warwick Davis.

4/5 Jack O'Connell

After appearing in the 'This is England' film, O'Connell was best known for his regular part in 'Skins'. But 2014 is his year: he nails the lead in prison drama 'Starred Up', is a young squaddie in ''71', and hits Hollywood with '300: Rise of an Empire

5/5 Joe Gilgun

Starred in 'Emmerdale' at the same time as the initial 'This is England' film, in which he played Lol's love interest. Gilgun has also been a principal in 'Misfits', mining the same seam of cheeky-chappy realism, albeit with superhero powers. Holly Williams
It turns out that nailing the on-screen chemistry was easy for Owen and McClure: they are a real-life couple, too. They only met after Owen heard her being interviewed on the radio, thought she'd be good for Shell and sent her a script. She liked it, they began filming… and fell in love. Is that why you took the part, I tease – you had a crush? McClure, who's beamingly open about their romance, responds with a twinkle. "You know what, I did think, 'He's hot'… but if the script was crap, I wouldn't have gone near it, and then I wouldn't have got to know Jonny. It really is a nice story for me: great job, and, you know, nice boyfriend!"
They live together now in Nottingham, McClure's hometown, to which she is fiercely loyal. "I did [live in London] for about a year, and I had a lovely time, but I just live in Nottingham: that's what I am, that's what I know, I love my city and I'm proud. I get to have Sunday lunch at my mum's, pick my nephew up from school now and then: it's a very normal life." She's even working on a new project there, producing a locally set TV show that should air on the new, regional Notts TV station.
Happily, Owen "loves" Nottingham too. "So he's done the move to Notts, and that makes me happy, but he's a very proud Welshman, and we go to Wales a lot to see his family. I've got a bit of Welsh in me now!" she says, apparently unaware of any double entendre, before showing off her language skills, which stretch as far as "cwtch" (Welsh for cuddling up) and "hisht" ("shut up").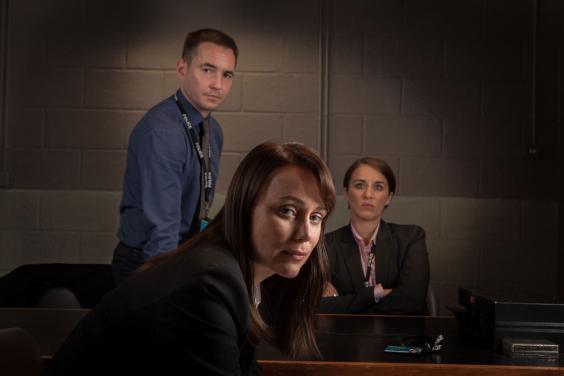 'Svengali' started life on the small screen – or rather, on the monitor. In 2009, Owen made a bunch of short YouTube webisodes; he starred as Dixie but also managed to rope in various music types, from a real-life svengali in Alan "Oasis" McGee to Boy George and Carl Barat (whose old band, the Libertines, could be the blueprint for Svengali's indie-rockers, the Premature Congratulations).
They got a good response online, and those cameos provoked some old-media buzz, too. Co-founding a production company, Root Films, Owen proceeded to turn it into a "proper" film, now picked up by Universal – although on the same day as its cinematic release, it'll be offered as rent-on-demand, keeping that watch-on-your-laptop option available.
Svengali benefited from a slow-burn development process. Many of the cameos have translated from web to big screen, including actors whose stars have seriously risen since 2009: Martin Freeman, as a muso-snob Mod record store owner; Maxine Peake as his partner; and Matt Berry as an eccentric label manager. Alan McGee even turns out to have pretty great deadpanning skills.
"Jonny's quite well known in the Mod world, and for being very selective about his music, so it opened doors," explains McClure. She describes the shoot as a laugh, and the finished film has a larky vibe; McClure was free to improvise around the script, too, which helps.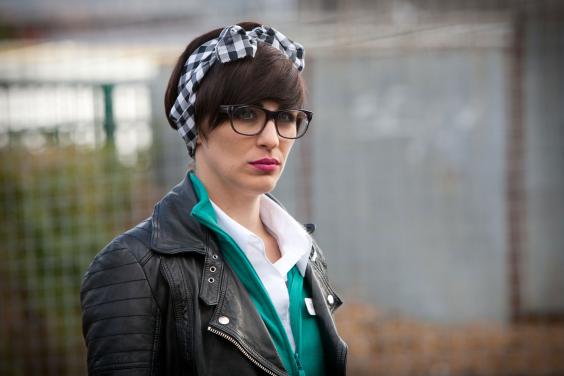 Improvisation is her default approach: she cut her teeth aged 11 at Nottingham's Television Workshop, an improv-heavy, and well-regarded, youth theatre: "It was drilled into us from a very young age: just get up and do it." It was there that Meadows spotted her, and cast her in A Room for Romeo Brass, when she was just 15. How important has the director been for her career?
"He's been hugely important, but it's funny – Shane is one of my best friends," she begins. "We live very close together, so we see a lot of each other. I do feel really privileged to have him as a professional friend, but first and foremost he's my buddy. And I just can't wait to work with him again – he's my favourite director, too."
For This is England '90, She'll be revisiting Lol for a fourth time, but McClure isn't tired of her most famous creation. "I love her. You know what? I'm ridiculously pleased to have played her. The audience really attached to Woody [Joe Gilgun, her sometime on-screen partner] and Lol. Somebody put on my Twitter, 'Woody and Lol are the new Kate and Wills!' It made me giggle, but people fell in love with them, and they wanted them to be all right. And I did as well."
With a new series in the offing, surely she can tell us if they're OK now? McClure is shruggingly apologetic: even she doesn't know what's in store. "We did a couple of days of rehearsal before Christmas. But in all truth, nothing else has happened since." Surely she's got some sense of the direction her pal Shane is taking it in, though… "I do and I don't," she says before blowing her cheeks out and confessing that it's not worth speculating. "You can never say never with Shane; you can think, 'That's great,' and then it completely changes. It's pointless me getting everyone excited, but I'm desperate to get going, to get my Docs on again!"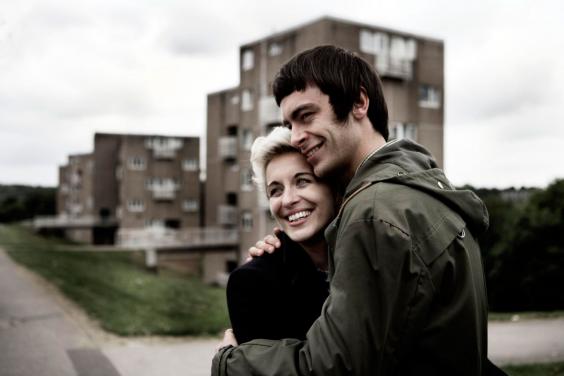 Ah, the Doc Martens: as crucial a part of Lol's uniform as the edgy hairdos and the androgynous style – she even got married in boots and jeans. It's safe to say that the character has become a style icon ("As are we, as are we," jokes McClure – we've both turned up in virtually identical ochre sweatshirts). But Lol's unique look has had an impact on her own style: "It's a real shame, but I don't own a pair of Doc Martens any more – I used to, I had the burgundy pair, and I absolutely loved them, but if I put on a pair of Docs [now], I feel like Lol."
She has quite a different uniform when it comes to Line of Duty, as DC Kate Fleming. The current series is, if anything, even more tense and addictive than the first. Initially, McClure was attracted by the general left-field thinking of the team behind it: not only is it a police drama which turns in on itself, examining corruption within the force, but the casting is unexpected, too. "They're really interesting people, to go, 'What about Vicky McClure for DC Fleming?' It's brilliant because I'm not being typecast as kitchen-sink." It was the same with the rest of the cast: "Martin Compston, Craig Parkinson, Neil Morrissey, Lennie James… I went, 'I don't think I've seen any of these people in a cop show.'"
McClure's character is a tough-nut woman in a man's world, but it made for a fun shoot. "That's quite typical of me, anyway, I've always been that kind of girl – I didn't mind hanging out with the boys for three months in Birmingham, drinking beer and going for curries."
The first series had the highest ratings for a new drama on the BBC in a decade, and the second series is winning further acclaim. Much ink has been spilt on the succes of Scandinavian noirs and long-running American series, but we're not doing badly here either. Does she feel, from the inside, that we're in a golden age of television? "Oh, without a doubt," she nods. "I was a big fan of things like Breaking Bad and The Sopranos and all that, but we're creating really different stuff: Utopia, Peaky Blinders, there's so many… the past five years have been a real turning point for British TV." And this lady's been a pretty important part of that.
'Svengali' (15) is released in cinemas on 21 March; 'Line of Duty' concludes on Wednesday on BBC2
Hair and make-up: Sophie Everett using Nars