A public meeting at which Rachel Dolezal and the Spokane NAACP were expected to address reports that Dolezal, the group's president, is white has been cancelled at her request.
On Saturday, the Spokane NAACP seemed ready for Monday's monthly meeting.
"We look forward to seeing everyone at the Monthly Membership Meeting Monday, June 15th at 7pm," the organization posted on Facebook. "Location 35 W Main St. Thank you for your support of the NAACP and our Spokane community."
But facing fallout from the controversy — in which Dolezal is accused of hiding her Caucasian heritage — Dolezal postponed the meeting, according to Spokane Statesman-Review.
"Due to the need to continue discussion with regional and national NAACP leaders, tomorrow's meeting is postponed and will be rescheduled for a later date," the organization posted on Facebook. (The Statesman-Review attributed the message to Dolezal.) "We appreciate your patience and understanding at this time."
Last week, the Spokane NAACP had posted a message supportive of Dolezal.
"NAACP Spokane Washington Branch President Rachel Dolezal is enduring a legal issue with her family, and we respect her privacy in this matter," the organization said in a statement. "One's racial identity is not a qualifying criteria or disqualifying standard for NAACP leadership. The NAACP Alaska-Oregon-Washington State Conference stands behind Ms. Dolezal's advocacy record."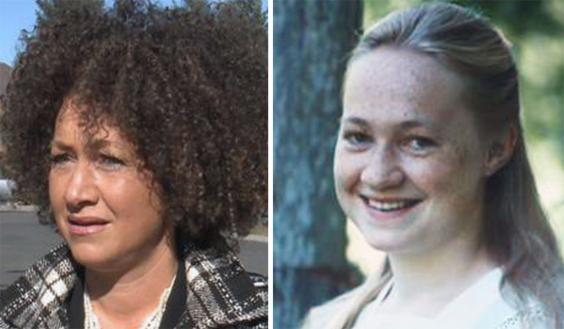 But after Monday's meeting was cancelled, Lawrence Burnley, the chapter's executive committee chairman, criticized the decision to postpone the meeting.
"I don't see any language in the by-laws that empowers you, or any one member, to arbitrarily cancel/postpone tomorrow's meeting," Burnley wrote in an e-mail reported by the Statesman-Review. "… It seems to me that it would be prudent to allow for or invite your executive committee to weigh in on a decision such as this."
Dolezal did not return requests for comment. Reached for comment, Burnley offered no additional information.
"I am not interested in making  any other comments regarding this situation at this time," he wrote in an e-mail to The Washington Post. "Thank you!"
Dolezal, a Howard University graduate and a part-time professor in the Africana studies program at Eastern Washington University, became the centre of national debate about race after a white Montana couple stepped forward to claim she is their daughter. The claims were backed-up by two of Dolezal's adopted siblings, who said Dolezal obtained custody of another adopted sibling after alleging sexual abuse. Dolezal says that child, who is African American, is her son.
Meanwhile, the Associated Press reported that a police investigation into hate mail allegedly sent to Dolezal has been dropped. According to the AP, Dolezal claimed to have received the mail at the organization's post office box, but the envelopes reportedly had no time stamp or bar code. Postal officials said only someone with a key would have been able to place items in the box.
The city of Spokane is also investigating whether Dolezal misidentified her race in an application to the Office of Police Ombudsman Commission, on which she serves. Dolezal said she had several ethnic origins on the application, including white, black and American Indian.
And the Statesman-Review reports that Dolezal is being investigated for her actions on the police commission unrelated to her claims about her race. The paper quoted a "source close to Spokane city hall," but provided no details on the nature of the investigation.
Over the weekend, Dolezal also become the target of a MoveOn petition titled "It's not about race, It's about integrity!"
"We will not make official comments on the validity of allegations against Spokane's NAACP President," the petition read. "However, until the investigation is complete and her issues are resolved we recommend a leave of absence. We do not feel that she is in a position to properly reflect the values of our communities."
Copyright The Washington Post