Kate Winslet went from Titanic heroine to Necker Island saviour when reports she'd saved Sir Richard Branson's 90-year-old mother from a burning building first hit the headlines back in August 2011.
Turns out, it was all a bit of an exaggeration. Because according to Eve Branson, Winslet only carried her down four steps and "that was it".
"It was the hurricane of hurricanes and we were on fire and we would have all been burnt alive if it wasn't for my grandsons," she told The Observer.
"It was four or five in the morning and they went around getting everyone out of bed.
"I remember saying, 'I'd better put my mac on,' because I wanted to cover up and Jack [Eve's grandson] saying, 'No, not right now.'
"I'd just about got outside and the rain was pouring down and I didn't have my contact lenses in, but I was making my way out and Kate and her two children were behind me.
"She just sort of picked me up and took me down four steps and that was it."
Asked to clarify whether she considers herself to have been "saved" by Winslet at all, she replied: "I supposed I might have been a bit slow for her."
Not that Winslet herself has ever claimed that she did rescue Eve Branson from the blaze, which started after lightning struck the private resort on the billionaire's Caribbean island.
Though she did accept the applause from the audience when she addressed the incident on the Graham Norton Show in October 2011.
"It was genuinely very scary. We woke up at 4:30 in the morning to yelling that there was a fire," she recalled.
"I jumped up and ran immediately towards the fire but then realized we might die so turned around, told my children to go in and shut the door and then thought, 'Now what do I do?'"
"I ran into the bedroom and put on a bra," she continued. "In disastrous moments like that, you do the strangest things. I started to put on a bra and thought 'No, that's going to take me too long,' so off came the bra, on came the t-shirt, I grabbed the children and I picked up Granny."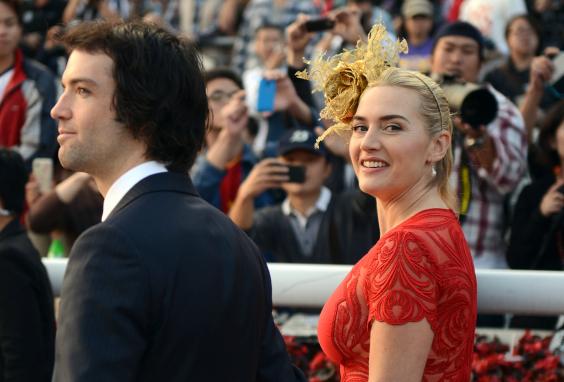 Asked by Norton whether she'd in fact saved her life, she told him:
"No, I didn't save her life. I carried her down the stairs is the truth of it.
"We were all at the top of some very slippery stone steps and in the middle of a hurricane – it was so dramatic, there was lashing rain and it really did feel like being in a movie. In truth, I carried Eve Branson down the stairs."
"I have to say Eve Branson is an extraordinary stoic, powerful lady and she could have totally made it out on her own," she added. "I just helped that tiny little bit."
Sir Richard was staying at a villa 100 yards away from Winslet, who was in the Great House alongside then-boyfriend, Ned RocknRoll (Sir Richard's nephew) and Eve Branson. The Great House was burned to the ground.
Winslet married Ned RocknRoll in December 2012 at a private ceremony. She was given away by her Titanic co-star, Leonardo DiCaprio. The couple have one child together, baby Bear Winslet. Winslet is also a mother to Mia, 13, and Joe, 10, from previous marriages to Jim Threapleton and Sam Mendes respectively.
Reuse content