Richie Benaud, the beloved former Australia cricketer, journalist and broadcaster has died at the age of 84, it has been confirmed.
Benaud captained Australia from 1958 until his retirement in 1964, having accumulated 63 Test appearances during as 12-year career.
Benaud had been battling skin cancer, and suffered a car accident in October 2013 which left him with rib and vertebrae injuries when he drove his vintage 1963 Sunbeam Alpine into a garden wall in Coogee.
The lasting effects of the crash forced him to miss the 2013/14 Ashes Series in Australia, his first summer out of the commentary box.
Australian Prime Minister Tony Abbott has offered the family of Benaud a state funeral, and described his death as "tragic".
"There would be very few Australians who have not passed a summer in the company of Richie Benaud," Abbott told a press conference in Brisbane shown by ABC News in Australia. "He was the accompaniment of an Australian summer, his voice was even more present than the chirping of the cicadas in our suburbs and towns, and that voice, tragically, is now still.
"But we remember him with tremendous affection.
"He hasn't just been the voice of cricket since the early 1960s, he was an extraordinarily successful Australian cricket captain.
"He led our country for five years in 28 Tests, and he never lost a Test series. He was the first cricketer to achieve the remarkable double of 2,000 Test runs and 200 Test wickets.
"This is the greatest loss for cricket since the loss of Don Bradman and for that reason I'm pleased to have offered the Benaud family a state funeral."
A sad day for Australia. We have lost a cricketing champion and Australian icon. What an innings. RIP Richie Benaud

; Tony Abbott (@TonyAbbottMHR) April 9, 2015
His long-term employer, Channel Nine posted on its Wide World of Sports Twitter feed: "The voice of cricket Richie Benaud has passed away at the age of 84. #RIPRichie and thank you for the memories."
The voice of cricket Richie Benaud has passed away at the age of 84. #RIPRichie and thank you for the memories. #WWOS pic.twitter.com/De5Xj1k4FS

; Wide World of Sports (@WWOS9) April 9, 2015
The news arm of Cricket Australia, www.cricket.com.au, wrote: "An Australian Test great who nurtured a generations' love for the game with his commentary has passed away, aged 84
"After Don Bradman, there has been no Australian player more famous than Richie Benaud."
Benaud will be remembered by millions for his measured, laconic brand of commentary and he was as revered in England, where he worked on television from 1963 to 2005, as he was in his homeland.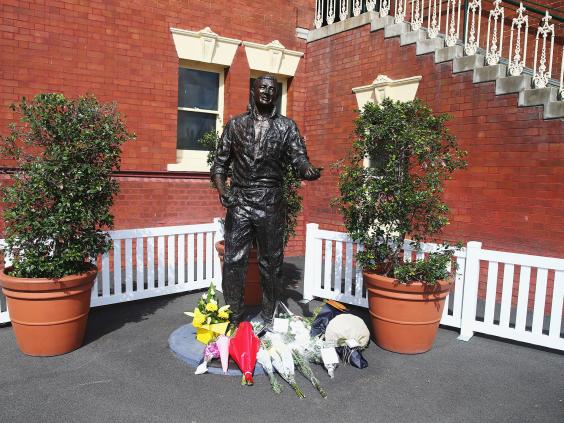 But he made his name in the game as a brilliant tactician and leg-spinning all-rounder.
He made 63 Test appearances in the Baggy Green of Australia, taking 248 wickets and scoring 2,201 runs in Tests.
He was the first Australian to reach the 200 wicket, 2000 run double and was also the country's leading wicket-taker for close to 20 years before Dennis Lillee took the mantle.
Benaud is survived by wife Daphne and two sons from a previous marriage.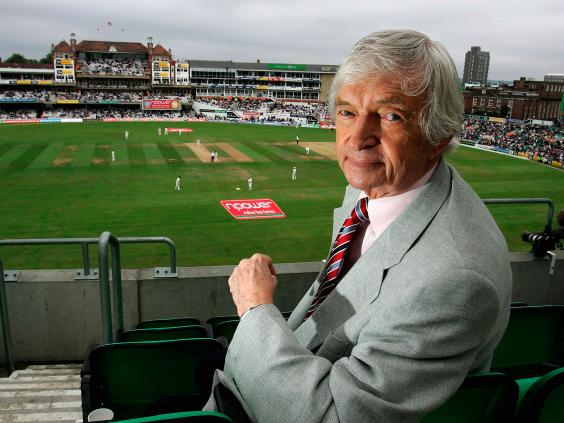 A planned comeback just over a year later was then put on ice after he revealed he was undergoing treatment for melanomas on the forehead, scalp and neck.
The health implications of both issues combined to keep him away from the job he loved in his final years, but he made occasional pre-recorded appearances on Channel Nine and he rallied to record a moving tribute to Phillip Hughes when the Australia batsman died last year after being struck by a bouncer.
Benaud collected many honours during his lengthy career on both sides of the boundary rope, including a place in the Australian Cricket and ICC Halls of Fame, a Wisden Cricketer of the Year award and an OBE from the Queen.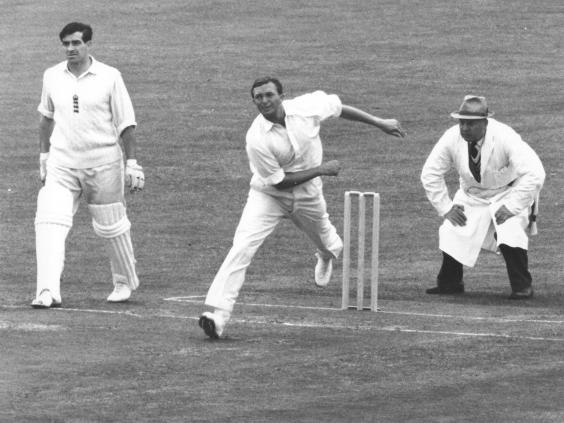 But most of all he earned the warmth and respect of the cricketing public, prompting endless imitations of his unique style - all of them affectionate.
He began his media life while still a player, training with the BBC while on tour in England in 1956.
He worked avidly as a newspaper man, for many years with the News of the World, and later showed an instinctive knack for television work.
He commentated on the 1977 World Series Cricket, having been headhunted by Kerry Packer and continued setting a high bar for generations to follow.
Cricket Australia Chairman Wally Edwards led the tributes.
"Our country has lost a national treasure," Edwards said.
"After Don Bradman, there has been no Australian player more famous or more influential than Richie Benaud.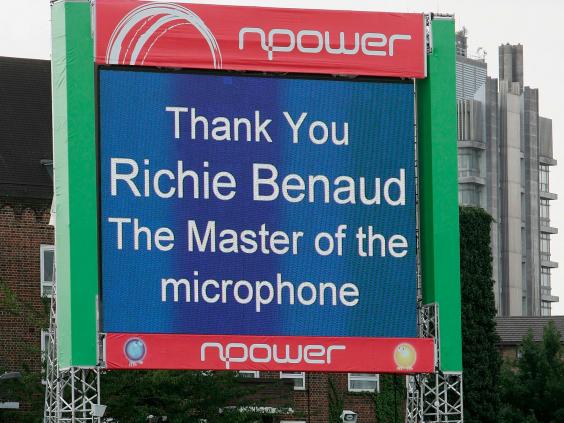 "Richie stood at the top of the game throughout his rich life, first as a record-breaking leg-spinner and captain, and then as cricket's most famous broadcaster who became the iconic voice of our summer.
"He was an important influence in the formation of Kerry Packer's World Series Cricket in 1977, a climactic event at the time but one which has left a lasting, positive influence on the game.
"He became a favourite of the masses as the long-serving anchor of the Nine Network's cricket coverage in Australia and the BBC and Channel 4 in the UK. His crisp style, dry humour, understated delivery, and array of jackets made him one of the most loved personalities on television as he brought cricket to the lives of millions.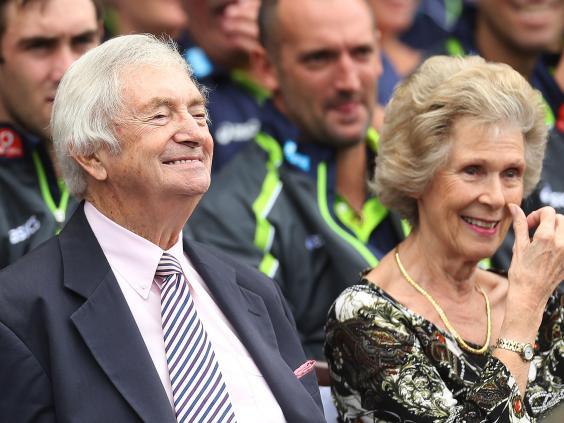 "Away from the camera he was a leader, mentor and positive influencer of an extraordinary number of cricketers.
"And despite his role as the treasured grandfather of the game, he remained deeply in touch with modern developments, embracing Twenty20 when others of older eras shunned it.
"His passing today marks a profound loss to our nation. Australian cricket and the game's legions of fans extend deepest sympathies to Richie's wife Daphne, brother John and the entire Benaud family at this sad time."
Additional reporting by PA
Reuse content