Ricky Gervais has joined a growing number of voices calling for a conservation officer who was suspended for refusing to kill two bear cubs to be reinstated.
Bryce Casavant was suspended without pay for rescuing the black bear cubs near Port Hardy, British Columbia, after their mother was killed for repeatedly raiding a freezer full of salmon, according to CBC News.
He had been ordered to cull them but instead took them to a vet where the animals were treated and then transferred to a recovery centre in Errington, on Vancouver Island.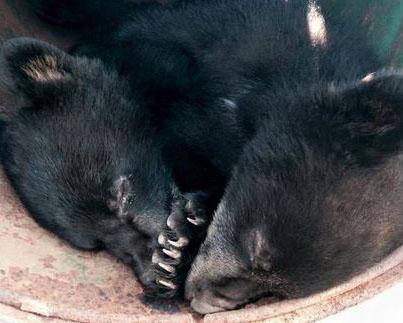 A petition urging the Environment Ministry to reinstate him was launched after a local paper printed a picture of the cubs asleep, with a Change.org petition amassing over 65,000 signatures. His pay was restarted on Wednesday but his suspension continues.
Gervais, a staunch animal rights activist, joined calls for Casavant to be reinstated on his Twitter page on Wednesday.
"Bryce Casavant, conservation officer, suspended for refusing to kill bear cubs," the comedian wrote. "Reinstate this honourable man."
Bryce Casavant, conservation officer, suspended for refusing to kill bear cubs http://t.co/E6AKvu6Kyd Reinstate this honourable man.

; Ricky Gervais (@rickygervais) July 8, 2015
Gervais regularly uses his Twitter feed to campaign for animal rights and is a vocal opponent of hunting. 
The recovery centre's manager Robin Campbell told CBC Casavant made the right decision as the cubs can be rehabilitated back into the wild. "These cubs did nothing," said Mr Campbell.
"There has to be some kind of misunderstanding ... hopefully somebody will come to their senses."
Environment minister Mary Polak said it was an unfortunate situation that was under investigation. A statement from Polak said: "Although conservation officers must sometimes put down wild animals for the safety of the public and the welfare of the animal, we understand how difficult it is for all involved."
Reuse content