Ricky Gervais has reminded the electorate of a pledge David Cameron made to hold a parliamentary vote on repealing the fox hunting ban if the Conservatives won the election.
Mr Cameron expressed his views on hunting in a comment piece for Countryside Alliance magazine in March, where he criticised the 2004 Hunting Act passed by the Labour Government.
The act bans the hunting of wild animals, including but not limited to foxes, deer and hares.
"I have always been a strong supporter of country sports,"  he wrote. "It is my firm belief that people should have the freedom to hunt, so I share the frustration that many people feel about the Hunting Act and the way it was brought in by the last government.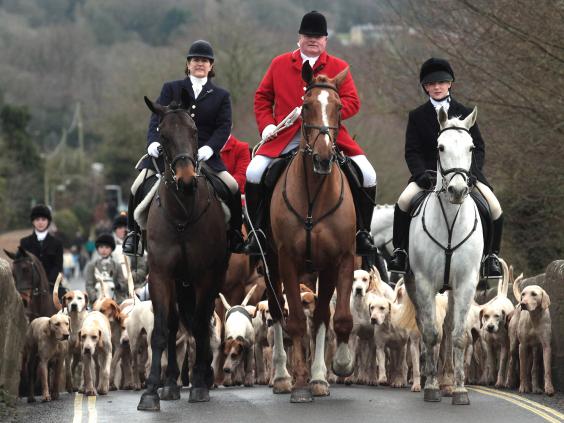 "The Hunting Act has done nothing for animal welfare. A Conservative Government will give Parliament the opportunity to repeal the Hunting Act on a free vote, with a government Bill in government time."
Gervais reminded his eight million Twitter followers of this pledge after a Tory majority was declared, warning: "David Cameron says he wants to repeal the fox hunting ban."
The most powerful man in Britain wants the freedom to hunt this animal on horseback and watch dogs rip it to pieces http://t.co/LeQbArqEPP …

; Ricky Gervais (@rickygervais) May 9, 2015
The link to the video I just tweeted is lovely by the way. Just wanted to show what a beautiful animal the fox is.

; Ricky Gervais (@rickygervais) May 9, 2015
@gregjames literally no political reasoning for it. He just likes seeing foxes ripped to bits obviously.

; Ricky Gervais (@rickygervais) May 9, 2015
The comedian is a vocal animal rights supporter and most recently took hunter Rebecca Francis to task for killing a host of animals by posting a picture of her lying next to a dead giraffe.
If the Prime Minister does keep his promise, MPs will vote on whether to keep hunting with dogs illegal. Labour responded to the piece by vowing to defend the current ban on fox hunting, arguing the practice has "no place in a civilised society".