During her four-decade career she has regularly been referred to as the "Queen of pop" however Madonna may have actually lived up to that title when she apparently asked Rita Ora to kneel on the floor when they first met
At the Glamour beauty festival, which was held over the weekend, Ora described the moment she met her "idol" Madonna at a charity event.
"I was waiting for her [Madonna] and I was shivering. And my sister said to me, 'Are you ok? You look really crazy.' And I was like, "I think I am going to be sick'. And Madonna walks in with lighting all around her.
Madonna tops Forbes' highest-paid living musicians list
Madonna tops Forbes' highest-paid living musicians list
1/10

1 - Madonna

The Queen of Pop pulled in £77 million from her MDNA world tour, merchandise sales, Material Girl clothing line and Truth Or Dare perfume.

Getty Images

2/10

2 - Lady Gaga

Flamboyant Gaga grossed £49.6 million last year, with touring as her biggest revenue stream. A hip injury meant cancelling the tail end of the 'Born This Way' run, so maybe next year's she'll topple Madonna.

Getty Images

3/10

3- Bon Jovi

The rockers earned £49 million, mostly from their 'Because We Can' stadium tour. Frontman Jon also owns Soul Kitchen in New Jersey, a restaurant where customers pay what they can.

Getty Images

4/10

4 - Toby Keith

Country music's star was paid £40.3 million, earned from record and ticket sales, his 18 restaurants and liquor line.

Getty Images

5/10

5 - Coldplay

Chris Martin and his band took £39.7 million from June 2012 to June this year when their world tour pulled in nearly £2 million per city.

Getty Images

6/10

6 - Justin Bieber

The Canadian "Baby" singer earned £36 million from touring and massive merchandise sales. Bieber also owns shares in start-up companies including online music streaming service Spotify.

Getty Images

7/10

7 - Taylor Swift

Praised for bringing country music into the mainstream, Taylor raked in £34.1 million from touring, record sales and endorsement deals with Sony, Covergirl and Diet Coke.

Getty Images

8/10

8 - Elton John

With classic hits including "Your Song" and "Rocketman", the relentless performer earned £33.5 million from shows and royalties last year.

AFP/Getty Images

9/10

=9 - Beyoncé

The former Destiny's Child singer can count £32.9 million of income, out-earning her husband Jay Z. Beyoncé's Mrs Carter Show world tour, royalties, House of Dereon clothing line and new deals with Pepsi and H&M all contributed to the huge sum.

Getty Images

10/10

=9 - Kenny Chesney

Another country singer, Kenny earned £32.8 million to share 9th place with Beyoncé. His cash came mainly from last summer's stadium tour, but also from his latest album, 'Life On A Rock' and his own rum brand Blue Chair Bay.

AP
"I said, 'Hi, it is so nice to meet you' and she was like, 'This [the lighting] isn't working can we just kneel down here on the floor?'"
The 25-year-old said she happily complied with the 57-year-old's request and they ended up having a conversation while on the floor.
"Can you believe that?" Ora asked the audience, "But that is Madonna and she can do whatever she wants. That was major. Everything is a learning curve."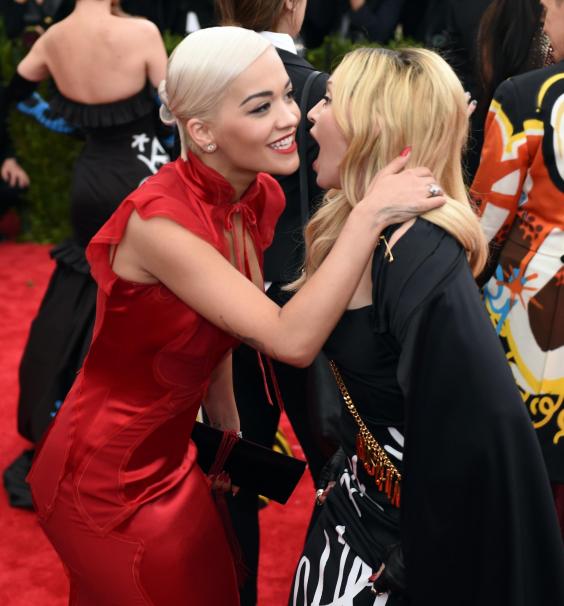 The encounter clearly did not go on to hamper relations between the pair as Madonna chose the "I Will Never Let You Down" singer to be the face of her Material Girl clothing collection in 2014. Ora also made an appearance at the Berlin leg of Madonna's Rebel Heart tour last year, which finally comes to an end in Australia this month.
Reuse content