Robbie Williams was particularly disturbed to discover he and his family had been followed and photographed by a paparazzo as they holidayed in Sardinia.
The former Take That star said he felt "sick and violated" after finding that German newspapers had published images of himself, his wife Ayda Field and his 18-month-old daughter Teddy in swimwear.
The family were seemingly unaware that they were being photographed on the private property, and Williams took to Twitter to share the two newspaper clippings and voice his concern over the shots.
"So creepy, a man's been hiding in the bushes on private property taking pics of my baby girl," he posted. "We feel sick violated."
The photographer and the publications who ran the images could well be in violation of the UK Press Complaints Commission Editors' Code of Practice.
So creepy, a man's been hiding in the bushes on private property taking pics of my baby girl,we feel sick violated. pic.twitter.com/3XAtQuX6SD

Robbie Williams (@robbiewilliams) August 26, 2014
It states that "editors must not use the fame, notoriety or position of a parent or guardian as sole justification for publishing details of a child's private life".
Earlier this year, the Duchess of Cambridge suffered similar embarrassment at the hands of the German press when magazine Bild published a series of photos of her bare bottom, taken as the royal family toured Australia and New Zealand.
The Duke and Duchess were visiting the Blue Mountains near Sydney when a blast of wind from a nearby helicopter blew up her Diane Von Furstenberg wrap dress and accidentally flashed her backside.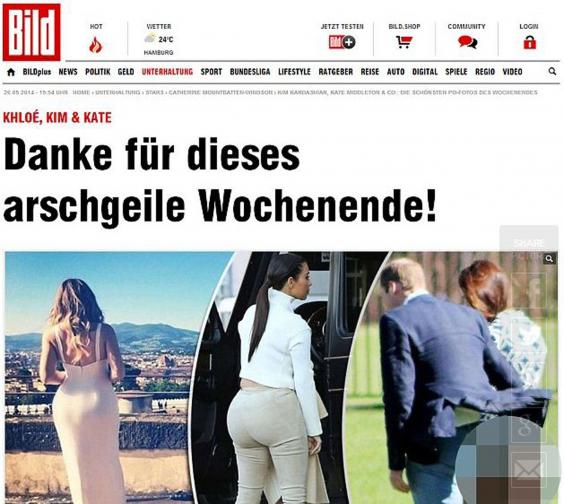 The newspaper published the revealing photograph in May alongside two other pictures of reality TV stars Kim and Kloe Kardashian, who were snapped in similarly compromising positions.
The translated caption read: "Khloe, Kim and Kate – backsides which have moved us these past few days."
It came less than two years after the royal couple sued French magazine Closer for running topless photographs of the Duchess, taken as the couple holidayed at a chateau in the Provence region.
The Palace labelled the publication of the images a "grotesque" invasion of privacy.
Reuse content